InfinitySwap News
Infinity Weekly: For Some Actions, There's an Overreaction
Infinity Weekly- Issue 8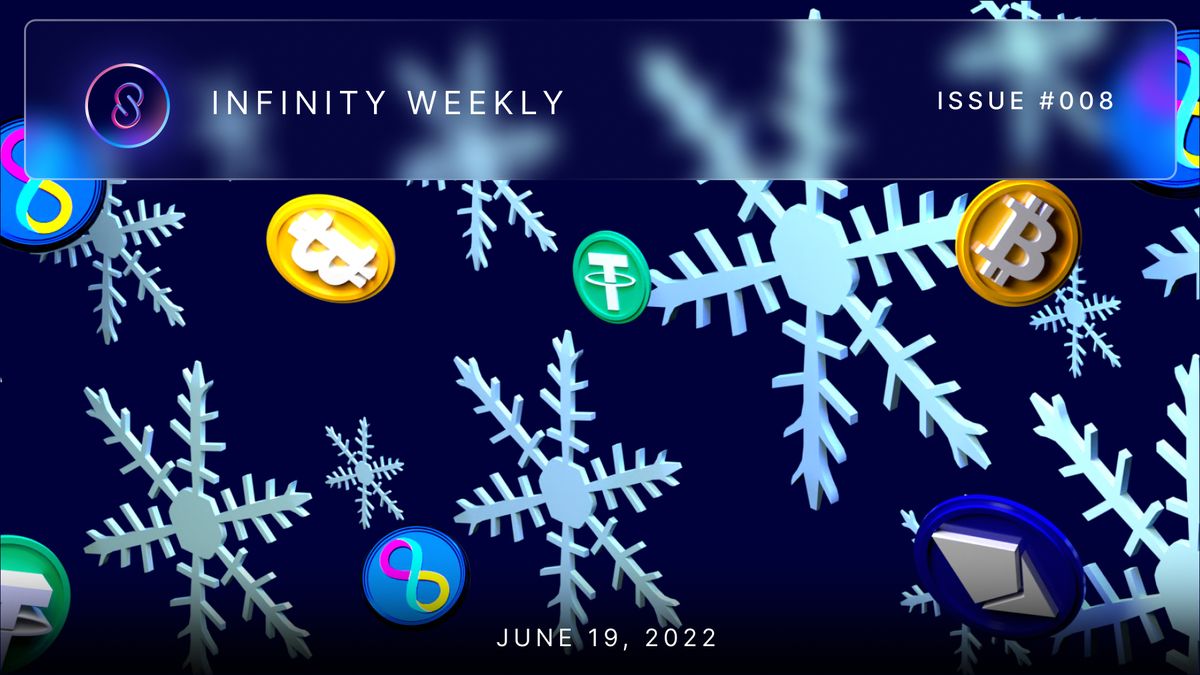 Happy Weekend everyone.Welcome to Infinity Weekly. If this was forwarded to you, sign up here.

---

Crypto Winter is finally here. Here's how you can survive it...
Emotions Out - Take a deep breath and look at your portfolio. Access how much risk you are comfortable with. Try to avoid investing funds that you need for the next three years (based on the last Crypto Winter). A comfortable risk will allow you to be less emotional in your investment decisions.  
Diversification - Crypto investing not only requires diversification, but it demands it! You can diversify in other blockchains (Some good bargains are out there), NFTs, Stocks, Bonds, Real estate, etc.
Dollar-cost averaging (DCA) - A popular cryptocurrency strategy, especially for a bear market.

---
What's in Today's Email?
IC Ecosystem News
This Week in Our Blog
NFT Market Snippets
Around The World
Worth Reading
By the Numbers
Charting it out
Crypto & Regulation
Meme Time
Weekly Opinion Piece
---
IC Ecosystem News

♾ Smooth & Svelte: The NNS dapp frontend rewrite is now complete!
We first converted the sign-in screen, then migrated the tabs "Voting" in April <…> followed by the two other tabs "Accounts" and "Neurons" two weeks ago <…> the new version of the NNS dapp that has been proposed on mainnet introduces the "Canister" features rewritten in Svelte.

Therefore, NNS-dapp is now entirely rewritten in Svelte.    -peterparker
The NNS dapp was originally written in Flutter, but the decision to switch to Svelte was made to bring about some key improvements, most notably dealing with mobile and scrolling performance. The team hopes that the switch to Svelte will increase the developer experience so that the devs can work faster and more securely.
♾ Another Audit in the Bag: The NCC Group, a world-class cybersecurity consulting firm with solid auditing experience (from blockchain projects to popular messaging service Whatsapp), audited DFINITY's threshold ECDSA implementation.
There were zero Critical and High issues found, and the five minor issues that NCC found were resolved promptly. Threshold ECDSA is critical for the native Bitcoin integration project, and news of this successful audit strongly indicates that integration will be launched without delay. You can read the 28-page audit for yourself via this link.
♾ The Journey Begins: ORIGYN Foundation, a luxury authentication project built on the Internet Computer, launched its utility and governance token earlier this month. More recently, the $OGY coin has been listed on MEXC Global and Bitrue, two CEXs (centralized exchanges), making it the first native ICP token to be listed outside our ecosystem.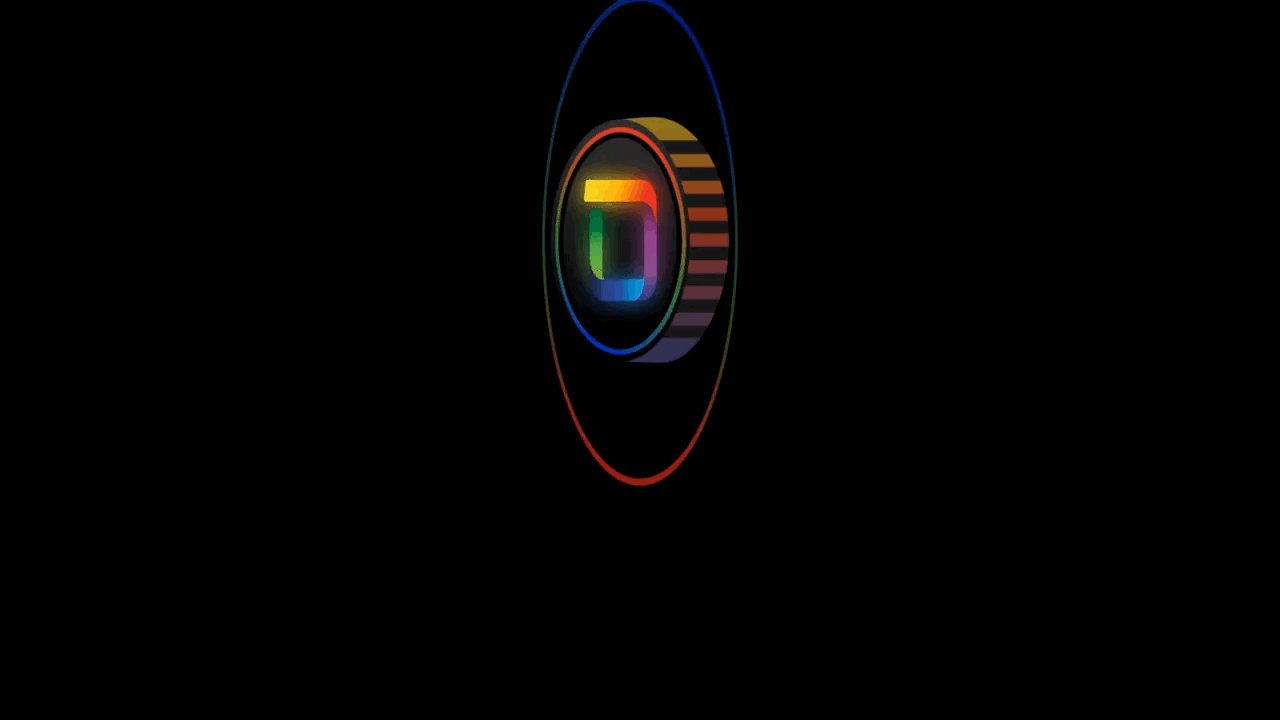 ♾ Plugged In: Plug wallet released V 0.5.2, which focuses on improving user experience. The wallet has been under community scrutiny lately due to its June 9th outage and storage API issues, so this version update is good news for Plug users. The update now allows contact syncing and allows dapps to handle account switching more smoothly. This update is backward compatible, so developers who accommodate Plug don't have to scramble to make updates on their own dapps.
---
This Week in Our Blog
Ethereum is currently the most popular Layer 1 blockchain, but popular doesn't always mean the best. Read our in-depth analysis of why ICP holds so many advantages over Ethereum.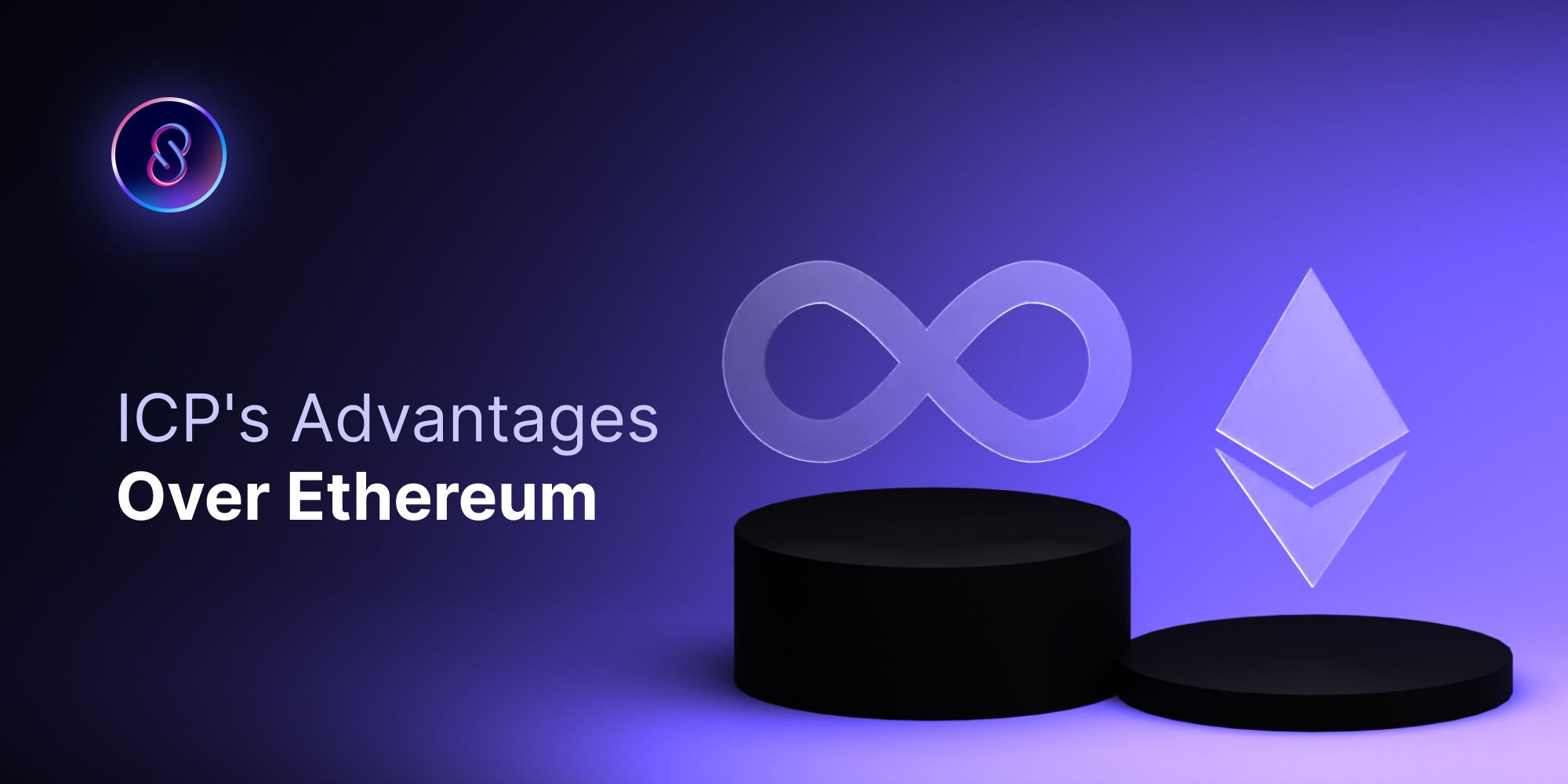 This is a big one! InfinitySwap announces a partnership with Plethora, a web3 gaming platform built on the Internet Computer that blends NFTs seamlessly into a unique, digital environment.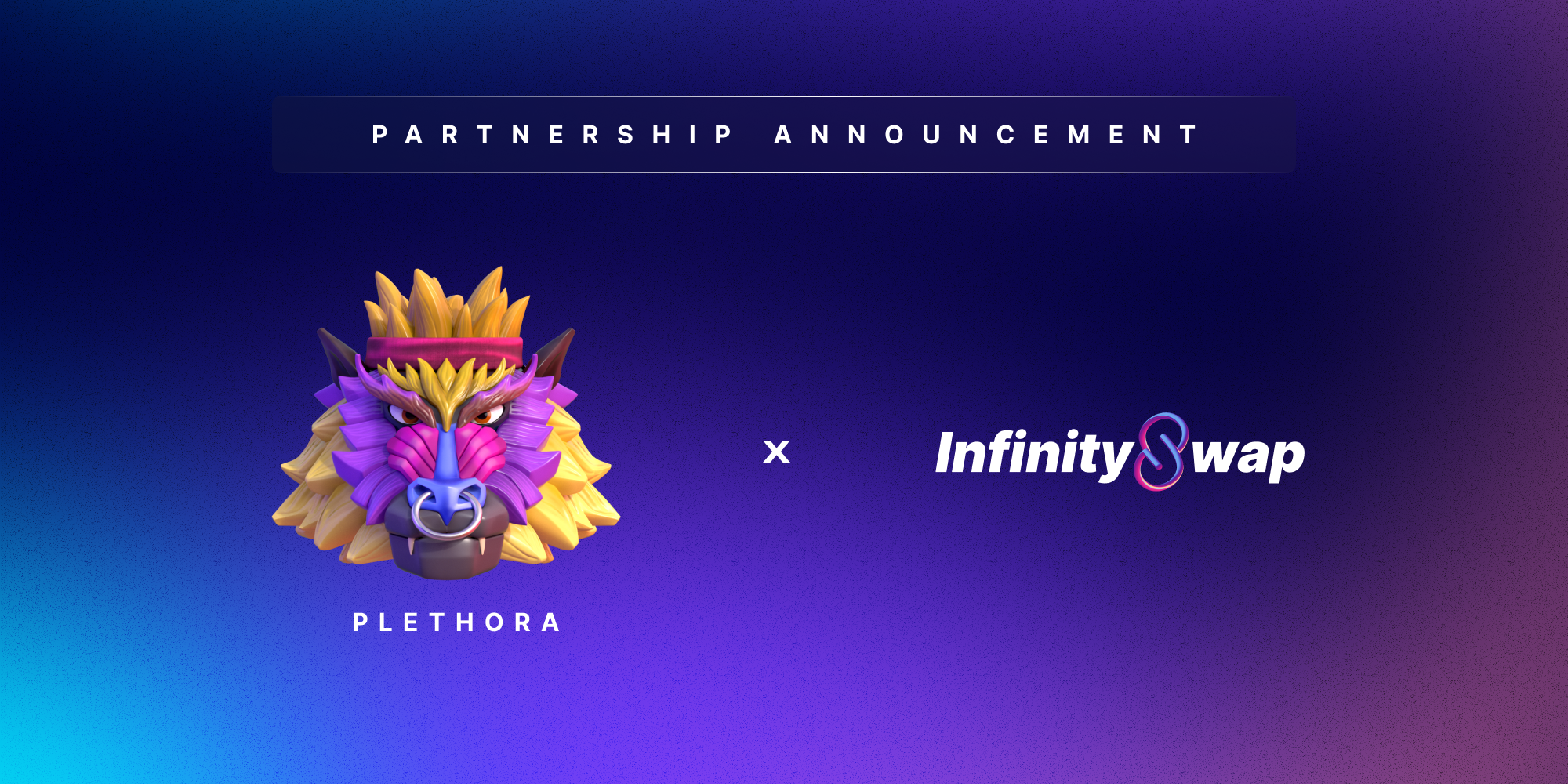 The entire crypto industry is looking more than a little alarming right now, but the IC ecosystem continues to grow stronger every day. Read our State of ICP: 2022 report to delve into all of the activity happening behind the scenes!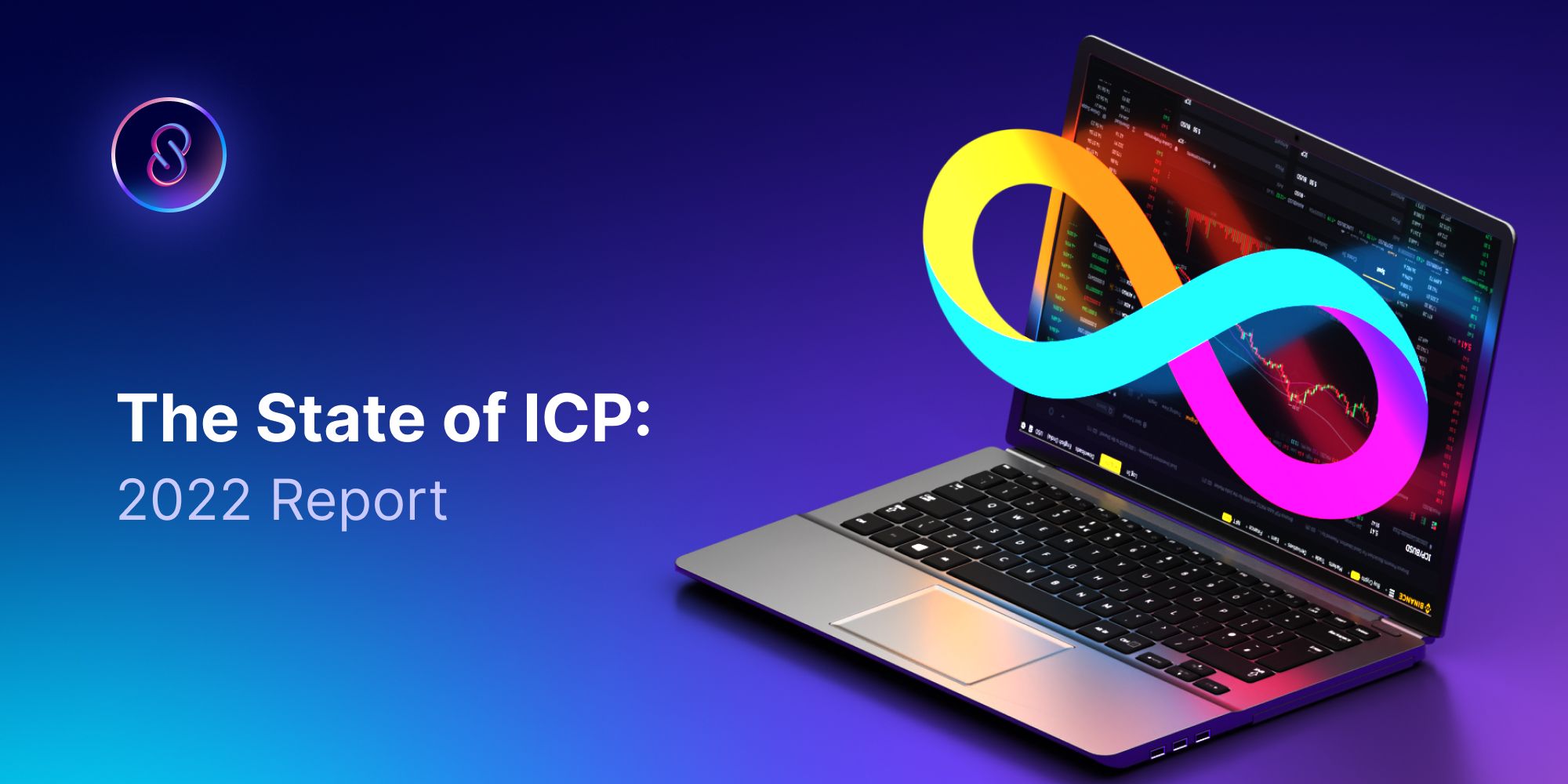 Developer Updates
(1) The Canister-SDK brings inheritance to the rust SDK and also local testing of inter-canister calls. InfinitySwap envisages this as enabling developers to reshare their code properly. There is still some work to be done on the documentation, and we will give further updates on this in the next installment.
(2) Governance is underway, enabling you to vote on proposals executed by the IninitySwap treasury. This allows the upgrade of our AMM on the fly.
(3) The working group on the ledger standard is making progress, and we have come to an agreement on the payment flows for the ICRC-1 token standard, which includes an approve and transfer_from flow similar to ERC20 but with some additions, including a commit phase and timeout to make this safer.
The ledger group will also be working on improving the notification payment flow through the use of named callbacks. Previously, notify had a vulnerability that could mean your canister wouldn't be upgradable if it interacted with a malicious canister. With these developments, we are close to concluding payment flows that will pave the way forward for the SNS and also the BTC integrations.
---
NFT Market Update
🎨 The Internet Computer NFT community was ready for Jelly! The new marketplace from Psychedelic launched this week. The only collection available so far is their own Crowns, but at the time of writing, they were already approaching 15k ICP in total volume.
🎨 The presale for Impossible Passes is live. These passes are the all-access pass to future sales on ORIGYN's Impossible Things website. The presale is live for five days, and there will be a break of several days after the private sale ends before the public sale begins. The team also revealed that NFT sales on the Impossible Things marketplace will take place in their own OGY token, not ICP. Additionally, the team has stated in their discord server that the roadmap image's mention of the secondary marketplace not being ready until 2023 is a "typo" and that it should be available "well before that." However, no other timeframe has been given yet.
🎨 ICPSquad NFTs and Dfinity Community have rebranded to reduce community confusion. Dfinity Community will retain the name ICPSquad to eliminate confusion since the media outlet is privately run and not connected to the DFINITY Foundation in any way. ICPSquad NFTs are now called dSquad. The rebranding announcement also teased the new website and new accessories to be a part of the MVP, which should be going live at any time now in conjunction with the Supernova Hackathon. We look forward to seeing how the monthly airdrops and accessory-wearing features will work, along with the upcoming missions.
🎨 The Eggs sold out in under 2 minutes on Entrepot. Our very own community InfinitySwap egg was sold after being listed on secondary.
---
Around the World
🧊 Market Meltdown: All eyes are on the charts lately as the market continues to dump downwards. Ethereum has dipped under $1k, and Bitcoin officially broke under the $20k support, shattering the historical pattern of BTC staying above the previous ATH (all-time high price) of its previous cycle. This is new territory that the crypto market has never experienced before. Shark Tank's Kevin O'Leary seems to have faith that the market will recover in time and said recently in an interview that a market cleansing will be good for crypto in the long run.
🌡️ Celsius Dips Low: The Terra/LUNA collapse last month has led to a devastating ripple effect across the entire crypto ecosystem. Celsius, a yield-farming platform where users could deposit their crypto to earn high-interest rate rewards, disabled withdrawals citing "extreme market conditions," leading to a collapse of the $CEL token and leaving Celsius users unable to access their assets. It's suspected that Celsius was using Anchor Protocol (which offered 20% APY) to generate yield for their own flagship Earn account (17% APY), and their close connection with the LUNA ecosystem is one of the primary reasons for their current crisis.
🏹 Arrow to the Knee: Three Arrows Capital (3AC) is facing insolvency rumors amid a flurry of questionable actions (such as not meeting margin calls and ignoring their business partners' public outreach attempts). 3AC is one of the largest crypto-focused venture capital firms in the world and had invested heavily in Locked $LUNA; their $559.6 million purchase is roughly worth $650 as of the time of writing. Crypto investors are concerned about 3AC's fate as their insolvency could spell doom for numerous other linked projects and cause an even greater domino effect on the beleaguered market.
🤼‍♂️ Kraken's Culture War: Kraken, one of the oldest CEXs in existence, has taken a firm stance against "woke" culture. Jesse Powell, co-founder, and CEO, took to Twitter to explain why he's offering a 4-month salary severance to unhappy employees who want to leave the company. Powell cited the market downturn as one of the reasons why Kraken's internal culture problems have been exacerbated in recent times and urged current employees to place emphasis on productivity and authenticity over "first-world problems."
🐕 The Dogefather's Dilemma: Elon Musk is being sued for $258 billion by a Dogecoin investor for running a pyramid scheme. Plaintiff Keith Johnson's federal court filing accuses Musk of racketeering by promoting Dogecoin, thereby driving up its price and then dumping the coin on unsuspecting Dogecoin investors.
📷 How to Save like a Billionaire: Finally, some much-needed levity from Binance's founder and CEO Changpeng Zhao (also known as CZ). Crypto figure Cobie spotted that Binance's hiring announcement used a stock image with CZ's head Photoshopped in. That's one way to save money!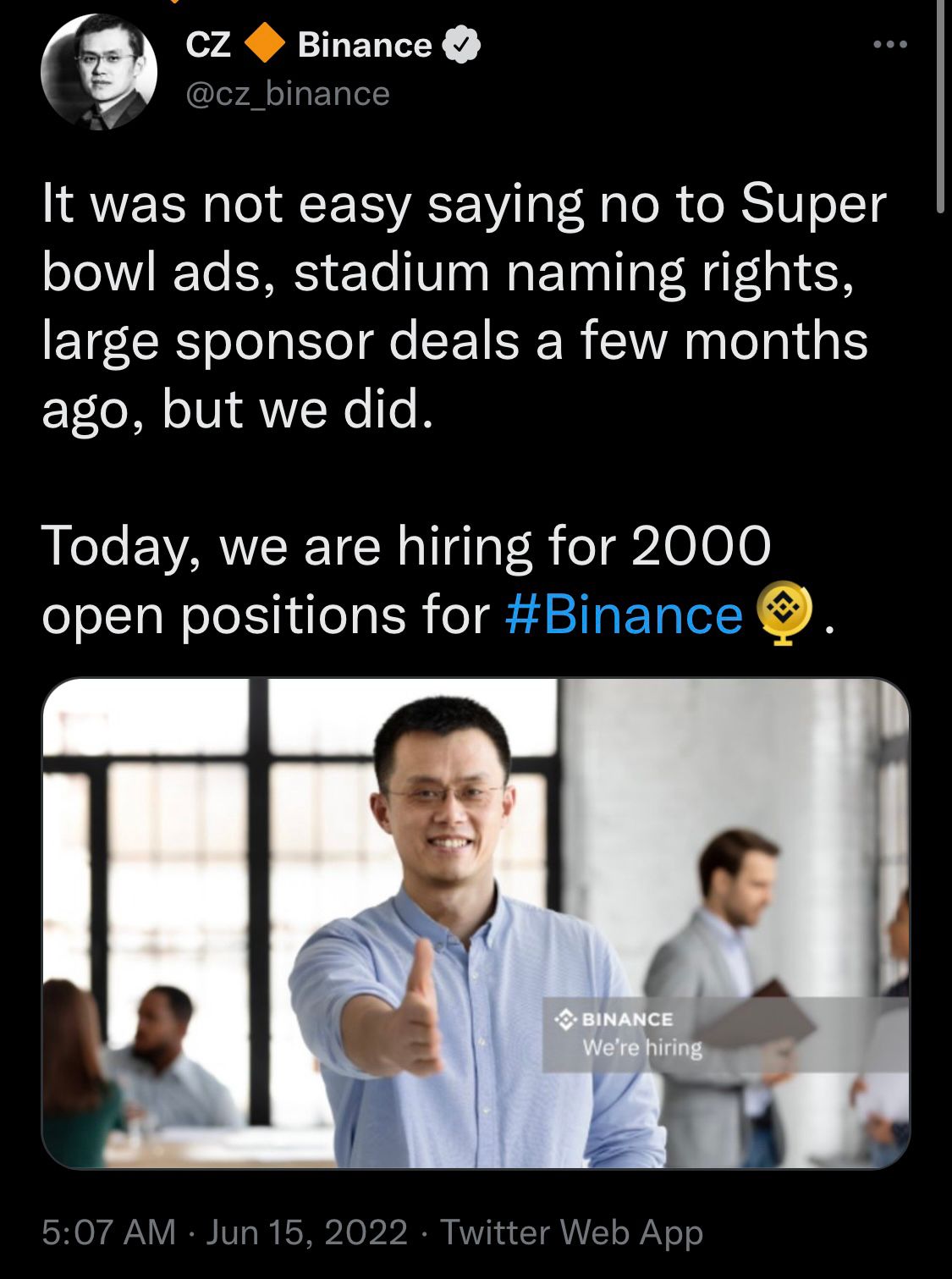 ---
Worth Reading
---
By the Numbers
483,296,943 ICP
Total Supply of ICP as of June 18 by Internet Computer Dashboard
621 Million
The current total value locked (TVL)  of the pool on a decentralized exchange Curve that lets investors exchange stETH to ETH. It has dropped from $4.6 Billion
1.2 Millions
Worth of cryptocurrency was stolen from DeFi Protocol Inverse Finance by hackers using a flash loan attack.
---
Charting it out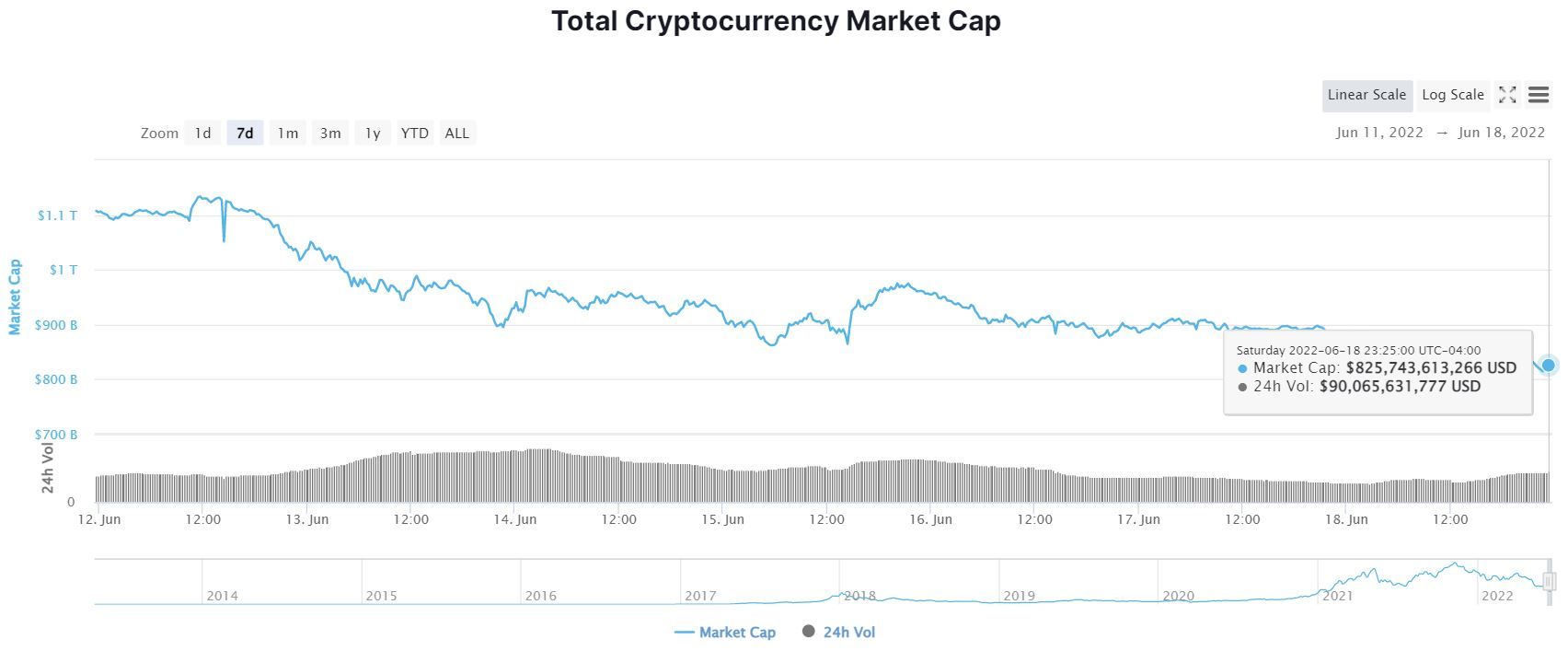 ---
Crypto & Regulation
Analysis: U.S. crypto-lending firms likely to see greater regulation after Celsius troubles (Reuters)
Former SEC Chair Jay Clayton Talks Rapidly Evolving Crypto Regulation Landscape (CoinDesk)
---
Meme Time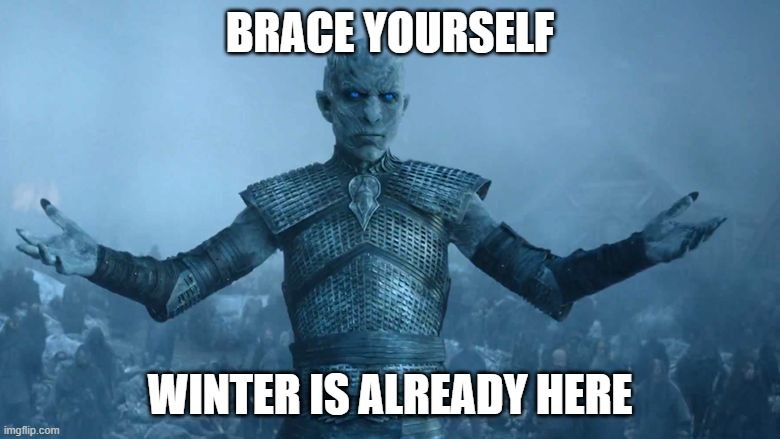 ---
Weekly Opinion Piece: A Matter of Opinion- Max Chamberlin, CEO, InfinitySwap
A note on the market crash. It appears to be an overreaction, with all of the treasury sell-offs of BTC and ETH, due to CeFi/DeFi protocols (UST, CELSIUS stETH, 3ac) being undercollateralized. Therefore it becomes necessary to sell BTC to bolster reserves.
UST was truly the Lehman Brothers moment for crypto, but with all the uncertainty, we are very likely seeing an overreaction before we see a correction. 2011, 2017, 2021 - these were previous bull runs. Likely we could be in bear territory for a few years before the peak of the next bull run in 2025.
Meanwhile, we will build. Developer activity is continuing to grow on the IC, and we will be exceptionally well-positioned to take full advantage of the next bull run at DFINITY and InfinitySwap.  
---
Connect with InfinitySwap
Twitter | Website | Telegram | Discord | Github
---

---
*Disclaimer: Note that cryptocurrencies can be volatile, and speculation should not be construed as financial advice in any capacity. All opinions of the author are their own and do not necessarily reflect the opinions or position of InfinitySwap or its staff.
---