Our Partners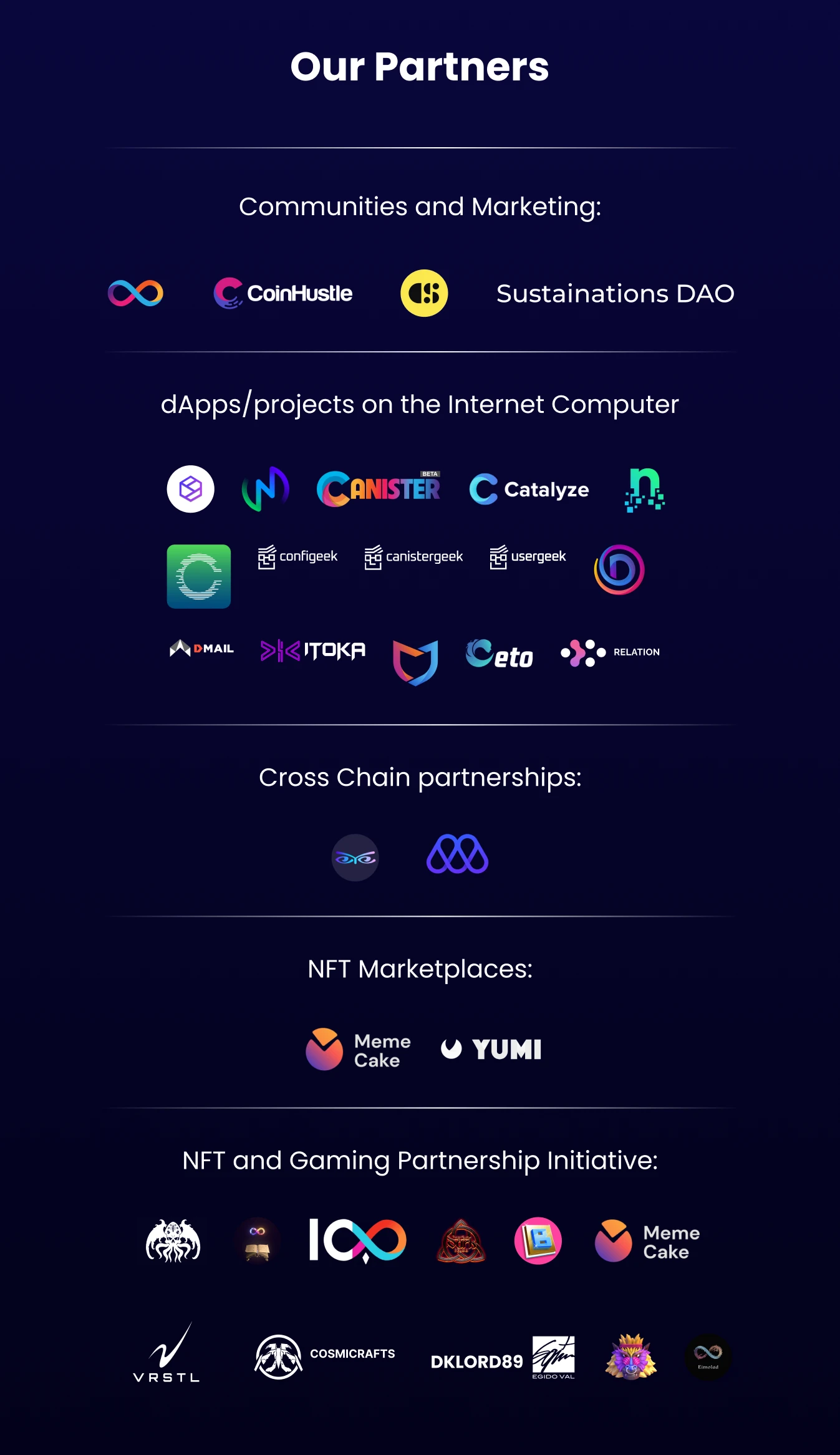 Criteria: All partners are utilizing our infrastructure such as our BitfinityWallet or AMM, and/or synergizing marketing strategies to help create network effects in the ICP ecosystem and cross-chain.
We also have separate, well-defined criteria for our NFT partners here: https://www.blog.infinityswap.one/infinityswap-nft-partnership-initiative/.
You can apply for our NFT partner initiative by filling out the following form: https://forms.gle/ZtDetNpnE9mAJAMR7
Alternatively, for all other non-NFT related projects please contact daniel@infinityswap.one
---
Communities and Marketing:
---
DFINITY is a non-profit organization supporting the Internet Computer. We have worked with them on several initiatives and have received grants as recognition of the work we have done in several aspects to promote the growth of the entire IC ecosystem.  
---
Coinhustle is one of the largest Internet Computer-related communities.
---
Venture Studio enabling Internet Computer developers to build and monetize faster.
---
The KSA community is well over 100,000 strong and is a keen advocate of the Internet Computer. We have entered into a strategic marketing partnership in order to bring the wonders of Bitcoin Integration and InfinitySwap's next-generation DeFi platform to the Arab world.
---
A global private community of change-makers who co-invest and grow sustainable projects together.
---
dApps/projects on the Internet Computer
---
The first order book trading platform of fractional non-fungible tokens (F-NFT) and a marketplace for crypto collectibles.
---
Dmail Network is a Web 3.0-based collaborative platform that integrates the functions of message communication, asset management, data storage, workspace, etc.
---
Relation Labs is building a multi-chain decentralized Web3 social graph. They empower Web3 data producers with 100% ownership, allowing everyone to create and harvest data value in the Web3 ecosystem in an open and simple way.
---
DSCVR is a decentralized social media similar to Reddit in user experience, yet with benefits such as owning your own data, wallet integration, airdrops, tokenization and more!
---
Becoming a musician has never been this smooth and simple with Itoka's cutting-edge AI and Web3 technology.
---
MODCLUB is a decentralized content moderation platform, it simplifies the moderation process by connecting our community to dApps that need UGC moderation.
---
- the first decentralized product analytics which helps product managers make data-driven decisions and get insights on how their service is progressing. With a few lines of code, you will see a dashboard of important product metrics like active users, new users, core events trends, behavioral retention, conversion funnels, and much more to come.
- An open-source tool for managing the canisters. Easy to integrate and get your canister data under your control. The tool provides the real-time status of canister cycles and memory, trends, and predictions. You will get black hole canister support and sorting and filtering of log messages.

- A remote configuration tool, which provides product managers the flexibility to have instant control over dapp appearance and switch product features on and off without running updates. Think about fast experiments with your product to improve user experience.
---
Catalyze is a web3 alternative to Discord and Calendly, solving both your scheduling and organizational needs while allowing seamless decentralized communication.
---
Canister is a global, decentralized platform built on the #InternetComputer. They provide creators with the tools to mint, sell and showcase NFT creations, and they offer collectors a marketplace to trade those assets. Everything happens directly on the Internet Computer. No custody is required, they make it easy and seamless.
---
Decentralized Digital Identities
Use as your:
Universal username across apps/dapps and webs/dwebs
One name for all of your crypto addresses
Website URL
---
VaultBet is a decentralized betting exchange. An alternative to bookmakers and centralized betting exchanges that allows users to buy, sell and trade bets on sporting events fully on chain.
---
Imagine being able to create and share content without worrying about the latest algorithm changes that affect your viewings, followings and ratings.
Imagine feeling safe in the knowledge that your content is secure on the Internet Computer and cannot be removed by monopolized companies.
Imagine a place you could grow and engage with your community on the same platform you distribute and monetize.
As a decentralized media service provider, built on revolutionary technology and using the advanced computer science of DFINITY ∞, Canistore aims to eliminate these platform risks by developing a next-gen social-store mobile application, that will be governed and owned by its community.
Simplify the storing, selling, and sharing of your photos, music, and videos… forever!
---
Cross Chain partnerships:
---
A cross-chain partnership for marketing and wallet infrastructure.
Mises Browser: Mises Browser is the world's first fast, secure and extension-supported mobile Web3 browser.
This will allow you to seamlessly use your Bitfinity Wallet on mobile.
---
Web 3.0 NFT tech platform supporting a wide range of creator and user services.
---
NFT Marketplaces:
---
Meme Cake was developed by a group of developers who love to code and laugh. They aim to build a  decentralized global social NFT marketplace predominantly for Generation Y and Z.
Yumi is a high-speed, low-cost, and fully decentralized NFT marketplace built on the Internet Computer (IC). All digital collectibles available on Yumi are hosted fully on-chain.
---
NFT and Gaming Partnership Initiative:
---
Building the first #HorrorMetaverse#Cthulhu game for the $ICP while utilizing the Bitfinity Wallet and InfinitySwap infrastructure.
---
Join the team on a mystical journey through the world of magic on ICP. Experience spellbinding 3D animations and captivating visuals.
---
ICE Studio is a young team with confidence in the development of Blockchain. Their community is built upon active cooperation and solid development on top social media sites. Meta8, an ecosystem created by ICE Studio, is composed of experienced developers and marketers who aim to form a well-established ecosystem where enthusiasts can reap profits on Blockchain.
An Advanced gaming studio built on the Internet Computer with an ambitious 5-year roadmap.
---
Boxydude is a high-quality NFT collection that is building into the Metaverse.
---
Meme Cake was developed by a group of developers who love to code and laugh. They aim to build a  decentralized global social NFT marketplace predominantly for Generation Y and Z.
---
Both artists are extremely well known and loved in the Internet Computer space, building an unparalleled reputation as NFT 'drop kings.'
---
Plethora is a Web3 Launchpad Gaming World built on the Internet Computer.
---
The full scope of the game is to create a complete and new 4X Cosmicrafts Metaverse. This is the first of its kind, taking the best and most successful elements of other games for players to interact with and actively participate in its economy, politics, and warfare.
---
VRSTL believes the IC is currently the only blockchain capable of delivering complete, full-stack metaverse experiences. They believe the IC will unlock new use cases for NFTs which will range from visual proofs of authenticity to cross-chain NFT interoperability.
---
The world of Eimolad is a fantasy gaming world populated by races of humans, orcs, dwarves, elves, and many other fabulous creatures.
Nuance is the world's first blogging platform built entirely on blockchain.
Built on, and for, the new Web.