Bitfinity
Bitfinity Insider - EVM Performance, Grants, ECDSA Ordinals and More
News about the EVM-Testnet performance results, EVM Dev-grants, Schnorr Signatures and much, much more!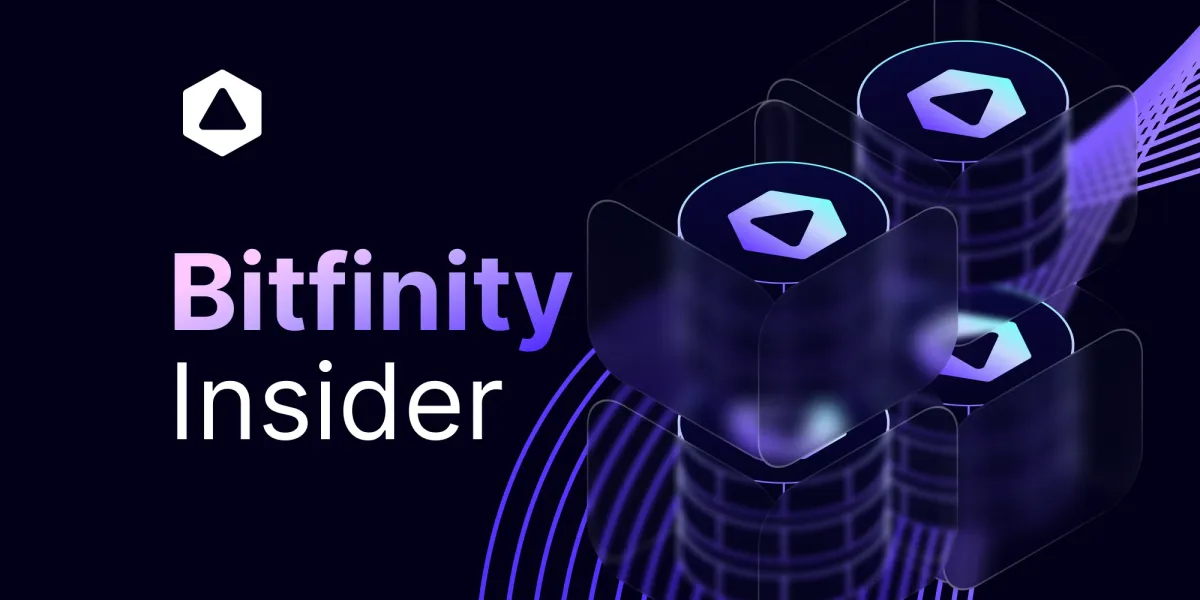 The work on the Bitfinity Network EVM continues, and the team has been working diligently to bring it to completion.
When it is complete, the Bitfinity Network EVM will allow solidity contracts, normally deployed on the Ethereum blockchain, to be deployed directly on the IC blockchain!
The Bitfinity Network EVM Testnet
The Bitfinity Network EVM Testnet has now been live for over two whole months. In this time, the Testnet has processed over 400,000 blocks and has handled them at a speed 100X faster than the Ethereum Mainnet!
With speed being such an important factor in digital applications, we are proud to present these operating results, far outperforming competitors.
The development team is now fully focused on achieving full interoperability between ICRC1 and ERC20 tokens. The next step of an exciting journey.
We look forward to the launch of the Bitfinity Network making some waves.
EVM Development Grants
The EVM Developer Grant-Program is almost ready to be rolled out. Huge news for developers, with significant earning potential available for those willing to put in the work and follow the Bitfinity requirements for launching dApps as part of the program.
Grants of $6k and $25k will be available, depending on the type and scope of the projects.
The Internet Computer has already established itself as a great place for developers to contribute, and there is much excitement amongst the Bitfinity Developer Community as they await the launch of the Bitfinity Network EVM.
TECDSA Ordinals
In other news, talks have been initialized between Dfinity, Bitfinity, Bob Bodily, and the IC community regarding the implementation of Ordinal support for threshold ECDSA signature scheme inscriptions.
Most inscriptions are currently indexed through Schnorr signatures - a cryptographic scheme that allows for efficient and secure verification of digital signatures, offering improved scalability and privacy compared to other signature algorithms. They combine multiple signature inputs into a single aggregated signature, reducing blockchain transaction sizes and enhancing overall network efficiency.
Recently, Bob Bodily, from the Bioniq NFT marketplace, showed that it was possible to inscribe Ordinals using ECDSA and had his inscription show up on at least one major Ordinal indexer. Although other indexers such as Ordinals.io do not show this yet, there are plans in the offing to upgrade these indexers to index ECDSA based inscriptions as well as those inscribed through Taproot .
This is very exciting news, as it would enable the IC to inscribe Ordinals, and function as a L2 for Bitcoin Ordinals. Be excited. 🚀
Bitfinity Team News and Events
The Bitfinity Team have just returned from their attending at EDCON Montanegro. I'm sure they had a whale of a time.
Airdrops!🪂
Some incredibly lucky Bitfinity Wallet users were blessed with airdropped NFTs this week thanks to Yumi Marketplace and Lunatics NFT.
Yumi is a decentralized NFT marketplace built on Internet Computer. It offers low fees, fast transactions, and a wide variety of NFTs. It's worth following their Twitter to catch future potential airdrops.
Rewards and incentives like airdrops are just one more reason to be an active user of the Bitfinity Wallet.
Twitter Spaces
For those of you seeking more information about the fantastic developments occurring on the IC blockchain, Twitter Space with @sonic_ooo is the place to be.
Sonic will be discussing all things ICP, such as the Bitfinity Network EVM developments and much, much more!
Developers can check out the rest of our blog for upcoming information on the EVM Grants-Program, and other tools that might be useful for getting started on the IC blockchain.
Connect with Bitfinity Network
Bitfinity Wallet | Bitfinity Network | Twitter | Telegram | Discord | Github

*Disclaimer: While every effort is made on this website to provide accurate information, any opinions expressed or information disseminated do not necessarily reflect the views of Bitfinity itself.