state of defi weekly
The State of DeFi: Bitcoin and Regulation Rally
This week, we'll focus on Bitcoin's rally, BlackRock's warning about federal rate hikes, implementing KYC measures in DeFi, Ethereum's continuing dominance, and the Internet Computer's potential for resurgence in 2023.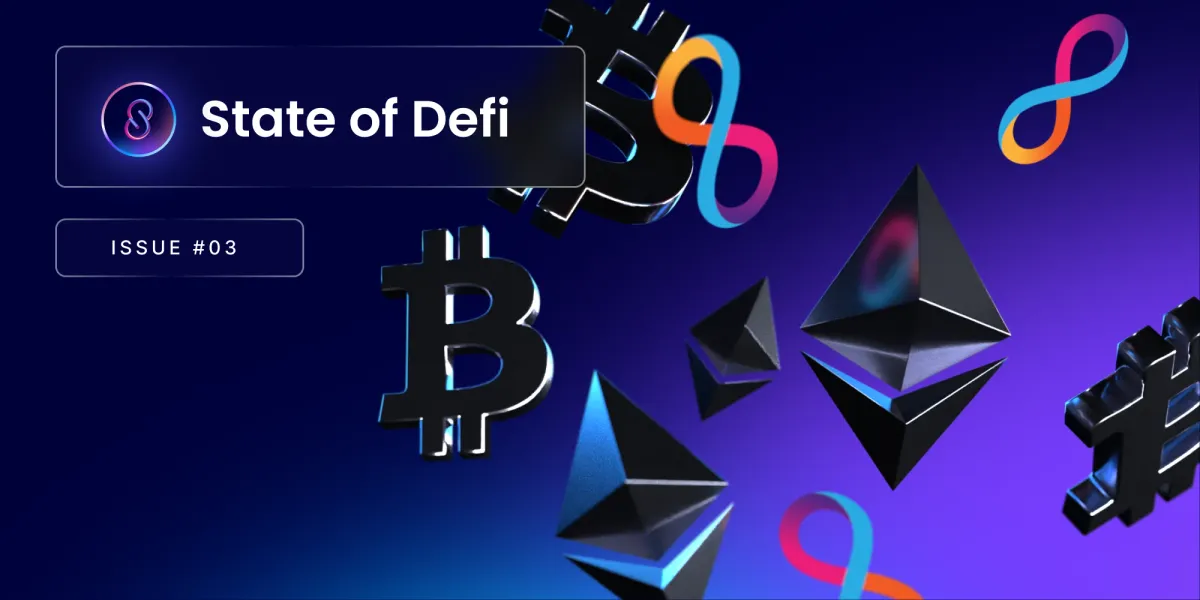 Welcome to this week's edition of The State of DeFi, where we explore the latest developments in the world of decentralized finance.
In last week's edition, we covered Cardano's TVL surge, blockchain's growing adoption beyond DeFi, Elon Musk's shifting crypto interests, Ethereum's dominance, SushiSwap's legal defense fund, and the innovative application of DeFi in the art world.
This week, we'll focus on five additional key stories that have captured the industry's attention: Bitcoin's rally, BlackRock's warning about federal rate hikes, implementing KYC measures in DeFi, Ethereum's continuing dominance, and the Internet Computer's potential for resurgence in 2023.
Bitcoin Retakes $28k as Regulatory Crackdown Fears Ease
As reported by Seeking Alpha, Bitcoin has surged back above the $28,000 mark in response to subsiding fears about a regulatory crackdown on cryptocurrencies. This rally comes after multiple countries and regions, including Japan, Switzerland, the European Union, the United Arab Emirates, the United Kingdom, and the United States signaled their willingness to work on clearer guidelines and establish a more predictable regulatory environment for the industry. Market participants are cautiously optimistic, with experts suggesting this could lead to increased adoption and investment in blockchain technologies.
BlackRock Issues Stark Fed Warning After Huge Bitcoin and Ethereum Boom
The world's largest asset manager, BlackRock, has warned that the recent boom in Bitcoin and Ethereum prices could potentially lead to a sharp correction if the US Federal Reserve takes a more hawkish stance on monetary policy. Billy Bambrough at Forbes has quoted BlackRock strategists stating that a tightening of monetary policy could lead to reduced liquidity in the cryptocurrency markets.
Industry Leaders Call for KYC Measures to Tackle Biggest Issue in DeFi
In a reversal of historical aversion toward Know Your Customer (KYC) measures in DeFi, Damilola Lawrence at MSN Cryptopolitan reports that top industry leaders are advocating for KYC implementation to tackle illicit activities and increase transparency. The call comes amid concerns that the current lack of regulation could harm the industry's reputation and hinder mass adoption. These concerns are not unfounded. In 2022, it's estimated that $76 billion USD in criminal activity was bankrolled via Bitcoin transactions, and to put that into perspective, that means 46% of Bitcoin transactions involved illegal acts. While some argue that KYC implementation goes against the decentralized nature of DeFi, others believe it is a necessary step to improve security and foster mainstream acceptance source.
Ethereum at Risk of Losing Its Dominant Status in DeFi
According to Seeking Alpha, Ethereum's long-standing dominance in the DeFi space is increasingly being challenged by emerging blockchain platforms. Factors such as high gas fees, network congestion, and slow transaction times have opened the door for competitors like Solana, Binance Smart Chain, ICP, and Avalanche to gain ground. These alternative platforms offer faster transaction speeds and lower fees, attracting users and developers alike. Ethereum's upcoming upgrades, including the transition to Ethereum 2.0, will be crucial in determining its future position in the DeFi landscape.
ICP Price Prediction 2023-2032: Is Internet Computer Resurgence Possible
Internet Computer (ICP), a decentralized blockchain platform developed by DFINITY, has experienced a tumultuous journey since its launch. After a promising start, ICP's price took a significant hit due to concerns over its governance structure and market volatility. However, Shawn Du'Mmett at MSN Cryptopolitan reports that experts and investors alike are coming to believe that ICP's novel approach to scalability and smart contract functionality could lead to a powerful resurgence.
Conclusion: Dynamically Evolving DeFi
In conclusion, this week's developments highlight the dynamic nature of the DeFi landscape. Bitcoin's price rally and BlackRock's warning emphasize the need for investor caution, while the call for KYC measures and the challenge to Ethereum's dominance reflect ongoing shifts in the industry. Finally, the potential resurgence of Internet Computer serves as a reminder of the innovative spirit that drives the DeFi space forward, especially here at InfinitySwap.
Stay tuned for more updates and analysis in the next edition of the State of DeFi!
---

Connect with InfinitySwap
Bitfinity Wallet |AMM | Twitter | Website | Telegram | Discord | Github
---