state of defi weekly
State of DeFi: Illicit Activities and Bitcoin Liquidity
We'll be covering US Treasury's statement on DeFi, TerraPort's recent $2 million USD hack, TRM Labs' insights on the future of crypto compliance, and Internet Computer's "liquid" Bitcoin launch.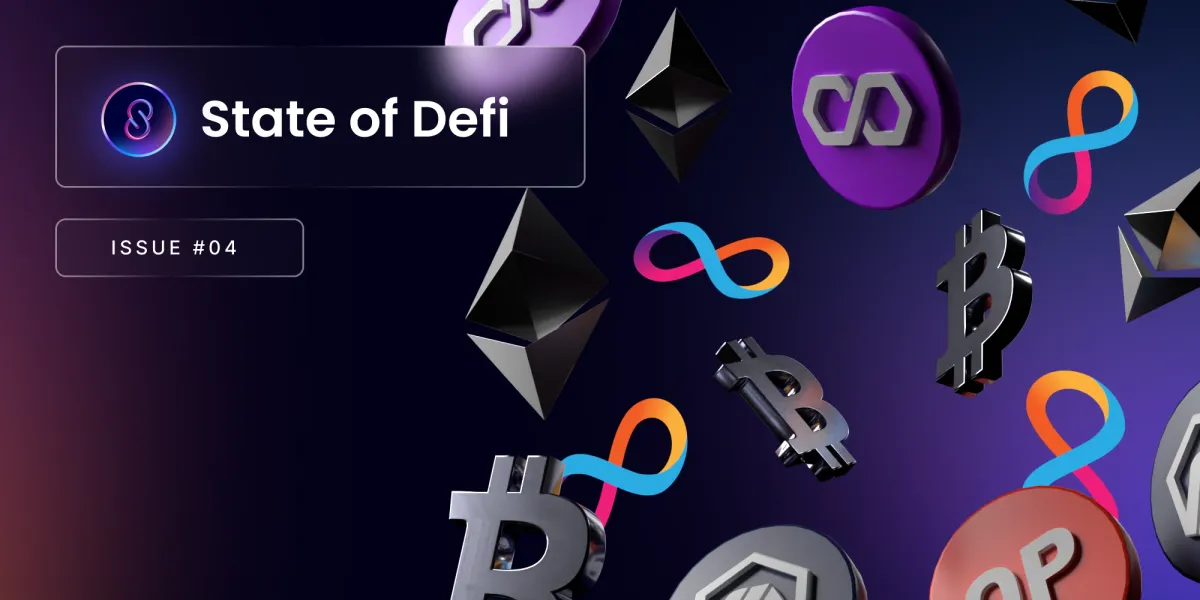 Welcome to this week's edition of the State of DeFi newsletter, where we bring you the latest decentralized finance (DeFi) ecosystem updates.
Don't forget to catch last week's edition if you missed it!
This time, we'll cover US Treasury's statement on DeFi, TerraPort's recent $2 million USD hack, TRM Labs' insights on the future of crypto compliance, and Internet Computer's "liquid" Bitcoin launch.
US Treasury Emphasizes Anti-Money Laundering Rules for DeFi
As reported by Forbes' Digital Assets team, the US Treasury has issued a statement outlining its concerns about DeFi's role in money laundering and other illegal activities. The Treasury urges DeFi platforms to implement stricter anti-money laundering (AML) measures to mitigate potential risks. According to the statement, the Treasury is committed to monitoring DeFi platforms and identifying any possible vulnerabilities that may allow illicit funds to be laundered.
The Treasury further emphasizes the importance of complying with the Bank Secrecy Act (BSA) and other relevant regulations. DeFi platforms are advised to work closely with regulators and adopt risk-based approaches to ensure the security and transparency of their operations. It should be noted that due to the fact that DeFi eliminates human intermediaries and traditional third-party accountability insurers, it's not clear how fully automated and decentralized financial services could even comply with AML and BSA - fortunately, the US Treasury's statement is simply a conversation starting point, not the end of the discussion.
TRM Labs Executive Discusses the Future of Crypto Compliance
To dive deeper into the conversation about DeFi and compliance with fiscal laws and regulations, be sure to check out the interview with Ari Redbord at TRM Labs. Redbord highlighted the increasing role of regulatory oversight in the DeFi sector and stressed the importance of working with regulators to establish a compliant environment - especially in view of the challenges and ambiguities DeFi presents to traditional AML rules based on human systems of accountability.
Redbord stressed that the rapid growth of DeFi requires innovative compliance solutions, and TRM Labs aims to provide the necessary tools for businesses to navigate the complex regulatory landscape. By developing cutting-edge technology and collaborating with regulators, the DeFi industry can foster a compliant ecosystem while still promoting innovation and growth and preserving the vision of using automated systems to fight rather than enable human financial corruption.
Terra DeFi Project TerraPort Suffers $2M Hack Days After Launch
Cointelegraph reports that TerraPort, a newly launched DeFi project on the Terra blockchain, has fallen victim to a $2 million hack. This security breach occurred just days after the project's launch. TerraPort's team is currently investigating the incident and working on a post-mortem to provide insights into the exploit. According to social media reports, most funds have been allegedly traced to the Binance and MEXC Global exchanges, which have been reportedly asked to freeze the assets.
The team reassures users that the project's core protocol remains secure and that measures are being taken to compensate affected users. However, this is only the latest in a litany of tragedies that have befallen Terra since the demise of its TerraUSD coin. The recent hack highlights the need for stringent security measures and comprehensive audits in the rapidly growing DeFi ecosystem, as well as the advantages InfinitySwap will offer since its service is immune to traditional bridge exploits due to its blockchain architecture.
Internet Computer Introduces Liquid Bitcoin for Faster and Affordable BTC Transactions
As reported on MSN (finally), the Internet Computer blockchain has introduced a kind of liquid Bitcoin (ckBTC), a new digital asset pegged to the value of Bitcoin (BTC) that enables faster and more affordable BTC transactions. To recap, ckBTC is designed to span the gap between Bitcoin and DeFi platforms, without using bridges, by offering a scalable, low-cost alternative to traditional BTC transactions.
This development promises to accelerate the integration of Bitcoin into the DeFi ecosystem by overcoming the limitations of the Bitcoin network, such as slow transaction times and high fees. With ckBTC, users can easily transfer their BTC to the Internet Computer blockchain, where they can access various DeFi applications and services without the usual constraints and risks of bridges.
Conclusion: Get Ready for More Regulation
Conversations around regulation are just starting to heat up, making these dynamic times crucial for both investors and innovators.
Don't miss out on the unfolding developments – join us next week for another edition of the State of DeFi newsletter, where we'll keep you informed and help you stay ahead of the curve. Until then, stay safe and keep the faith! I believe there's limitless potential in decentralized finance, but it will take time and patience to realize.

Connect with InfinitySwap
Bitfinity Wallet |AMM | Twitter | Website | Telegram | Discord | Github