Status Update
Status Update: March 2023
InfinitySwap Status update for March 2023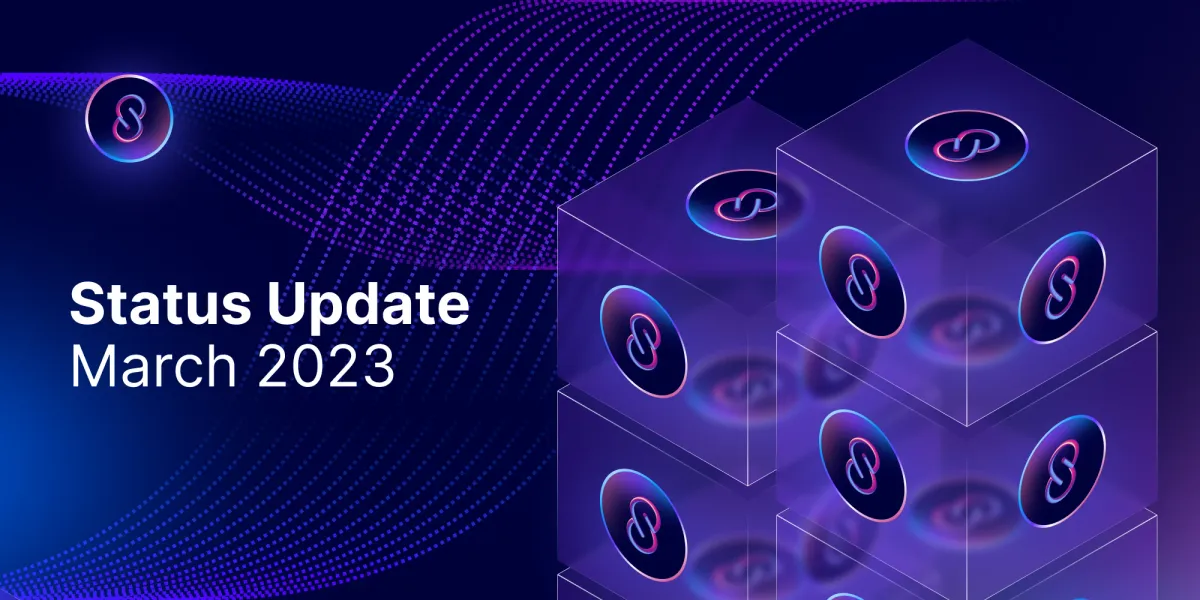 We will give you a run down at the end of each month about what we have achieved to help us document our progress and give you, the community, more transparency about what we have accomplished.
While the list of accomplishments is not exhaustive, it represents some of the month's highlights.
March
NFT Project Partnership Initiated
Apply here: MOU (NFT projects that want marketing and infrastructure support).
Incredible GameFi project, Inside Dark Studio, will drop four different sets of InfinitySwap Soldier skins to Infinity CANISTER holders as part of our exciting new partnership initiative! This served as a teaser for the new project that is designed to support NFT projects and breathe new life into the ICP NFT ecosystem.
Shinjuku High, one of the most successful NFT projects on the IC in recent memory (selling out 500 NFTs priced at 15 ICP each during the bear market) touted the Bitfinity Wallet as their wallet of choice in a tutorial created for their holders. The Bitfinity Wallet continues to gain increasing traction and recognition as the wallet of choice on the IC.
Increasing partnerships with NFT projects led to a choice to create a system that would benefit InfinitySwap, the community, and the NFT projects. We set to work to define a tiered system that has already gained widespread recognition, and in the coming weeks, the community will see increasing partnerships and benefits.
An 'Understanding Web3' tiktok clip that went viral (now well over a million views) featured the Bitfinity Wallet as the main ICP wallet as a gateway into Web3.
Our blog has recently gained major traction, with over 30,000 events per month on average and over 7000 subscribers. This has all been built during a bear market before our main Bitfinity EVM product is launched. We recently shifted to a more community-inclusive site, allowing partners to guest post. We created NFT weekly as part of our support for NFT projects and DeFi weekly articles as part of a more expansive, outward-looking phase into other ecosystems.
Due to community lobbying via the INFINISWAPPERS and, particularly, the African Gang component, we got Glue to stick with Bitfinity Wallet ;)
Chief Scientist Dominic Williams touted the fact that InfinitySwap has successfully installed a Uniswap V3-like app into a canister, bringing Solidity to the IC. The Bitfinity EVM will allow an ecosystem to spring up quickly on ICP and will power DeFi on the IC.
Our social media presence is huge in ICP circles- the stats in the above thread speak for themselves. The above thread outlines some of the Marketing department's achievements over the last year.
Appreciation tweet by Tom Serres of @warburgserres
"This is incredible. The first decentralized messaging protocol OpenChat now on InfinitySwap via the Dfinity network. Recently raised $6M in 5 hrs...This is modern-day autonomous software coming to life!"
Victor from ICP Squad will be joining InfinitySwap to host Discord events and YouTube live streams as yet another way to engage the community and our partners.
Our first 'State of DeFi' weekly article expanding outside of our ICP ecosystem, exploring what is going on in the world of DeFi outside of the ICP space.
Andrei has been busy this month on the INFINISWAPPERS Channel. If you haven't checked it yet, take a look!
New weekly article from Adam 'Freelance Ghostwriting' Kantrowitz about the latest NFT developments in the ecosystem as part of our NFT Partnership value add initiative for both projects and the community.
Big partnership with the team at Code & State. We are proud that InfinitySwap will be recognized as a Media Sponsor of the massive upcoming event in Miami.
Technical updates:
New import feature. Devs can add their own ICRC-1 tokens in this GitHub repo for the token to be accessible by Bitfinity users.
The 1.4.0 version of the Bitfinity Waller now has $OGY tokens from ORIGYNTech, and we've optimized the transfer experience.
Update from Openchat. The motion proposal to add liquidity to the CHAT/ICP pool on InfinitySwap has passed! Two proposals have now been submitted to transfer  ICP and CHAT to the pool.
That just about wraps up another monthly report. Thank you for your support, INFINISWAPPERS!

Connect with InfinitySwap
Bitfinity Wallet |AMM | Twitter | Website | Telegram | Discord | Github