Interviews
Interview with Max Chamberlin: CEO of InfinitySwap
We wanted to get to know Max Chamberlin, CEO of InfinitySwap. In this interview, we ask about the overall vision shaping the project, thoughts on the Internet Computer technology on which the project is built, and where the future lies in relation to decentralized finance.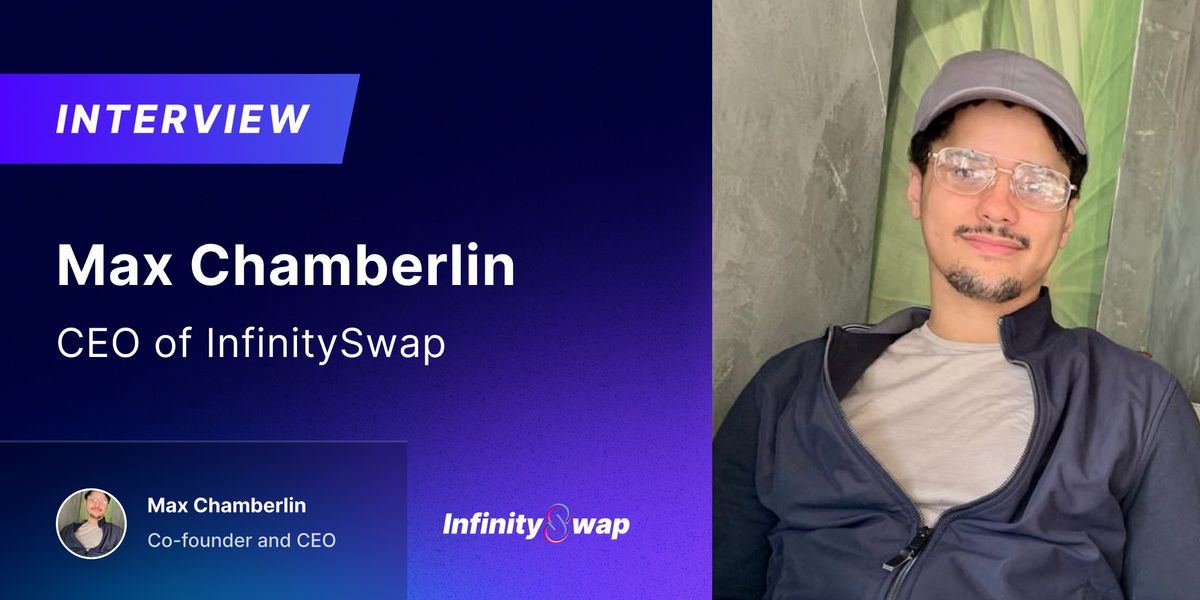 We wanted to get to know Max Chamberlin, CEO of InfinitySwap. In this interview, we ask about the overall vision shaping the project, thoughts on the Internet Computer technology on which the project is built, and where the future lies in relation to decentralized finance.
Hello Max; thanks for taking some time out of your busy schedule to answer these questions.
Q: First of all, I'd like to ask about your background and how you ended up setting up InfinitySwap.
It's quite a long story, but I've been in the crypto world for the last 5 years and have also previously connected with the Ethereum Foundation. I was invited by Vitalik Buterin to an internal Ethereum workshop in Taipei on ETH 2.0 and the future of sharding. That was in 2018 or 19. Clearly, a lot has happened since then.
I heard about DFINITY in around 2017 or 2018, and when I more recently learned that they were launching, I knew I had to build something on the chain. When I read the white paper all those years ago, I knew it was the future of blockchain; now, they have launched and essentially built a viable alternative to Vitalik's vision for a scalable blockchain.
I also met Alex, InfinitySwap's cofounder, shortly afterward, though we were just friends and not business partners at the time. By chance, we happened to meet up in London last year. After a 30-minute meal at a Soho burger joint, we had already made up our minds, and we knew we were going to build DeFi on the Internet Computer.
Q: Can you tell us about your team?
Yes,  the team is very capable, with a strong bias towards the technical. We have been in development mode for a long time – that's why you haven't heard too much from us. But I think the team has a very solid footing now; we have  12 developers, about seven on the back end, four on the front end, a project manager, and a couple of UI designers.
Some of these devs are true veterans and wizards, and I'm proud to be working alongside them. It feels great to work with and be challenged by such smart guys, I think one of our devs has a degree in Rocket Engineering - Elon Musk v2 ...
The team is distributed all around the world, from the UK to Norway to Australia and China. And we believe that's the way it should be in DeFI.
We also have a solid marketing team, and they will come to the fore in the coming weeks and months, not least through the launch of this website, where we will disseminate updates and related news. We want the project's values to shine through, and we believe that you can only do great marketing with a great product.
Q: What is your overall vision for InfinitySwap?
Our vision is to financially liberate the world by giving people access to the best coins and staking opportunities in the blockchain: all via the weird and wonderful things in DeFI.
Ethereum coins; they'll be on our platform. IC coins; they'll be on our platform. Bitcoin, you guessed it, will be on our platform.
Our product is a blend of Uniswap, Balancer, and CoinMarket Cap. We want to be the Google for blockchain, making it easy and accessible for people to invest in new coins by making this information very transparent. With our AMM and the IC's native cross-chain integrations, you will be able to access any coin through our platform over time.
Staking is also a major component. You get what? 2% interest at the banks, despite rampant inflation of 7-10% eating into the savings of most people in OECD countries now. How is that fair? Blockchain assets are deflationary and also give great rewards through yield-farming and staking.
On the IC, we want to provide people with the best staking opportunities, and this aligns with our vision of financially liberating people.
Q: Can you tell us about a simplified roadmap moving forward?
Most definitely. So we are currently updating the statistics of pools in our AMM. We'll also be putting the final touches on the social-sharing features, which we have recently migrated to the IC.
We've already implemented a system to launch your own tokens and liquidity pools through our platform, so once this gets just a bit more traction, we think the IC ecosystem is really going to take off. We've implemented a wallet for our tokens, which can also handle NFT transfers.
Beyond this, our focus is on the IC's Chain-Key integrations so we can accommodate both ERC20 tokens and Bitcoin into our wallet and web app over the next two months.
We'll later look into updating our wallet as a progressive web app, which will mean it can be used on mobile and also enhancing it with some cool, cutting-edge features. This will be an ongoing process over the next six months.  
Q: Why did you choose to build on DFINITY's Internet Computer?
I may be biased, but I think DFINITY is awesome. They have the largest technical team building on blockchain at the moment - what is it, around 150 researchers and engineers? You have legends like Jens Groth, who designed snark circuits widely used in zero-knowledge proof cryptography, and Ross Anderson,  one of the engineers involved in the design of the web-assembly virtual machine, which is the future of both blockchain virtual machines and also web programming.  Then there's Ben Lynn, the L from BLS signatures. This is as close to crypto and engineering royalty as it gets.
I knew about the scalability inherent to the IC and the fact that it's currently the only blockchain that has nailed sharding or horizontal scaling, but on top of that, we have these amazing bridge-less integrations, which means it will be safe to send Bitcoin and many other coins to the IC.
The IC is going to become the liquidity hub for all other chains in the future. It will be easier and safer to integrate other blockchains on the IC than any other chain. That means game over for DeFi, for AMMs, liquidity pools, etc., using those outdated means.  
There are also native integrations with web2, which will make it incredibly easy to spin up an oracle on the IC. if you have ever used Chainlink, you will realize the process is not so simple.
So we'll see a true blending of data from the web2 and web3 worlds in a way that was never really possible before. I think the kinds of financial applications that this will enable and the scale of changes afoot will be truly extraordinary.
Q: What advantages does decentralized finance have over traditional finance, and why do you believe it is inevitable that it is the future of finance?
Did you know that merchants like MasterCard and Visa charge a 3% acquirers fee? That's a surreptitious 3% tax everyone pays when they purchase goods through their cards - completely unnecessary in the age of blockchain.
Did you know correspondence banks can make international transfers much more expensive in many parts of the world, whereas stable coin transfers are virtually free?
In many senses, the old world of finance is built from walled gardens that stifle innovation. Yet the DeFi world is construed from completely different principles. We have an open world of finance, which accelerates innovation and brings the best products to market - whether that be wallets, staking, or other more efficient capital markets.
The future of finance does not lie in the monopolies of old-world finance,  it lies in open innovation through DeFi.
Q: How will the Internet Computer give Bitcoin and later Ethereum 'superpowers' via integration?
That's easy, the IC will be the new L2 for Bitcoin: Bitcoin's Lightning Network has been challenged regarding its level of decentralization. To make payments on Lightning, you need liquidity hubs that help route payments between channels. These hubs will store capital on behalf of users. On the IC, there is no such issue: no hubs, no payment routing, and it's generally safer.
If you go offline after making a payment, there's always a chance on the Lighting Network someone could try to exit a payment channel with your funds. On the IC, there is no liveness requirement, and the payment would be made instantly. Generally, a lot of the cryptographic techniques that are used in the Chain-Key protocol are also used now by institutional-grade crypto custodians, like Fireblocks, to secure your private keys in their hot wallets.
The main difference is that the IC has taken this to the next level and enshrined this cryptography in a proof-of-stake blockchain, enabling the blockchain and smart contracts to directly hold your BTC keys.
Then there's Bitcoin smart contracts, a new world of BTC DeFI: absolutely ground-breaking. Imagine if the same world of Ethereum smart contracts were replicated on the IC but for Bitcoin. If you hold Bitcoin, you should be able to get a return on it, and you should be able to do so in a decentralized manner without requiring custodians, over-collateralization (STAX) or holding some other coin like Ether (WBTC), and that's where the IC really shines.  
I think the superpowers of Ethereum become more obvious when you look at the whole ecosystem in general. Building bridges between Ethereum chains has always been a challenging endeavor, and there have been several high-profile $100m+ hacks. When both Chain-Key and the ability for canisters to make HTTP requests arrive on the IC, this will make it much easier and more secure to build bridges between Ethereum-based chains.  Hence the IC has the potential to become the liquidity hub, not only for Bitcoin but also for Ethereum-based chains. The blockchain world should be super excited about the prospect of this.
Q: You've described InfinitySwap as an AMM that serves community projects and gives access to staking, can you elaborate further on this and what InfinitySwap offers?
An AMM enables projects to list their tokens for sale. On our platform, InfinitySwap, projects can create tokens using our token standard and then launch a pool. If you are launching a project, you don't want to have to seed it with lots of ICP. We have implemented capital-efficient pools, similar to Balancer, so this will mean that projects will need much less ICP to launch a liquidity pool than other competing solutions.
However, our pools also serve another purpose: enabling the project holders to deposit their tokens as liquidity and earn a return. So, if you want your project's holders to earn and hodl, our pools are the way to go!
Q: InfinitySwap will allow access to new markets and initiate a new phase of financial freedom. Can you expand on this?
This is our core vision. We know that web3 is the future of finance, that the days of clerks at the bank are numbered, and that international financial transfers will no longer be the monopoly of SWIFT or IBAN. We know that the 3% merchant fee your card charges shops is completely gratuitous and will be phased out with blockchain. We know that the future of projects raising capital is through web3 initiatives, like DAOs and tokenomics, which are otherwise absent in the real world. And we have already heard activists like Musk say that they are going to put DogeCoin on the moon.
At the center of the web3-world, we have the IC as the most advanced and soon to be the most interoperable blockchain. We have the opportunity to build an exchange that grants people access to the best coins in this ecosystem - that is what we mean by financial freedom. Freedom to invest in the new world economy, and through InfinitySwap, we want to surface the best investments through a clean and easy-to-use AMM interface, with a focus on easy-to-understand analytics.
Q: Can you tell us more about your plans for SocialFi on InfinitySwap?
The future of investments is social - we've seen this in community DAOs that buy up NFTs that would otherwise be too expensive. We've seen this when GameStop's Reddit community up-ended the shorts Citadel and other hedge funds placed on their stocks. We've seen Elon Musk's 80 million Twitter following and how social media amplifies the voice of great projects and leaders. Value comes from the community,  and there should be tighter integration between the tokens you invest in and your social media profile/presence.
At InfinitySwap, we are implementing social sharing in our wallet, so you can easily share your portfolio with your friends through a link in the application. This will also enable you to earn passively, as down the line, we'll be implementing copy-trading functionality that will enable a follower to copy your trades and earn by co-investing with you. Of course, you'll get a commission for your trades!
Q: Can you tell us about the IS20 token standard in detail?
To date, no other standard on the IC has come close to solving the inherent issues that are holding back DeFi. If you are using any other standard on the IC other than IS20 right now, you are using a standard that has flaws and will be replaced - for a non-exhaustive list of the issues we have uniquely solved, please see:
In short, we need to prevent attackers from draining your canister's cycles, create workarounds for the bugged update methods on the IC, and also enable decentralized top-ups for a canister's cycles.
Q: The Internet Computer places an emphasis on an 8-year timeframe. Where do you see both InfinitySwap and the Internet Computer being in 2030?
We'll be the largest AMM pool for Bitcoin. We'll have diversified into a range of other DeFi services, like social trading, borrowing, lending, etc.  We'll also have every kind of coin imaginable on our platform. And we'll have helped empower hundreds of thousands, perhaps millions of people financially, enabling them to earn in the new world economy.
DFINITY will be the evolution of the blockchain, blending the old web2 and the new web3 worlds whilst laying the foundations of a new blockchain-based economy with applications that are far-reaching and revolutionary.  We will see a new world of social media, running directly on the blockchain, the most interoperable blockchain platform,  as the layer-0 for other blockchains, giving rise to some of the most powerful DeFi projects in crypto. At the center of this brave new world will be the InfinitySwap AMM, an exchange where tokens meet the community and vice versa.
Connect with InfinitySwap
Twitter | Website | Telegram | Discord | Github
---

---