Infinity Weekly: Guest Posting for Partners
Welcome to Issue #45 of Infinity Weekly for our INFINISWAPPERS community. If this newsletter was forwarded to you, sign up here.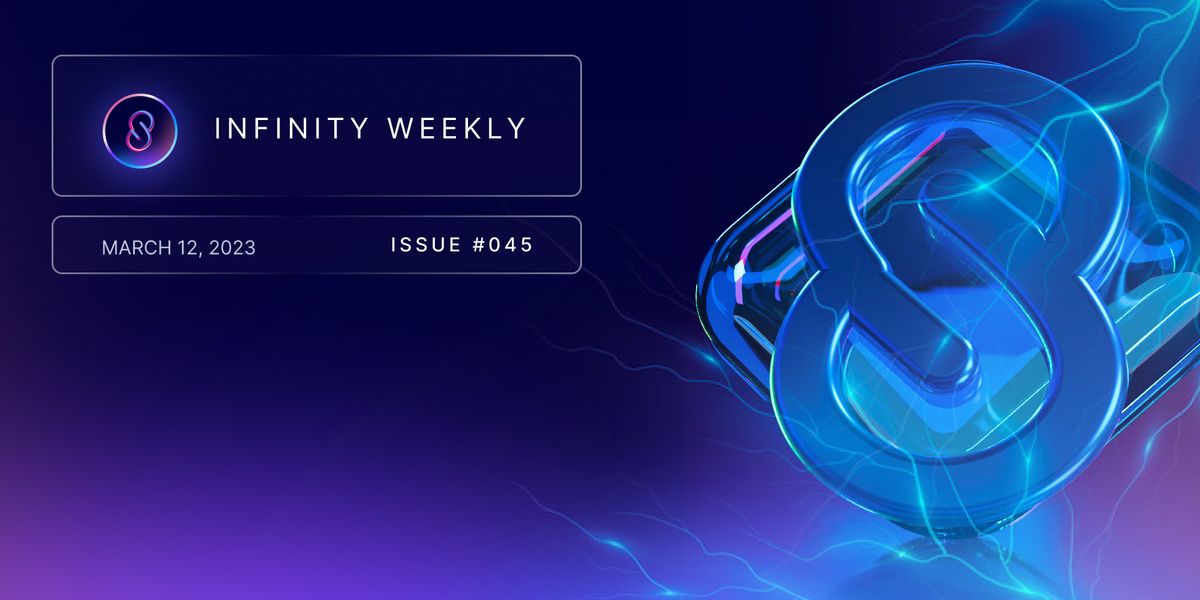 Welcome to Issue #45 of Infinity Weekly for our INFINISWAPPERS community. If this newsletter was forwarded to you, sign up here.
What's in Today's Email?
IC Ecosystem News
This Week in our Blog
NFT Market Bytes
Around the Web
Tweet of the Week
Video of the Week
Meme Time
A Matter of Opinion
IC Ecosystem News
♾ RSVP pls: DFINITY will be hosting four digital events this month, featuring select guests from the IC ecosystem and the broader web3 world. Learn about marketing and PR, web3 entrepreneurship, community building, and more in DFINITY Live Sessions. The first event is on March 16th. Don't forget to reserve your seat so you can learn from the experts!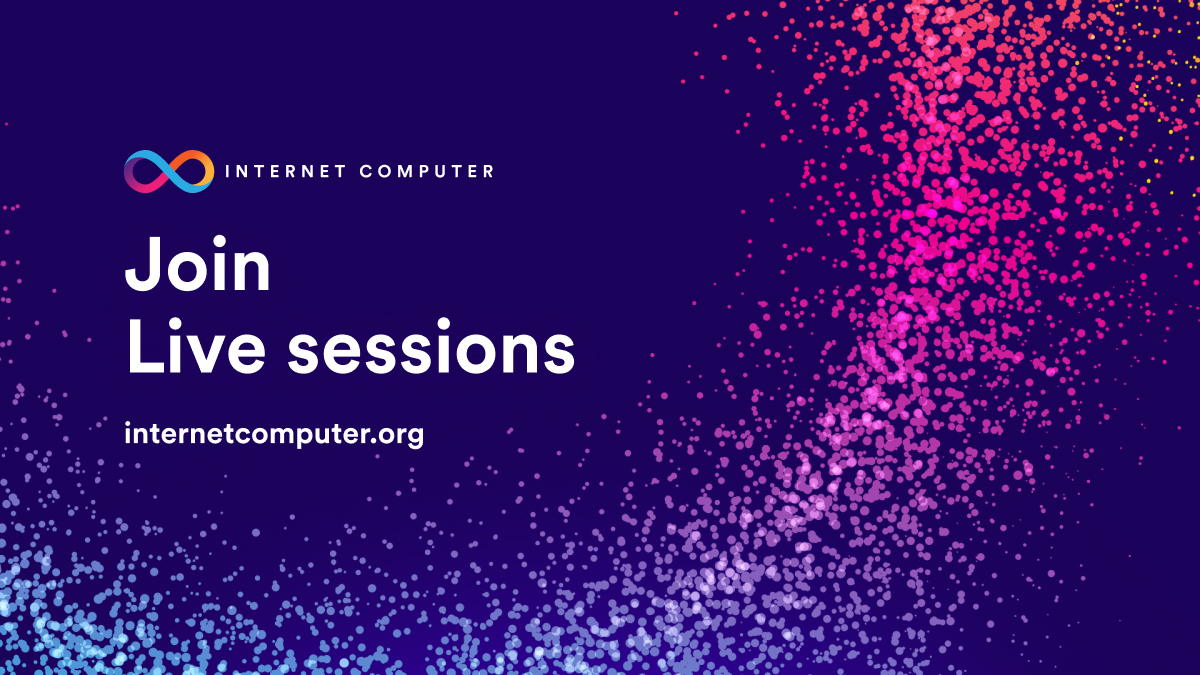 ♾ Community Chat: OpenChat, one of the Internet Computer's most widely used social dApps, recently raised more than $5.5m in a crowdfunding sale of their governance token. As promised, OpenChat will be transferring control of the dApp to a 'decentralized, token-based governance system' via the SNS (Service Nervous System). Proceeds from the raise will be held in the DAO's treasury and token holders will be able to directly influence how funds are used, vote on upgrades, features, and more.
♾ Lab Partners: DFINITY's ICP.Lab program is launching a series of "Business Boosters" sessions. The focus will be to help devs and other builders who may not be familiar with how to navigate the business and economics side of launching and building out a self-sustaining project. The sessions will range from webinars to Twitter Spaces, so be sure to keep Twitter notifications on!
This Week in Our Blog
Although DeFi was built with the promise of financial inclusion as a core pitch, the industry is far from being accessible to all. In fact, over the years DeFi and crypto, in general, have cultivated a reputation for being the playground of the rich and roads to illicit black market activity. InfinitySwap is working to change that: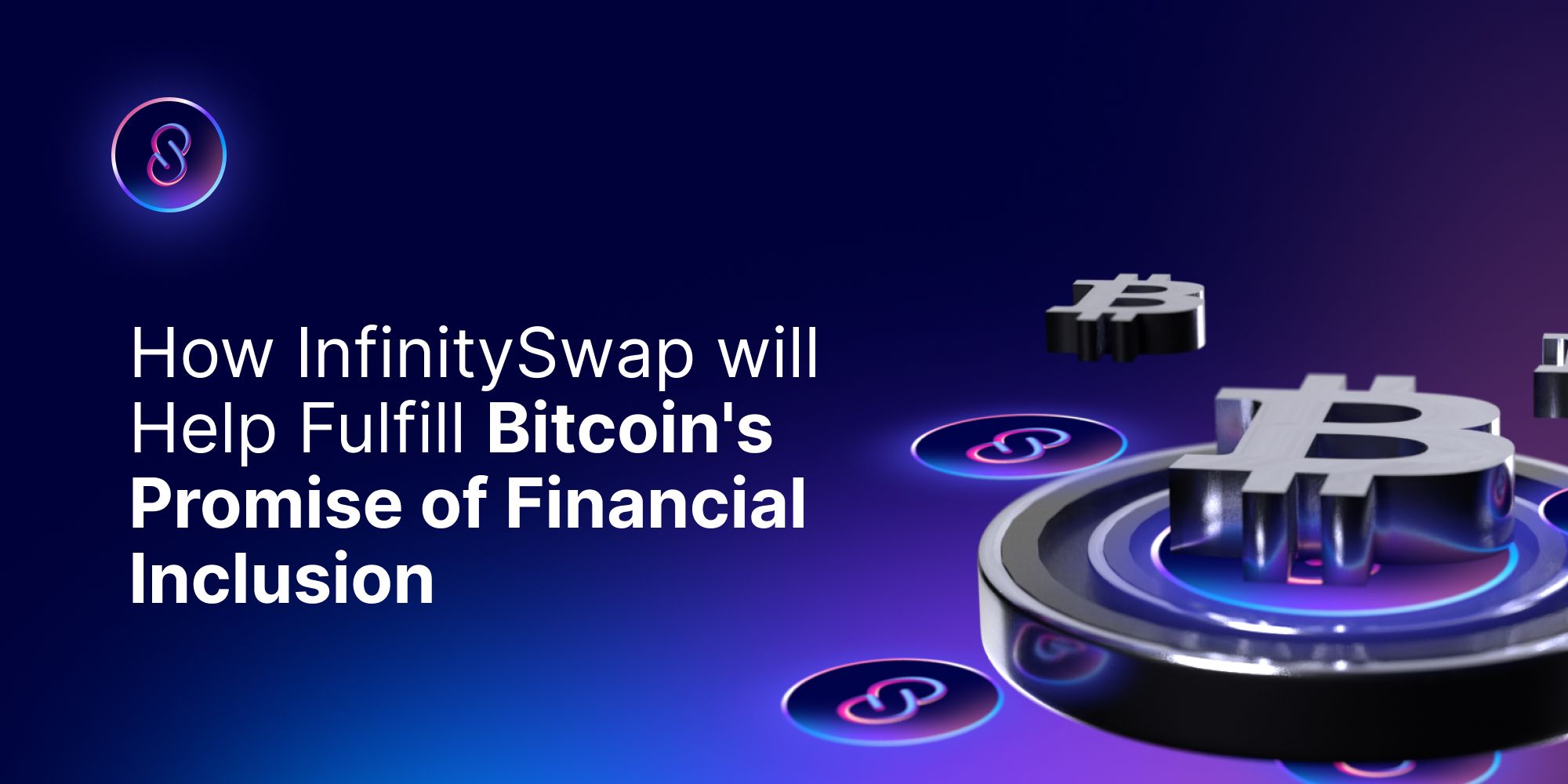 Get ready for the next Motoko Starter Bootcamp! Learn to code Motoko, the native language of the Internet Computer, for free. The event begins in early May and sign-up is open now. If you've ever thought about working in web3, this could be your chance to make a career change.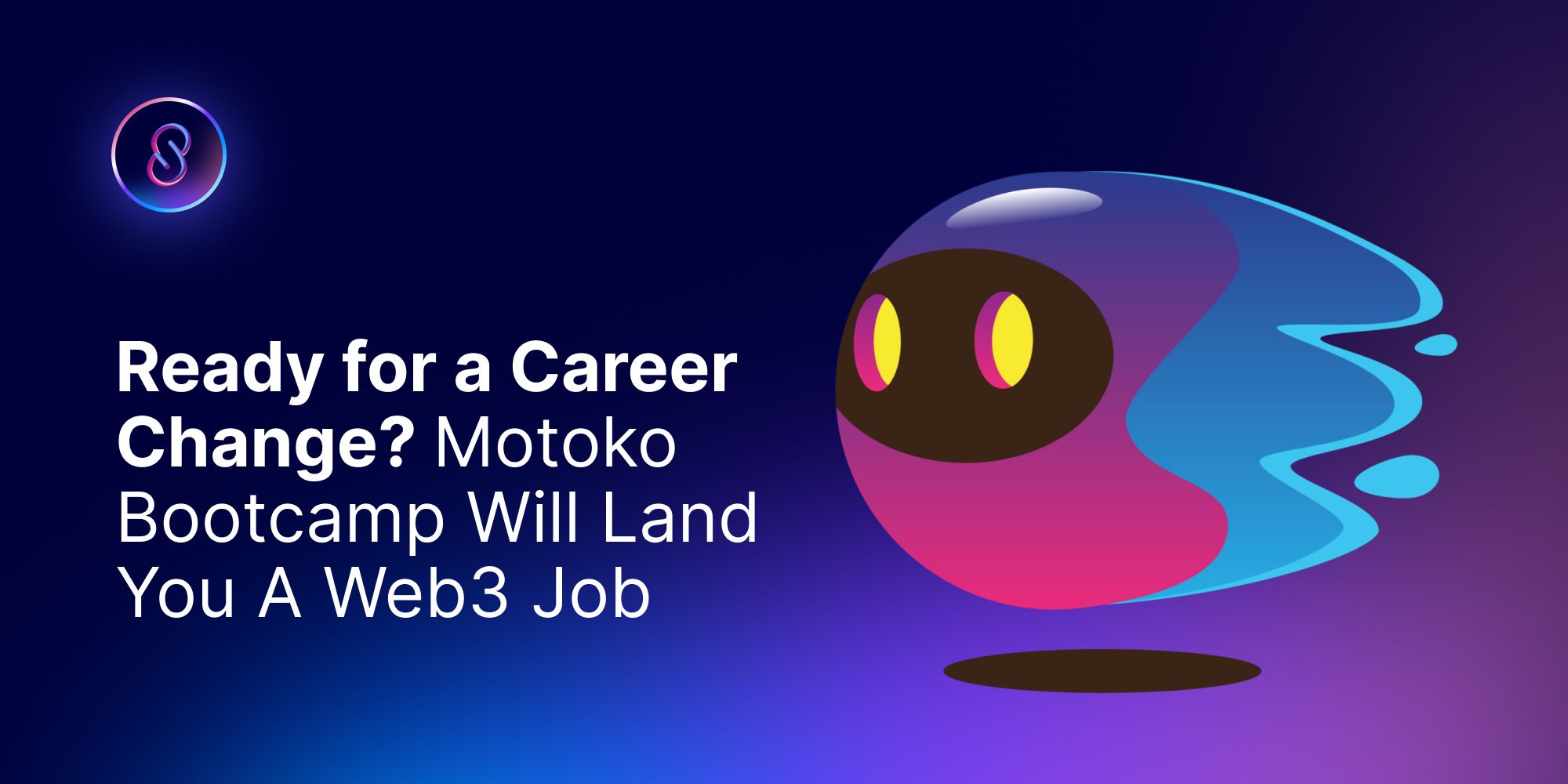 Have an NFT project you're looking to promote? Infinity Swap's marketing team is open to collaboration. As one of the largest community-oriented projects on the Internet Computer, we are ready and eager to help strengthen the IC ecosystem by lending our support and expertise.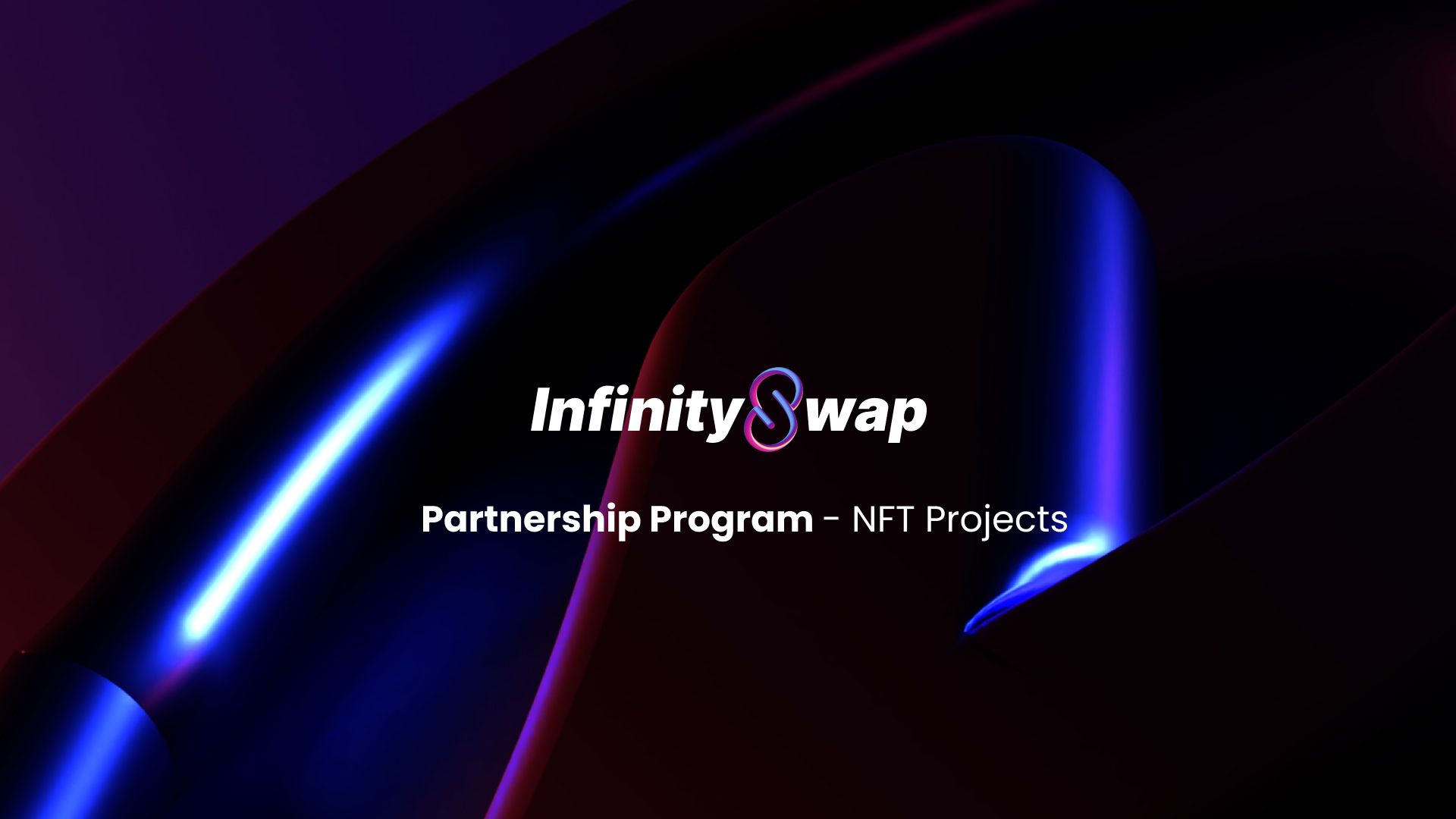 By now you probably know that Infinity Swap is building the world's first Bitcoin-enabled EVM. But do you know what an EVM (Ethereum Virtual Machine) is and how it works? We break it all down in this beginner-friendly guide to EVM basics.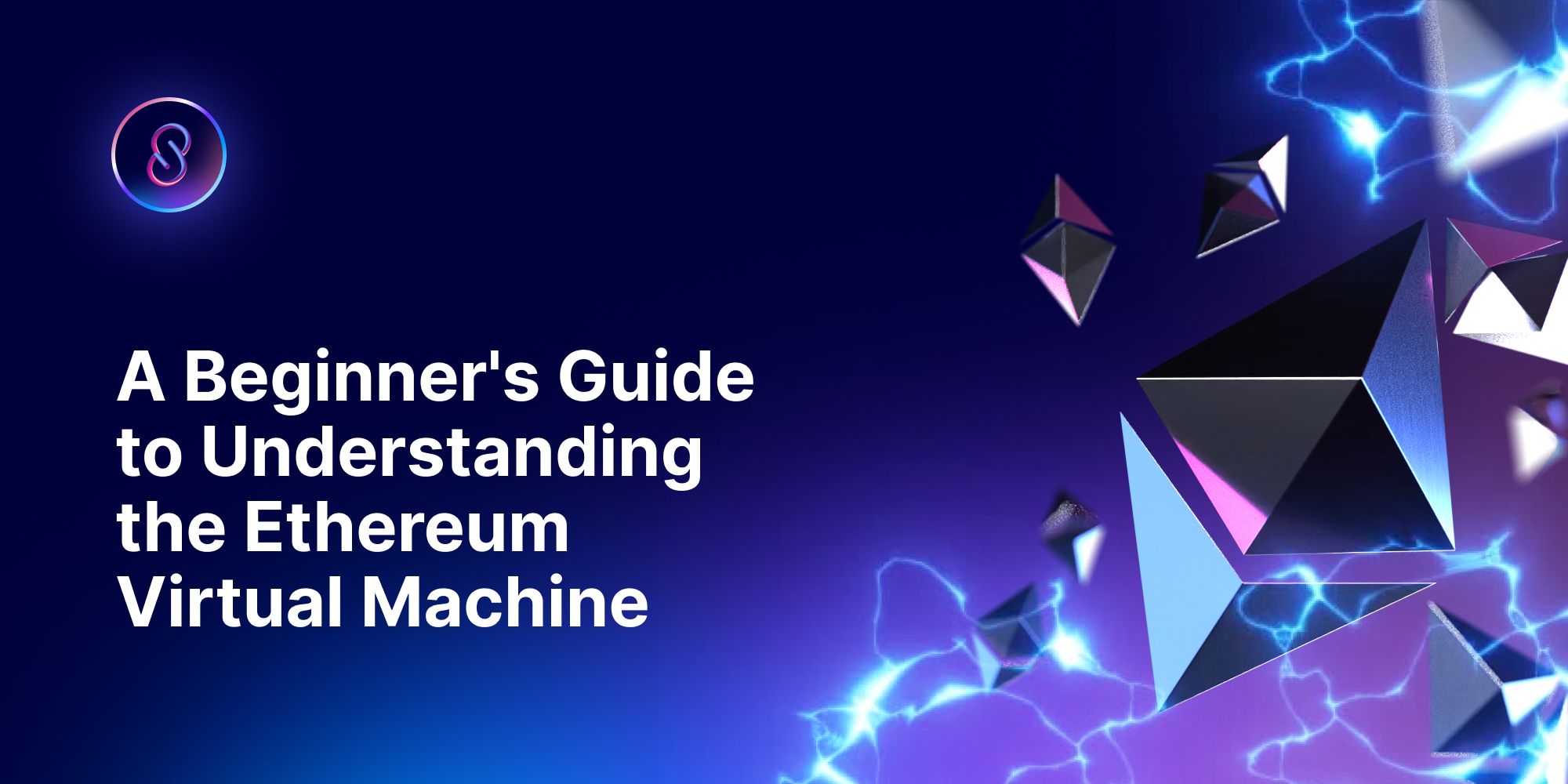 InfiniSwappers, get ready to spread the word about our upcoming EVCM (Ethereum Virtual Machine Canister), the EVM that Infinity Swap is building by leveraging the unique capabilities and web speed of the Internet Computer. Explore the innovative architecture of the EVMC and learn what makes it so powerful compared to the other EVMs currently in existence.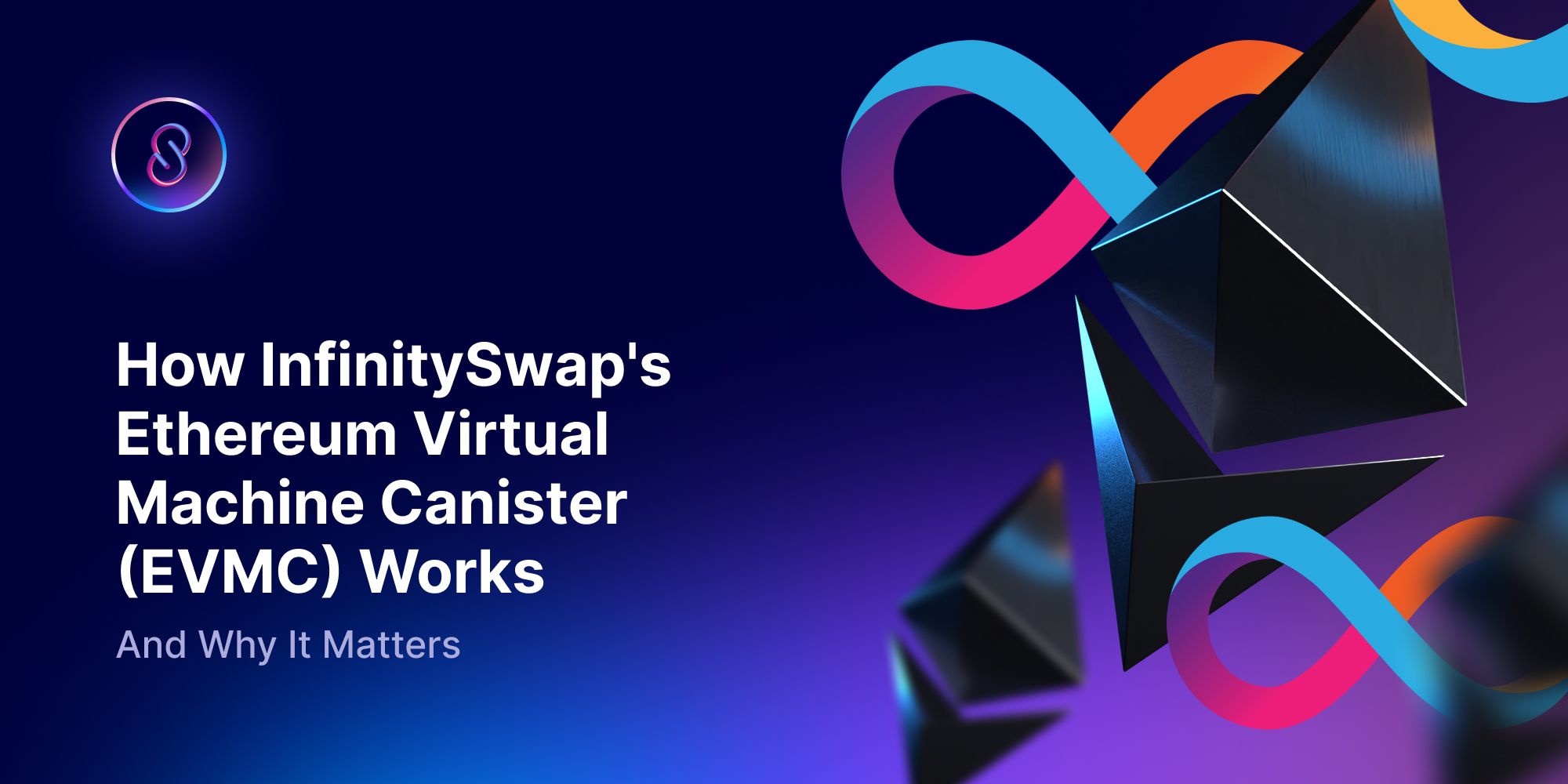 From backing up your wallet securely with your Recovery Phrase, managing your NFTs, and disconnecting from a dApp, get the most out of your Bitfinity wallet by learning how to use it to its fullest capabilities!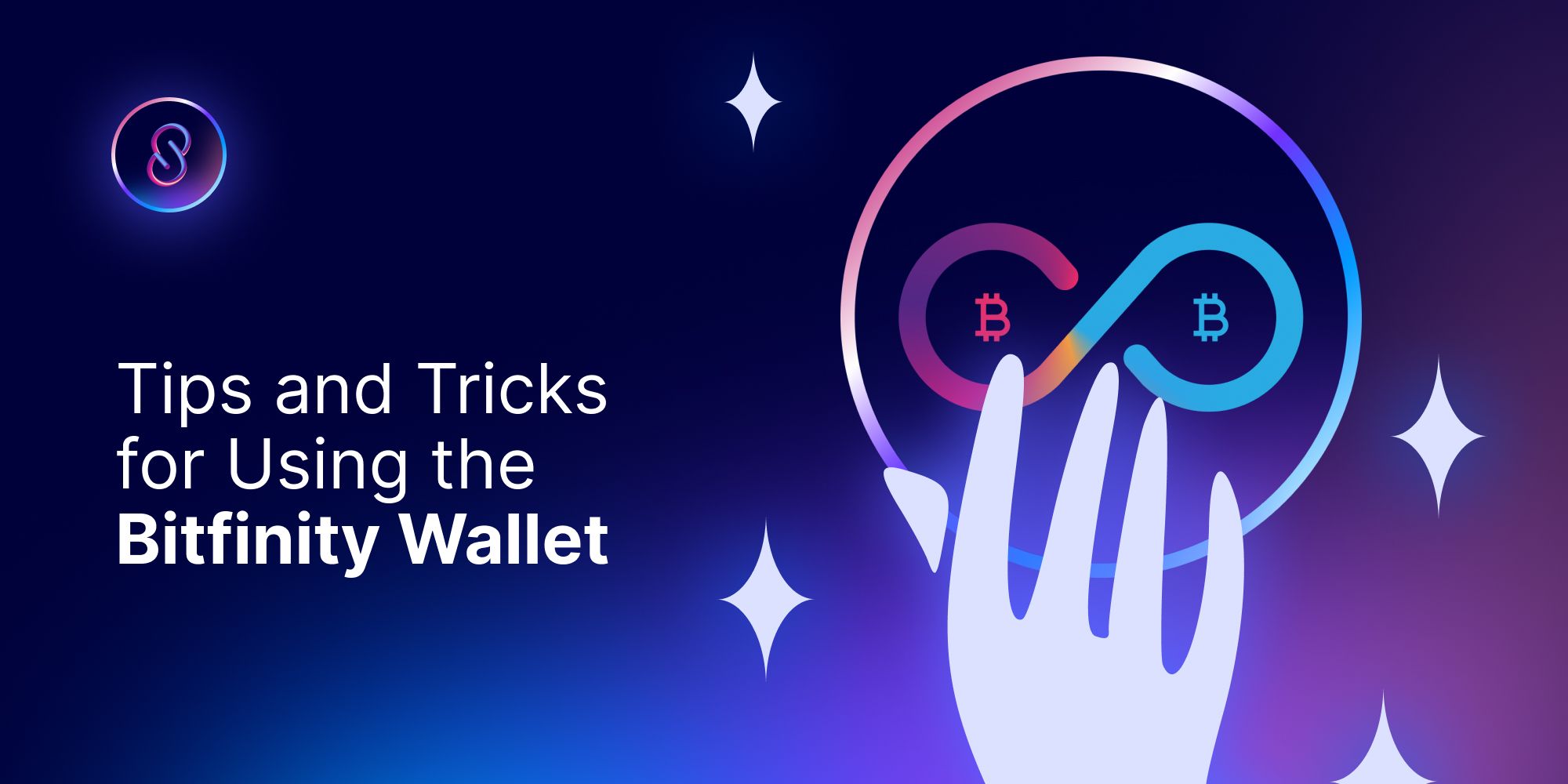 InfinitySwap's EVMC is an innovative project that creates a fast, cost-effective implementation of the EVM that is compatible with Ethereum smart contracts but runs on the Internet Computer. Read more in our guide below: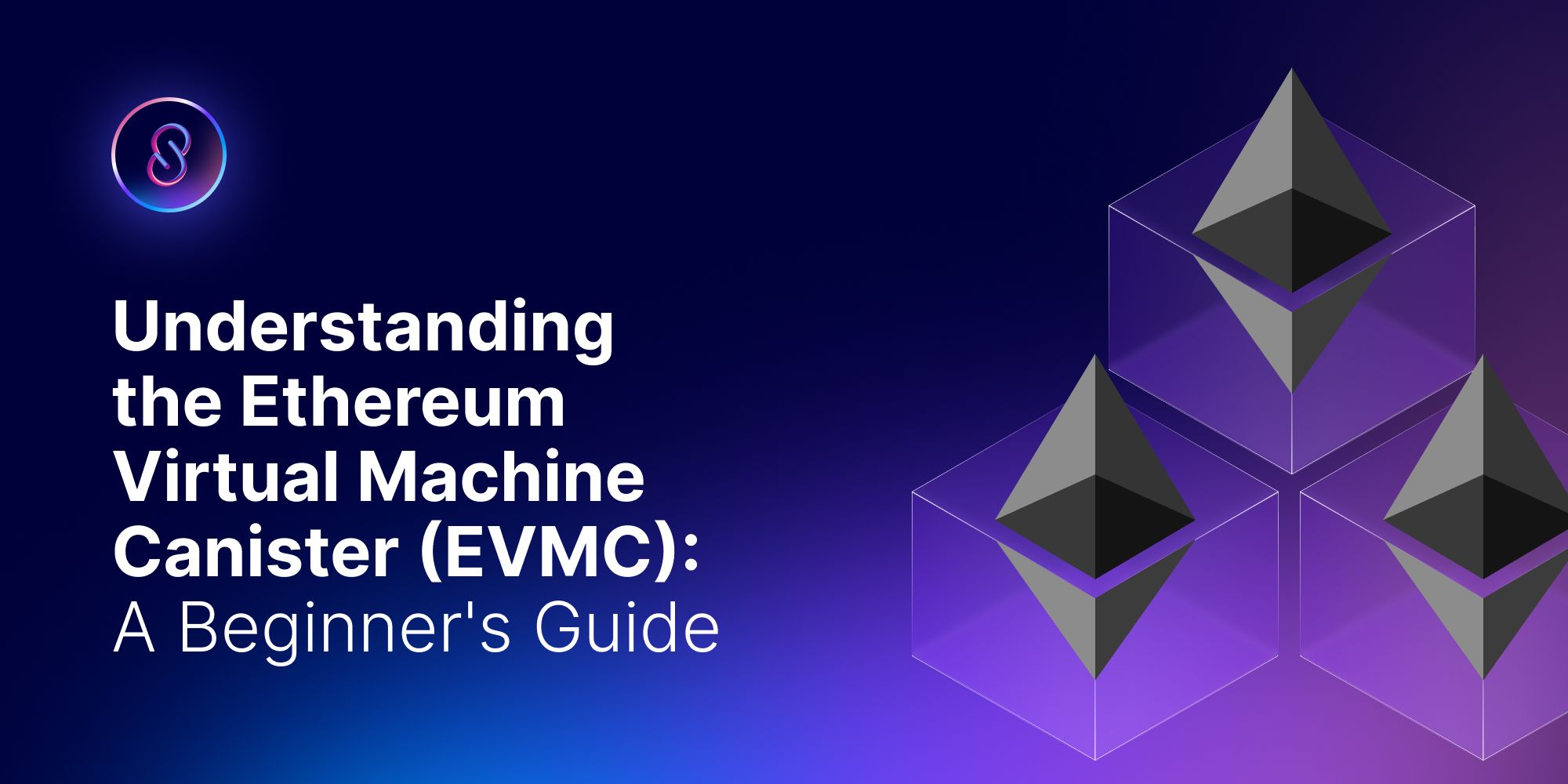 NFT Market Bytes
The Clown Skateboards collection not only minted out to the tune of 27k ICP, but the secondary market has already seen more than 12k ICP worth of NFTs change hands. As dgdg.app refines the rarity parameters, it seems the highest-priced items feature symmetrical colors, triple matches, or double pairings. While the current floor price of 11 ICP is less than the mint price of 13.5 ICP, the fact that this actually has the lowest supply of any of Ludo's art collections on the IC, along with the fact that about one-quarter of the collection has already exchanged hands on the secondary market, paints a picture of just how popular Ludo is in the IC community. There are currently over 500 holders, meaning that the average number of Clown Skateboard NFTs in a holder's collection is four.
· Congratulations to the Shinjuku High team for minting out their Freshmen collection. We certainly look forward to seeing how these dynamic digital collectibles (DDCs) change over time to become even more unique to each holder. In the meantime, It is encouraging to see over 165 holders, meaning that the average number of NFTs in a holder's wallet is approximately three.
· Cubetopia successfully launched its third NFT collection this week – Cubetopia Pets. This is the largest of the three collections so far, at 3,205 NFTs. Holders of the Cubetopia Founder's Pass got the earliest access to the sale, followed by holders of Cubetopia Islands. With more than 2,000 ICP in secondary volume already, we look forward to tracking the collection this week.
We are delighted to announce that Adam will now be writing an NFT Weekly Update and we will publish this on Wednesdays as part of our NFT Partnership Initiative.
Around the Web
🥲 Here We Go Again...: Silicon Valley Bank's collapse on Friday has left the tech sector in a state of panic and crypto is also suffering. Stablecoin $USDC remains unpegged from $1 as of the time of writing, with sentiment split on whether or not it will repeg (though issuer Circle has relayed that a relatively small portion of its backing was entrusted to SVB). Crypto seems to be heading to a downtrend, though traders seeking a safe haven in $BTC has caused the OG cryptocurrency to see a small spike in price. The Ethereum chain is also seeing abnormally high gas fees as traders cash out of alts and consolidate into $ETH.
💥 Strike One: Though most of the current focus is on SVB, Silvergate Bank was the initial trigger for the downward price action this week. Silvergate, a bank that heavily focused on the crypto sector, announced on Wednesday that it would wind down operations and liquidate its assets. This had a major effect on the market, with Bitcoin, Ethereum, Matic, and Filecoin seeing the steepest price drops, as traders speculated that there will be trouble on/off-ramping liquidity with the loss of one of the largest and most well-known crypto-friendly banks in the U.S.
🔗 Hashing It Out: Hedera suffered a smart contract exploit on its mainnet on Thursday, leading to the theft of several liquidity pool tokens on DEXs that derived its code from Uniswap v2. The exploit was caught when the attacker attempted to move the stolen tokens across the Hashport bridge. The bridge was temporarily paused to mitigate damage, though it is still unclear how much was stolen.
🚢 Cathie's Ark: Some sign of hope for battered investor morale this week--Cathie Wood's Ark Invest has bought a sizable sum of Coinbase stock (COIN), adding hundreds of thousands of shares to its ARK Innovation ETF and Next Generation Internet ETF this Thursday. The purchase, valued at $20.6m based on Thursday's closing price, indicates that tradfi investors remain bullish long-term on crypto. Coinbase also announced this week that it would continue with its L2 launch and $ETH staking, despite recent regulatory concerns on staking.
Tweet of the Week
A special shoutout to the #AfricanGang, a crucial pillar of the #INFINISWAPPERS community and a huge resonating voice in $ICP. Fast becoming a powerful lobby, they wanted Glue integrated with Bitfinity and sent out their request.
No more than 24 hours passed and Glue heeded the call and integrated the wallet. Bitfinity is being continuously upgraded and developed, with the latest version shipped earlier in the week. Thanks to the Glue team for the integration.
Video of the Week
We feature some top dApps on the ICP network who also happen to be partners. These projects are reimagining web2 as we know it to create an economy of ownership for content creators.  Check out this week's awesome video by Andrei!
Meme of the Week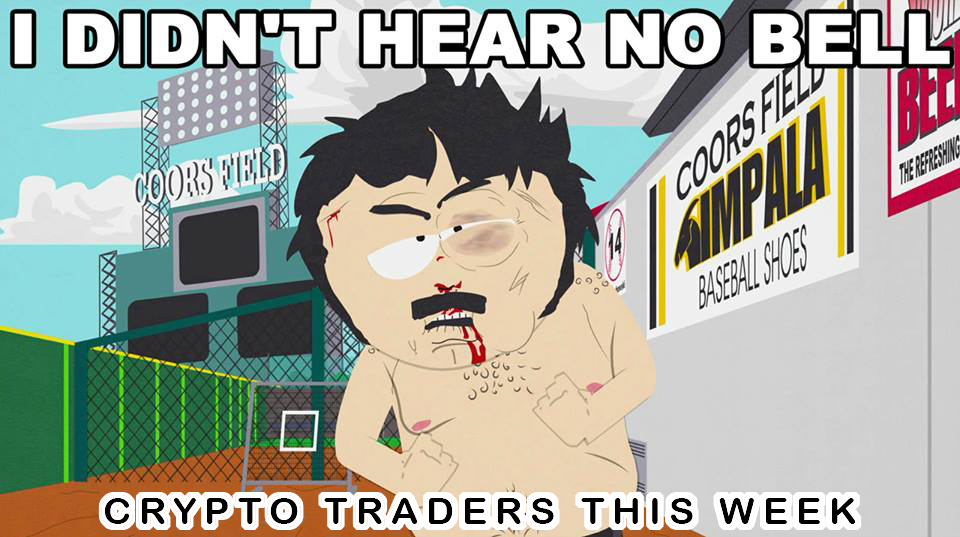 A Matter of Opinion: Daniel, Head of Marketing: Guest Posting for Partners
Hi everyone, I hope you're having a great Sunday. As the title of this week's newsletter suggests, we are beginning a guest posting initiative for our partners.
With over 7000+ subscribers and 30,000+ views per month and rising quickly, InfinitySwap's blog and newsletter are fast becoming the main source of ICP-related news. We launched our NFT partnership earlier this week, and now want to offer the opportunity for our partners to get their exciting project updates seen by our passionate and engaged community. We will edit and create graphics- all you need to do is share your message and updates.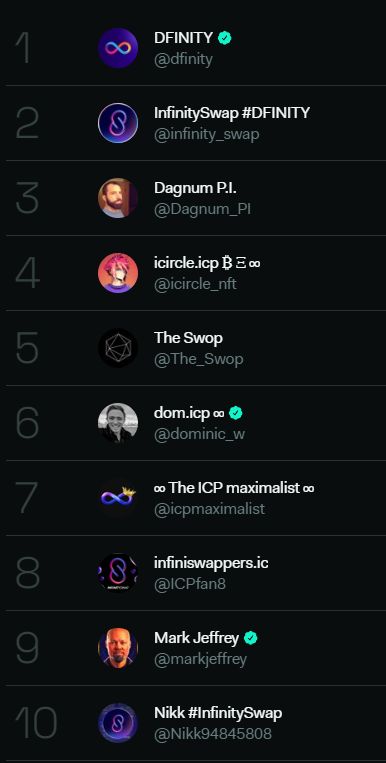 As Lunarcrush analytics shows, InfinitySwap has 3 accounts in the top 10 (and 4 in the top 20) in the past week. Our dedicated and well-trained moderators are active in a variety of areas, including Discord, Reddit, Distrikt, DSCVR, and of course, Twitter. An area we are actively growing is via video content, and you can expect to see our INFINISWAPPERS channel grow increasingly over time.
With that said, it's hardly any wonder that we have received a huge amount of interest from projects reaching out for help with marketing, and we launched our Partnership Initiative for NFT projects earlier this week.
Platinum-level NFT projects can enjoy several perks, one of which is that we will add them as guest contributors to our blog. This means they can cross-post content and get some of the best outreach on ICP via our marketing channels- all for FREE! This initiative is also open to non-NFT ecosystem partners.
Partners such as Catalyze, The Swop (more details about our new exciting partnership in the coming week) Code & State, and others have already sent over their emails and are guest contributors, with many more set to follow.
Contact me, Daniel, today for full details. We will be the best partner you have in the entire space!
Email: Daniel@infinityswap.one

Connect with InfinitySwap
Bitfinity Wallet |AMM | Twitter | Website | Telegram | Discord | Github