Announcement
InfinitySwap NFT Partnership Initiative
Here at InfinitySwap, we decided to offer a systematic tiered level of support for NFT projects looking for marketing exposure and tech services, resulting in a comprehensive package.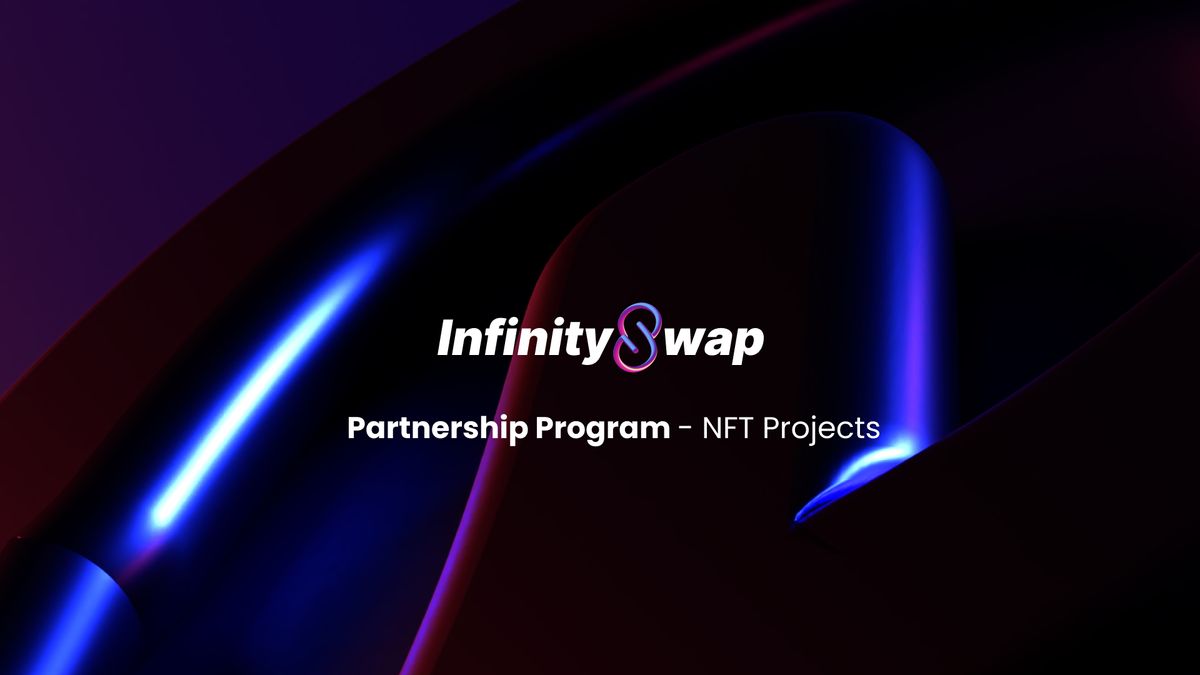 Here at InfinitySwap, we have many NFT projects reaching out to us for partnerships, especially since NFT projects make up the bulk of those being built on ICP at this point in time.
Everyone involved with ICP has become aware of the powerful marketing apparatus we have here at InfinitySwap, from our video content production and editorial team to our well-trained moderators, as well as the slick content and graphics disseminated via our social media, blog, and newsletter. This gets stronger by the day as SEO works its magic and we build out our product suite while refining and optimizing our practices.
Consequently, we have received many requests to help promote projects through various means as well as utilize our infrastructure services such as our Bitfinity Wallet.
It soon made sense to categorize different levels of support according to the importance of the partner as each partner approaches with different interests and needs.
As a result, we decided to offer a systematic tiered level of support for NFT projects looking for exposure to the community that is outlined in this article.
Information about a Partnership with us: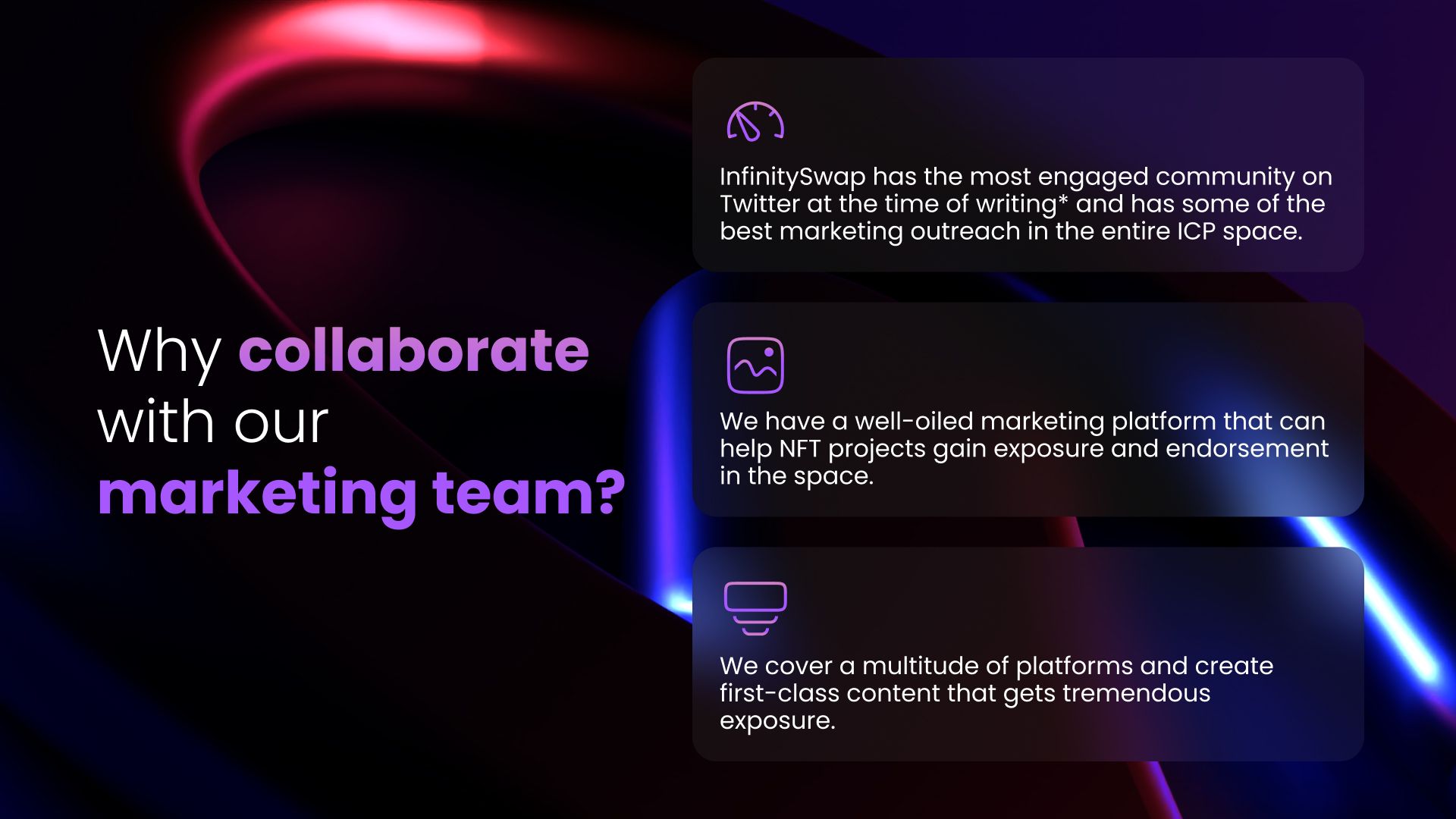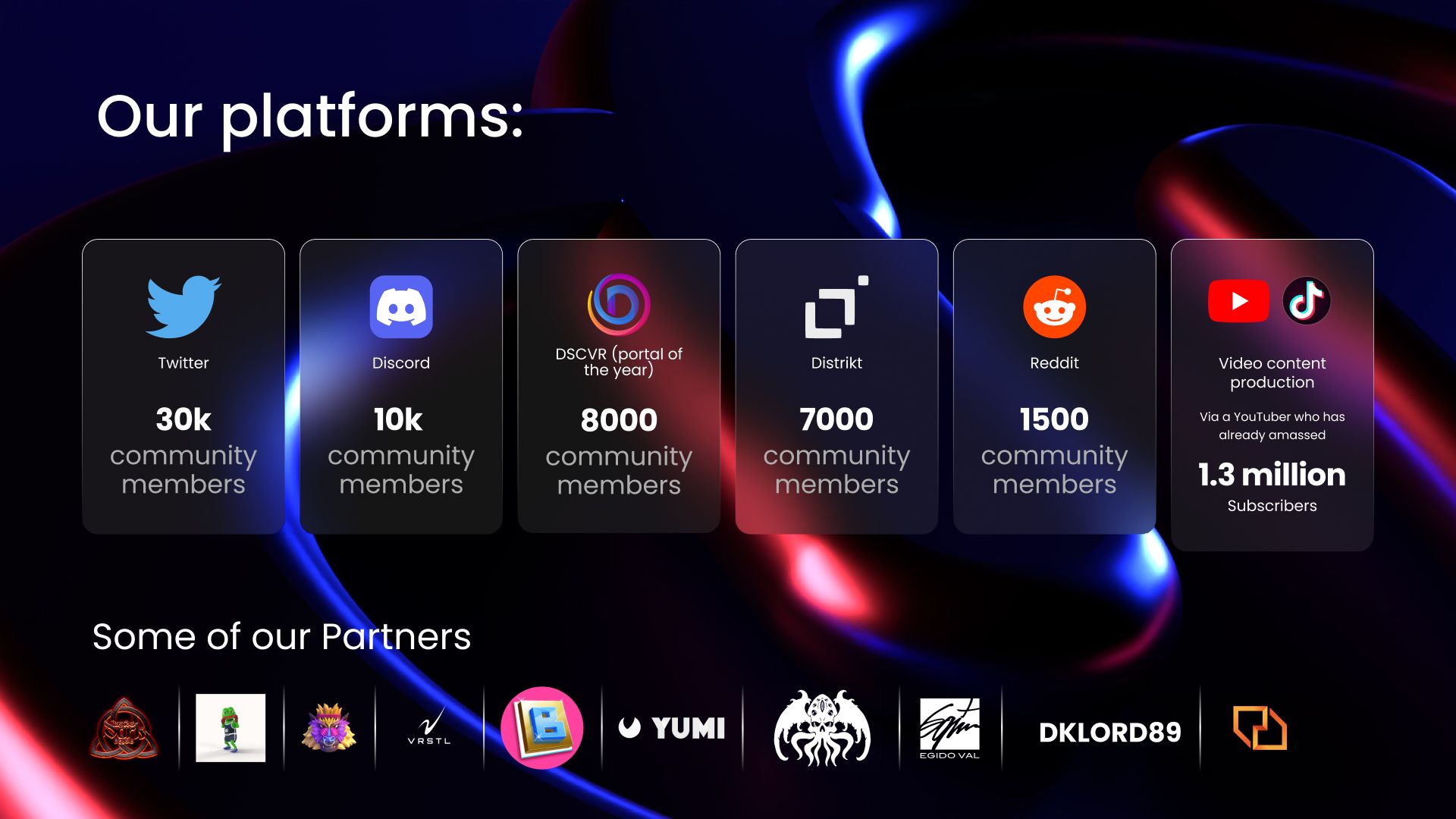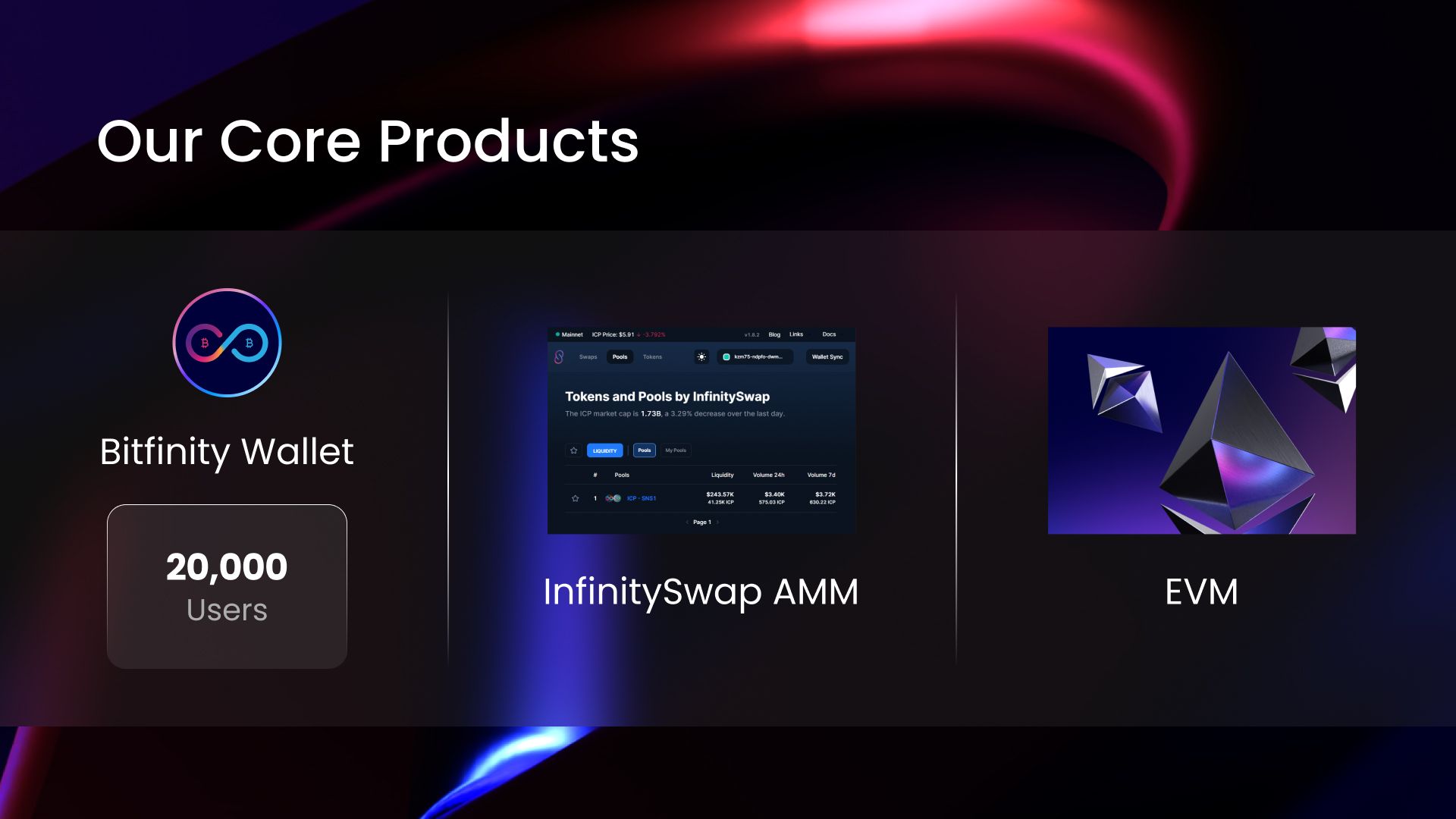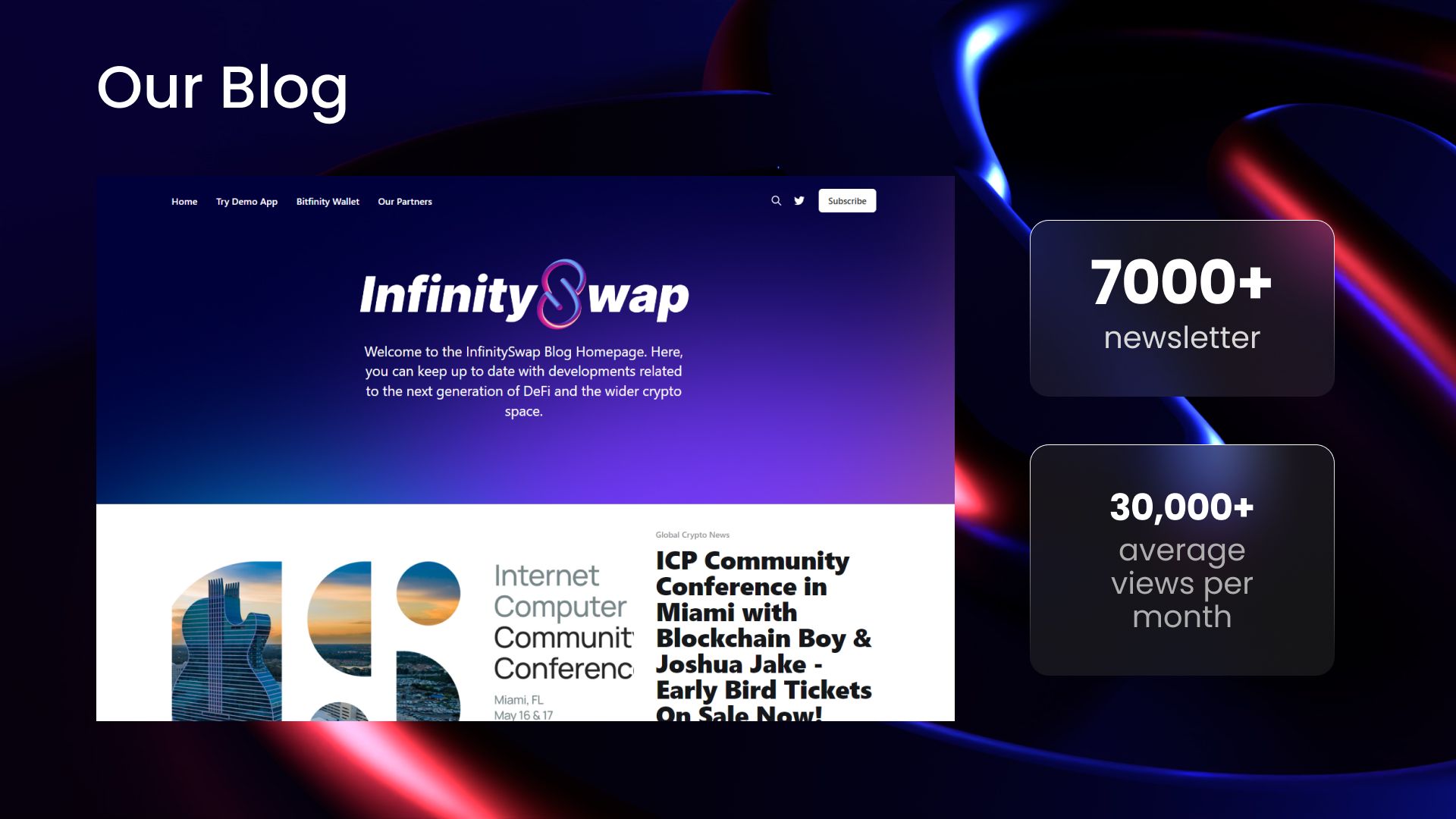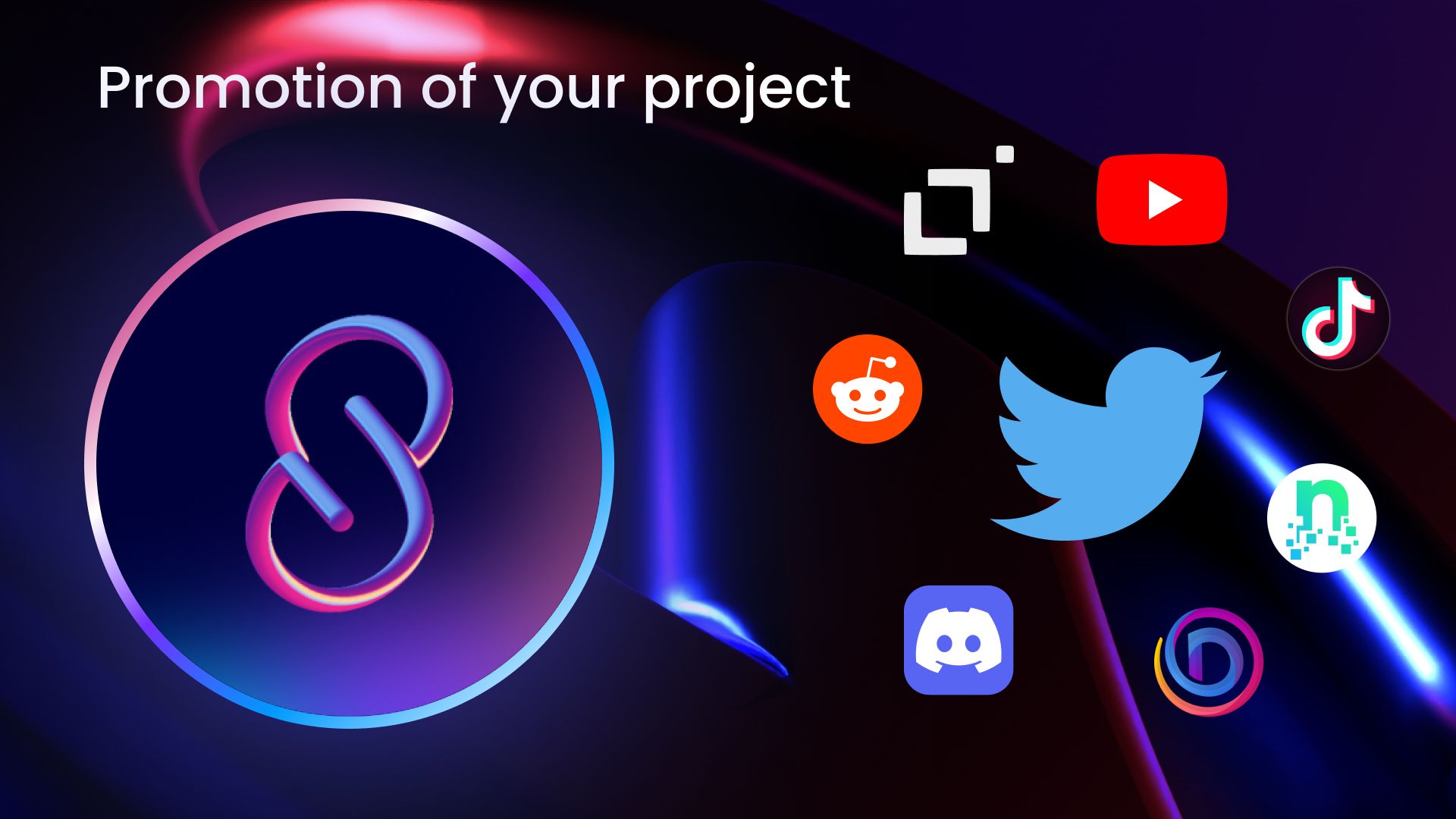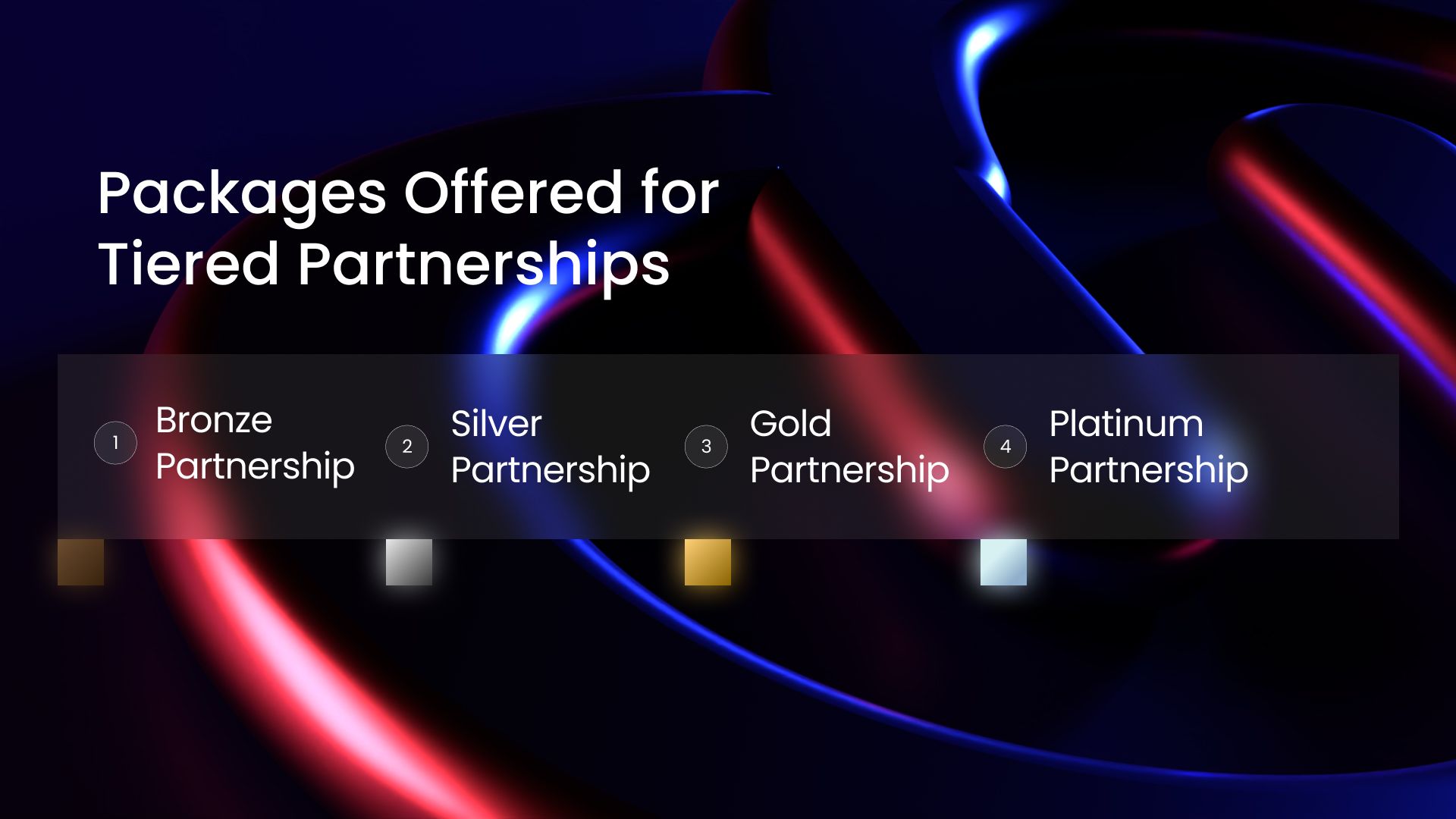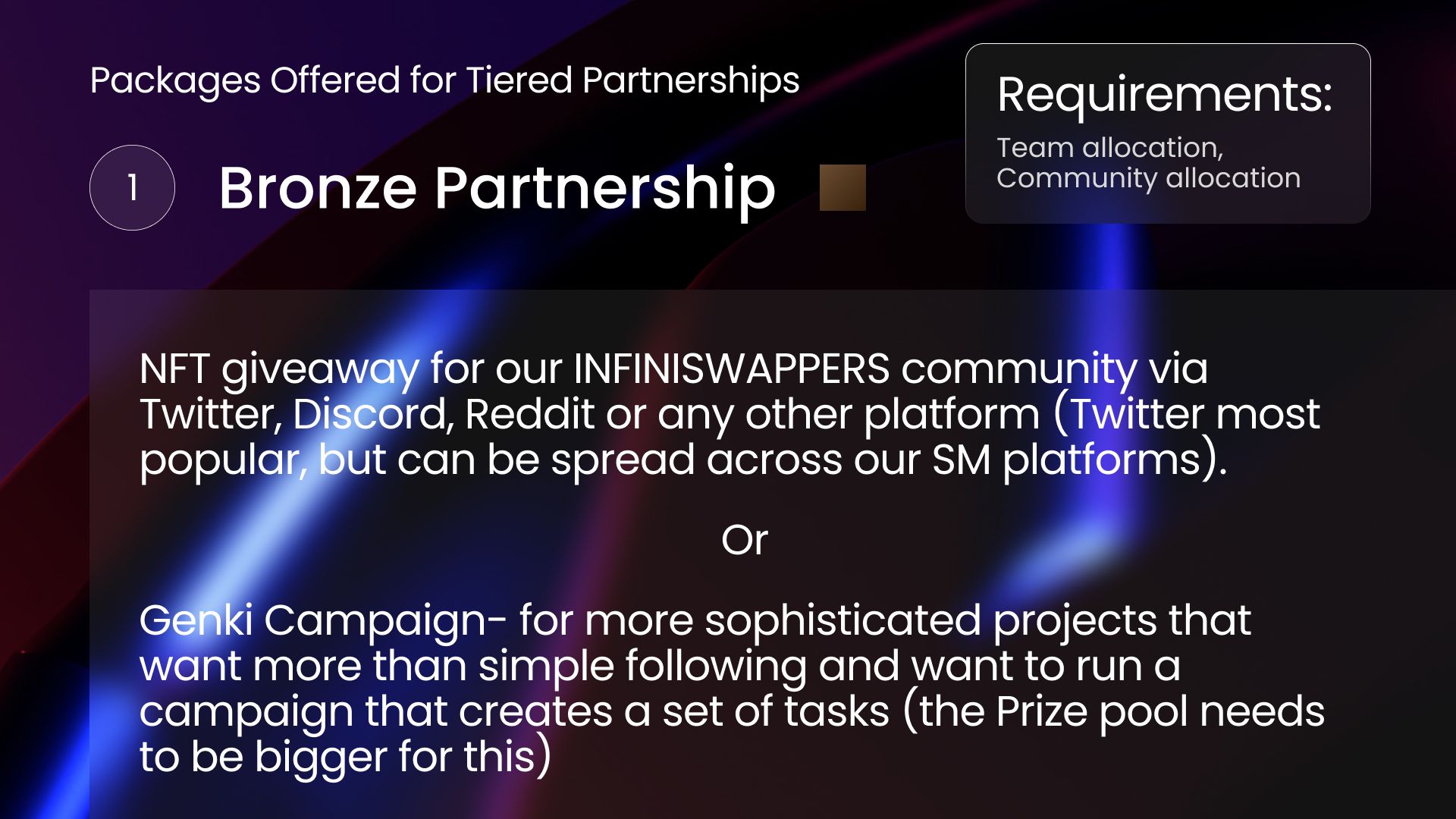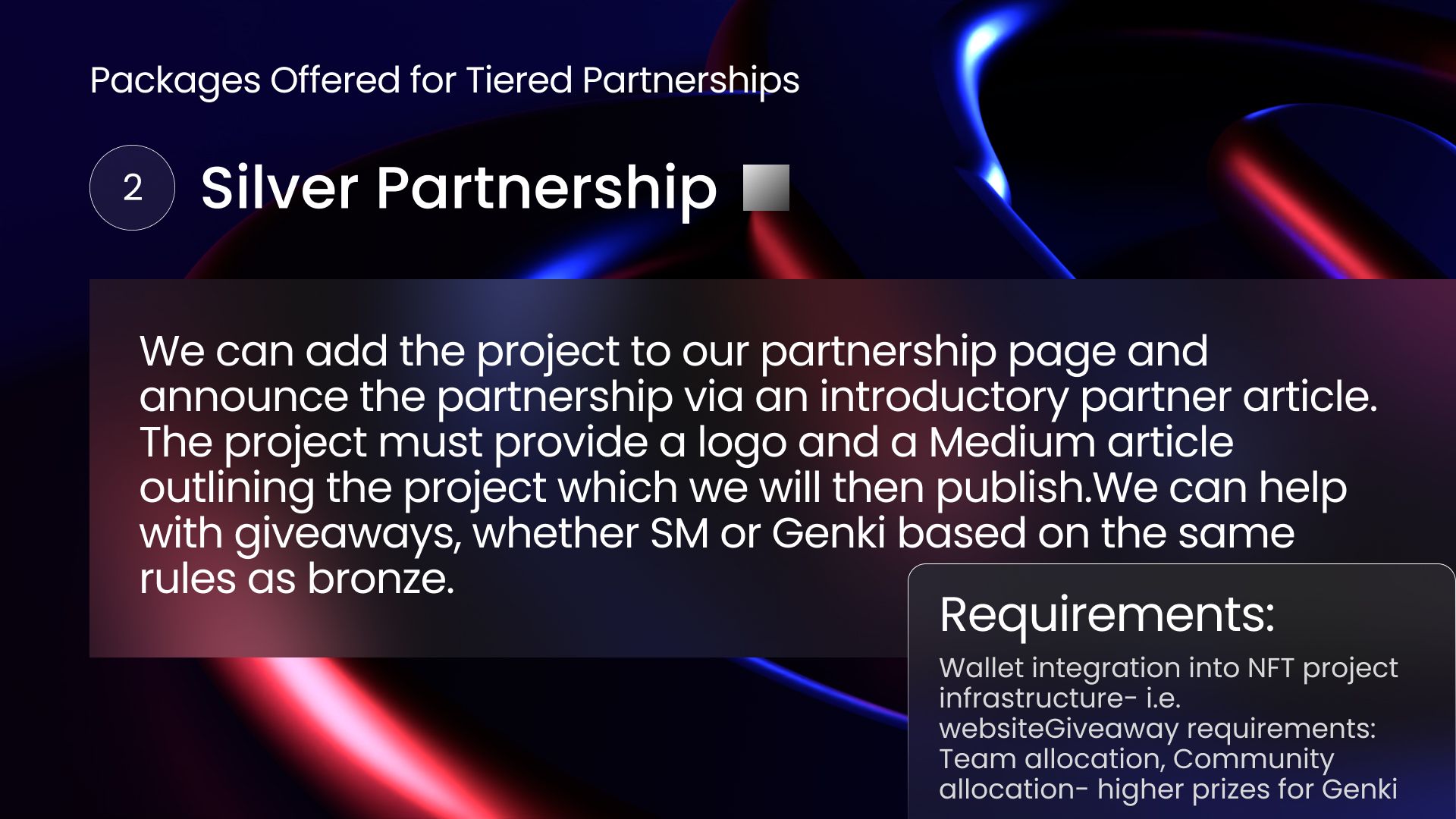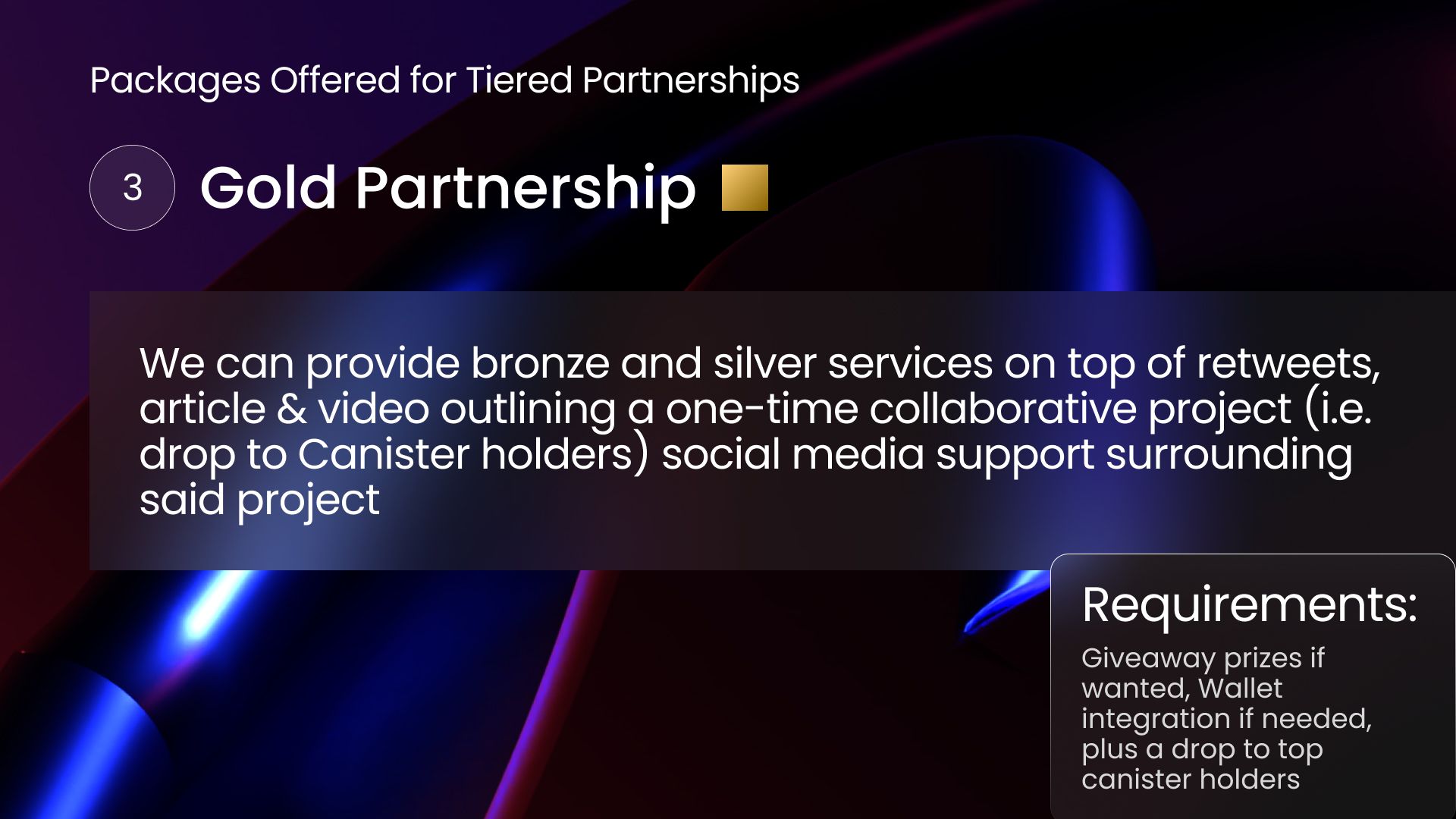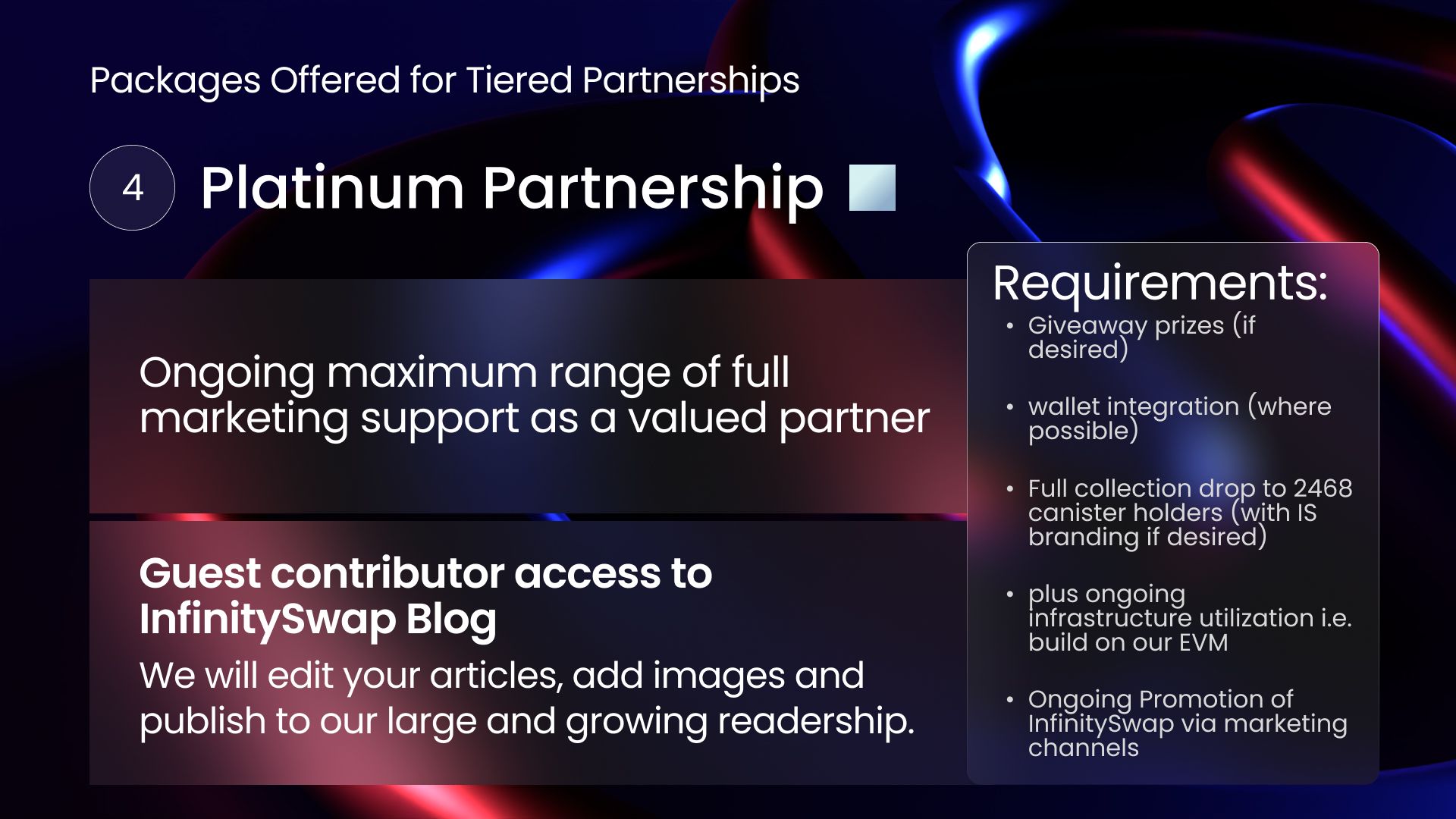 In summary, we are looking to reward the level of InfinitySwap infrastructure used. Projects integrating our wallet and perhaps looking to utilize our AMM liquidity pools and EVM in the future will be duly supported.
Additionally, projects that want to leverage our brand and strong community standing and reputation can negotiate a full collection drop or a drop to top holders of Infinity Canisters, adding value to a loyal and engaged base. Those doing so will get additional levels of support since they are gifting the INFINISWAPPERS community.
We believe this initiative will help breathe life back into the beleaguered NFT market on ICP by creating an exciting community vibe, by growing project knowledge, and providing a value add for Canister holders and those with Bitfinity Wallets who will be able to use our ICP defacto wallet with all of our partners.
We already have several sign-ups, recently Inside Dark Studio became the latest Platinum partner and will receive tremendous ongoing support, integrating our wallet and exploring other ways to utilize our products as well as agreeing to a full collection drop to 2468 holders as part of their ongoing series that will be featured in their P2E game.
If you are an NFT project and you want help marketing your project, contact daniel@infinityswap.one or sunny@infinityswap.one. The tier system is open to negotiation and is somewhat flexible, and we will never ask for funds.
Feel free to set up a meeting with Dan, the Head of Marketing to Discuss if you are a serious project.
Disclosure: Any Team/Community NFTs received will be distributed to our hardworking moderators and the remainder will become part of a treasury that will form a prize pool for giveaways and campaigns which will also be used to support the partner projects.

Connect with InfinitySwap
Bitfinity Wallet |AMM | Twitter | Website | Telegram | Discord | Github