The Weekly NFT Market Update Goes Cross-Chain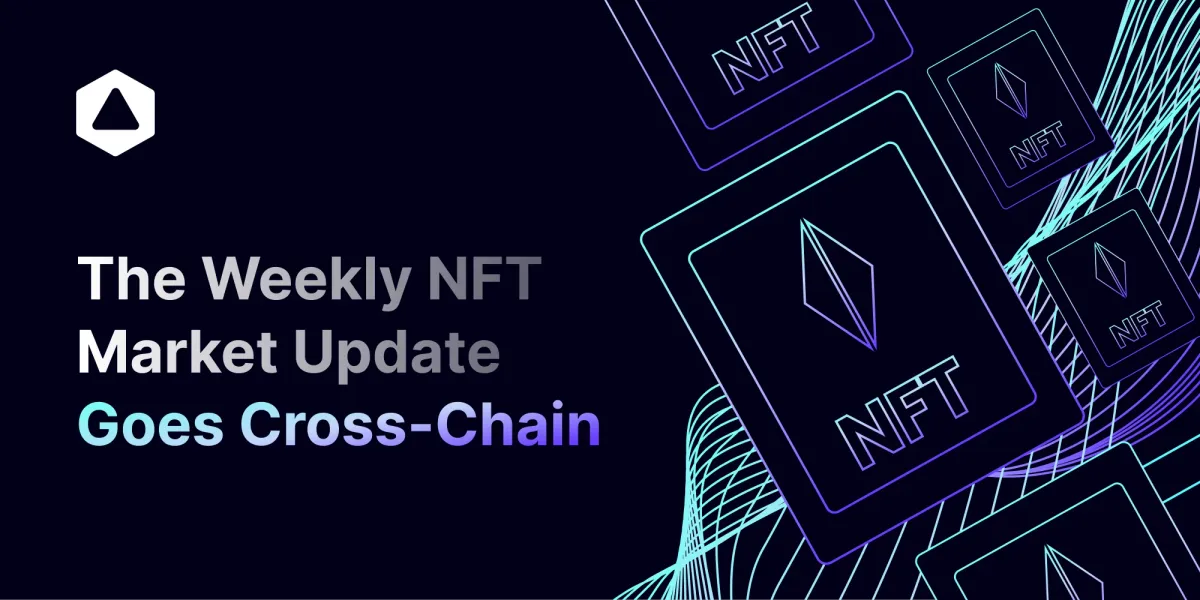 This is probably a long-time coming since those of you who have known me for a while realize I started out in the ETH, Polygon, and Tezos NFT communities. In fact, my first art collection – Freehand Ovals – is on the Polygon chain. You've probably noticed I've also been mentioning Ordinals a lot lately. So it's official – this is now a cross-chain weekly NFT market update!
Here are some things in the NFT world this week that I find really exciting: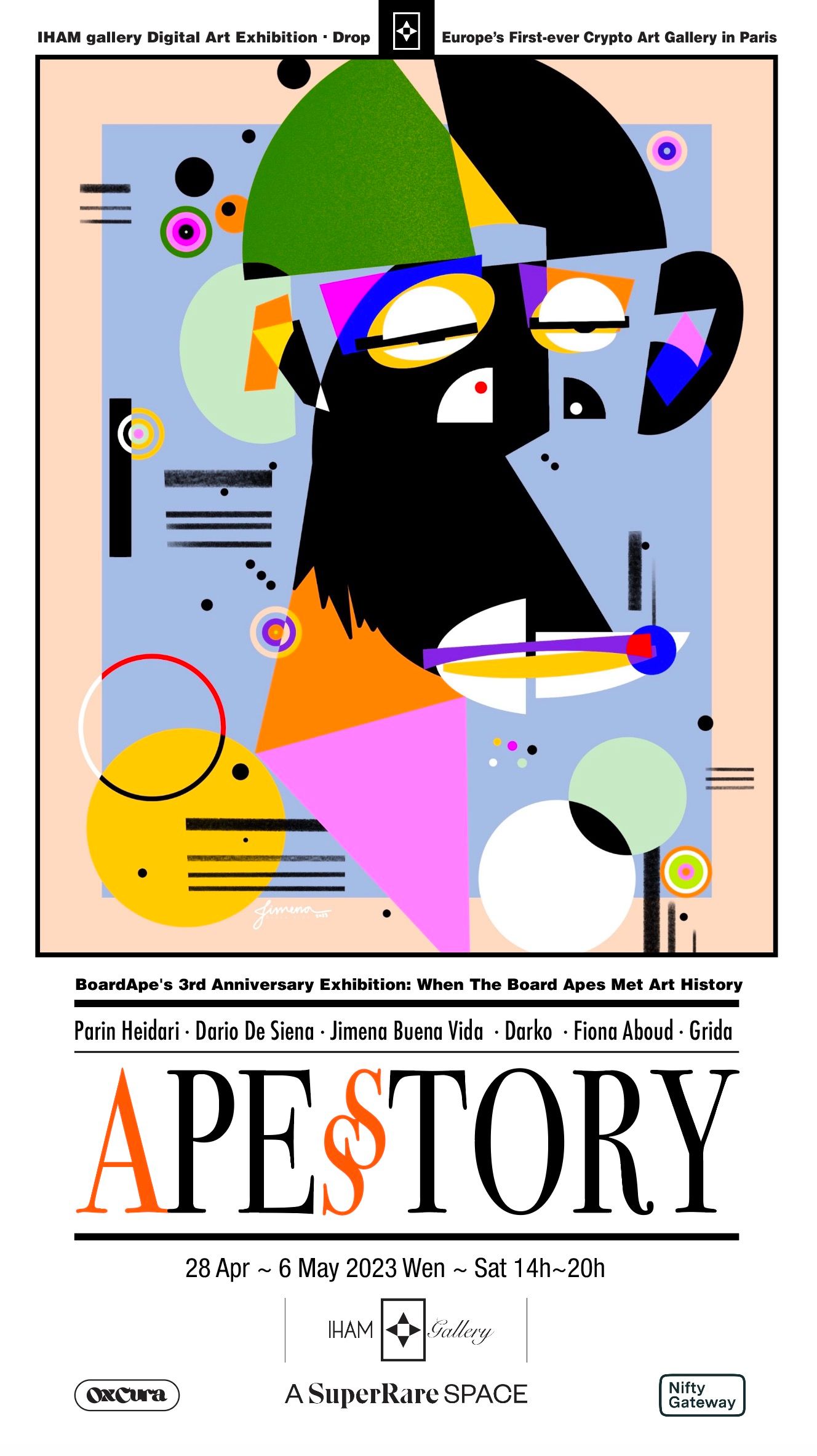 The IHAM NFT Gallery in Paris Pays Homage to the Bored Ape Yacht Club
From 28 April through 6 May, the IHAM NFT Gallery (Europe's first-ever crypto art gallery founded in 2021) will have an exhibition in honor of the Bored Ape Yacht Club's second anniversary. Artists invited to work with this collaborative celebration include Parin Heidari, Dario De Siena, Jimena Buena Vida, Darko, Fiona Aboud, and Grida.

The Addictive PfP Collection with Soaring Volume and Prices
When I first started collecting NFTs, it was with the knowledge that 99% of collections would go to zero and that there may seem to be no rhyme or reason to the ones that make it. Milady Maker has no roadmap, yet a community has developed, causing the NFTs to stand strong through the bear market. This week, the floor price of Milady Maker is up 48% from 1.8888 ETH to 2.79 ETH. Meanwhile, the volume is the highest it has ever been since the collection launched in September 2021.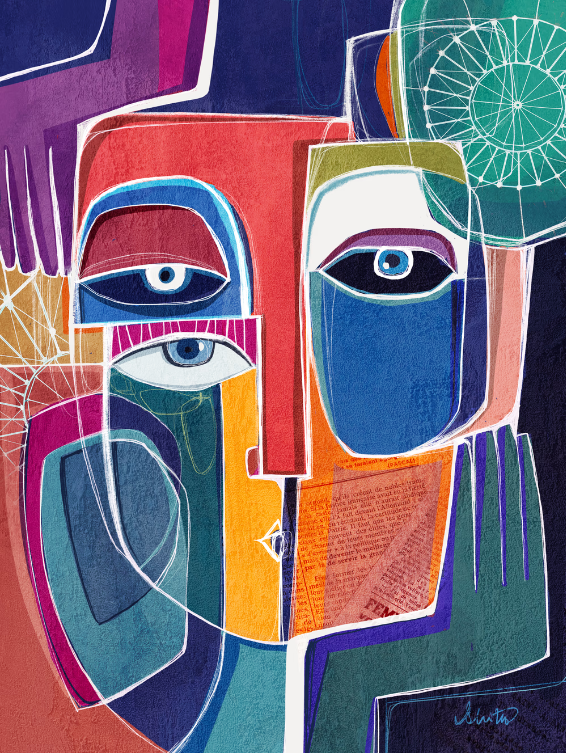 Contemporary Cubism Is Alive and Well on SuperRare
Contemporary Cubism artist Ishita Banerjee – known in the crypto art world as Soul Curry Art– is launching her "Contemporary Cubism" collection on SuperRare on 25 April. She currently has two successful collections on OpenSea.
· SoulCurryArt – The first collection from Ishita has a total of 116 artworks and 909 editions. Dating back to March 2021, the collection has done 340 ETH in total volume, and the floor price is currently 0.145 ETH.
· Reverberance– These 32 1/1 NFT artworks were released in December 2022. The collection has a floor price of 0.6 ETH and has done a total volume of 7 ETH in just five short months during the bear market.
ICP NFT Highlights
For our many readers in the ICP ecosystem – have no fear; I'll still be sharing some of the top things happening in NFTs:
· Nuance.xyz – The Nuance dApp (a web3 version of Medium) is helping to monetize written content using NFTs. The first author/illustrator team to be putting this to the test is Nick Myers and Oliver Savage. Nick is releasing a sci-fi series one chapter at a time for roughly 25 cents per chapter. Each episode features stunning AI artwork from Oli. Pick up the first chapter of Coalescence here. There are 1,000 NFTs to access the first edition.
· Dfinity Space Academy – Now that the Canistore team has taken over the DSA project, they are already teasing the upcoming game via Twitter. This is a long time coming for collectors who invested in early 2022 when the previous team promised a game that never materialized.
· ICTempies – ICTempies holders were rewarded with the airdrop of ICTempies: 2052. Be sure to check your wallet on Yumi marketplace to see the new NFTs.
· Toniq.io – While the launch of Bioniq made it seem like the Toniq Labs team was shifting focus from ICP NFTs to Ordinals, they were simultaneously working on the new Toniq NFT market to replace their legacy marketplace, Entrepot. While there are still some bugs to work out, Toniq.io seems like it offers some of the features we've been asking for, especially when it comes to the overcrowded launchpad.
Cross-chain NFT Collabs INCOMING!
BREAKING: Our Head of Marketing just came off a call with a very exciting cross-chain NFT project that has its roots on ETH and has just struck up a partnership with Origyn on ICP. Stay tuned- they will be doing a massive drop to Infinity Canister/ Bitfinity Wallet users. More to follow soon!
That's all for this week. See you in the NFT Market Bytes section of the weekly newsletter!

Connect with Bitfinity Network
Bitfinity Wallet |Bitfinity Network | Twitter | Website | Telegram | Discord | Github