Announcement
Introducing the New DFINITY Discord Server: Join NOW!
Join the DFINITY Discord Server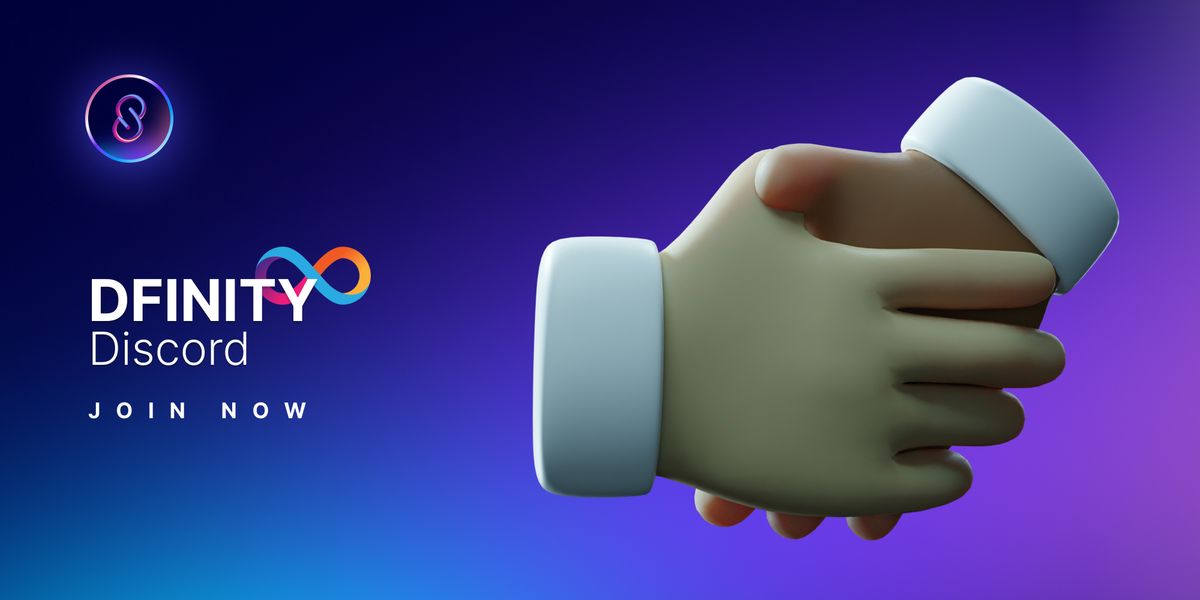 DFINITY are extending their community outreach to discuss and disseminate all relevant information related to the Internet Computer. Herbert Yang, GM of Asia Operations & Global Community is heading the initiative, and we at InfinitySwap are only too happy to share some information about the new development.

Hi fam, welcome to the official ICP Discord community hosted by the DFINITY team! Join HERE:
When you first arrive, please select the roles and language groups that fit you best to unlock all the channels.
One thing that is unique about this ICP "Official" server is that DFINITY treats all the language groups pretty much equally. Each language group has its own Category, which includes 5 Channels in an identical structure.
ICP "Official" now supports 14 language groups, including English, Chinese, Vietnamese, Japanese, Korean, Arabic, Hindi, Indonesian, Turkish, Russian, Spanish, Portuguese, French, and African languages.
You can go to the left menu bar to select the language you're most comfortable with, then go into different channels to join discussions.
For example, under #---- English Category, there are:
🛠_en_tech_discussion, all things related to developing/building Dapps on IC, how to get started as a developer, ask open questions (feel free to tag anyone with a DFINITY role), how to install dfx SDK, best practice sharing, etc
2. 💬_en_general_chat, anything under the sun related to the Internet Computer Protocol, the IC ecosystem, or DFINITY, or gm/gn/wagmi, etc
3. 🗳_en_dao_governance, all things related to the governance of the Internet Computer Protocol, Network Nervous System ("NNS"), DAO, the latest NNS proposals, decentralization, etc
4. 🤝_en_collaboration, raise your hands and throw an open request to the community if you are seeking collaboration opportunities, from match-making a co-founder, recruiting for developers, hiring for CMO, to BD partnership, etc. Introduce yourself (or your team) and let the community know what you need.
5. 🍱_en_web3_news, interesting and insightful news on Web3, metaverse, blockchain, crypto, or good old technology in general that you think would be helpful for the IC early adopters to know. It doesn't have to be about the IC or DFINITY.
Besides these channels in the respective language groups, there are also a few interesting channels to check out:
🐕_guide is your starting point on this server. Come back here to re-orientate yourself or select additional roles that can best describe your Web3 journey.
📅_events is your one-stop calendar for all the IC community events, organized by the DFINITY Foundation and various communities around the world.
📣_announcement automatically shares the latest tweets from DFINITY and its founder Dom Williams. 🍔_resources is where you can find FAQ, MediaKit, and useful resources for ICP technology, the IC ecosystem, and DFINITY.
🤖_bot_friendly is where you can execute bot commands such as /rank (to check your level) or /invites (to check how many people you've invited to this server). Please DO NOT run bot commands in other channels so that we can focus on human-to-human conversations.
🚀_grants is where the DFINITY team stays in touch with the many project teams/individuals that have received grants (developer grants or community grants) from DFINITY. It's not directly related to the general community (more like a workflow tool) but DFINITY welcome you all to check out what keeps them busy all day and keeps your finger on the pulse of the undercurrents or driving forces of the IC ecosystem growth.
These grantees are the trailblazers of the IC. Many of them will be revered as ICP OGs years from now. Check out the projects to get the feeling that you're part of a much bigger technological revolution. Feel free to follow or unfollow any particular thread.
🎸_Jukebox is a voice channel in collaboration with Itoka, a fast-rising startup on the IC that streams online music via canisters. The more music you listen to from this channel, the more prizes you might stand to win from Itoka, the more Update API calls you will contribute to the IC, and the more cycles will be burned! ...

So, what makes this Discord server unique? DFINITY wants to create:
A community for all IC lovers that include not only tech developers, but also community contributors, hodlers, investors, artists, content creators, marketers, and most important of all, end users (individuals & enterprises). In Year 1 of the nascent ecosystem growth, the focus was mostly on developers. We're now in Year 2 since Genesis with many excellent Dapps ,and it's time to broaden the community to embrace the mainstream.
A community that can serve its members better. We're rooting for the success of every community leader, whether you're leading a dev team or evangelizing ICP among your friends. If the community doesn't succeed, DFINITY won't succeed either, and there is no meaning to the technology we're developing. DFINITY doesn't want to create this server just for the sake of getting 10-50K members under its banner. They want to provide better service to all stakeholders that care about ICP.
A community that is owned and managed by the DFINITY team to be a beacon of inspiration and a shelter of hope and conviction in times of despair brought upon by the bear market and covid. The wonderful DFINITY Dev Official Discord server is owned by the community (thank you, Gabriel & all!) for the developers. The two servers can complement each other rather well and have the other's back.
A community that gives all IC fans a fair chance to participate in the global dialogue, regardless of the language they speak. Some of the most exciting developments on the IC come from non-English communities, and they deserve a theatre hall to themselves.
A community that will integrate as many IC Dapps & services as possible and become a center stage to promote all things IC. DFINITY wants to set up their own table and invite their dinner party guests.
A community where they can foster a culture of humility, creativity, & audacity.
What could you do here? A few suggestions:
Invite your friends to this IC community. DFINITY needs to get to a critical mass for mainstream adoption. ICP can be positioned as an Internet infrastructure that is the only tech platform in the world that can provide a 5-in-1 service, from smart contracts, tokenization, web front-end, scalable data storage, & elastic computing. DFINITY is uniquely positioned to revolutionize the entire Internet, not just blockchain.
Help DFINITY moderate the behavior and content in the community. Make sure the channels are used in the right manner, and inappropriate content gets deleted right away.
Help other fellow ICP members by answering their questions. The DFINITY team won't be able to field all the questions. The only way to scale the operation is through a collective effort involving the entire community.
Be kind and open-minded to new members of the IC ecosystem, regardless of whether they come from another crypto ecosystem or "Web2". Be patient & inclusive. Do not dismiss their questions, challenges, or criticism. Every new member to this Discord is a win for IC - it would have been worse if nobody came, and we just lived in our own echo chamber.
Make suggestions to the DFINITY team and the channel admins (many community leaders have stepped up and kindly offered their assistance to help us moderate) if you have seen best practices from other communities that we could adopt. DFINITY are by no means experts on Discord, or community management. DFINITY are eager to learn and level up in all community outreach.
Think not what DFINITY can do for you. Think about what you can do for ICP. DFINITY choose to embark on a journey toward blockchain singularity, not because it's easy, but because it's hard because that goal will serve to organize and measure the best of DFINITY's energies and skills, and they will relentlessly pursue that goal. We can only hope that the community supports the mission, which will take blood, sweat, and tears to achieve over the long term. Galvanize, 8-year gang!
Please note: This article has been published at the behest of Herbert Yang. As a proud partner of DFINITY, we aim to amplify important messaging through our website and social media channels.
Connect with InfinitySwap
Twitter | Website | Telegram | Discord | Github

*Disclaimer: While every effort is made on this website to provide accurate information, any opinions expressed or information disseminated do not necessarily reflect the views of InfinitySwap itself.