InfinitySwap Forms a Strategic Partnership with ICNaming
InfinitySwap and ICNaming have announced our intention to collaborate on a variety of different levels in order to further the development of the Internet Computer ecosystem.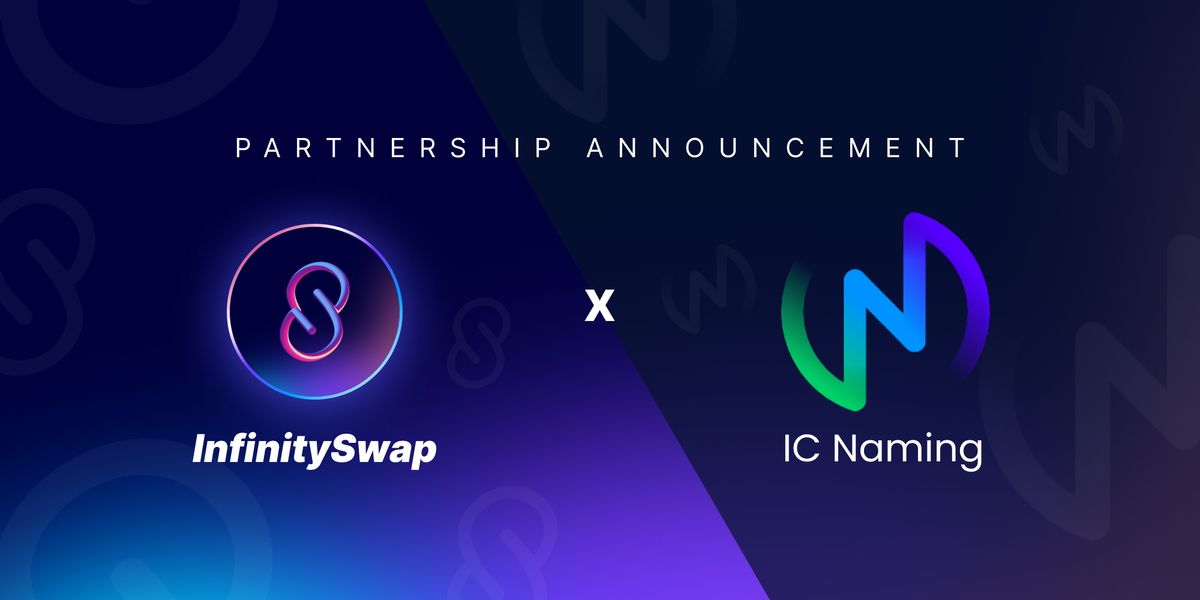 InfinitySwap and ICNaming have announced our intention to collaborate on various levels to further the development of the Internet Computer ecosystem.
Today, we are delighted to announce another high-level partnership, this time with the premier naming service on the Internet Computer, ICNaming. ICNaming has integrated the Bitfinity Wallet as their first wallet and we will explore numerous other synergies.
IC Naming is the largest domain name service on DFINITY. With the continuous development of The Internet Computer, IC Naming will potentially be one of the top players in the entire decentralized name service.
Let's dive in and find out more about what services they provide.
Why ICNaming chose to develop a domain name service:
Now is still an early stage to adopt a decentralized name service. In the era of Web2, the number of top-level domain names that have been registered in the world has exceeded 300 million. In contrast, in the world of Web3, the largest domain name service — ENS, only has a total number of 2 million registered domain names, which indicates the number of registered decentralized domain names are less than 1% of the total number of registered traditional domain names.
Therefore, it is only the beginning of decentralized domain names' prominence. The IC is a promising high-performance public chain. It has many advantages, including smart contracts and built-in storage, high speed, low costs, and very developer and user-friendly.
Recently, much progress has been made in IC Naming to improve user experiences and the team is very dedicated to continuously perfecting their services. They have optimized many areas, such as improving the loading speed and user experience.
According to the team:
On August 13, they updated the domain name settings.

The SDK was updated on August 22.

On September 13, they optimized the loading speed and improved the user experience.
Since last year, IC Naming has been continuously developing and advancing itself. The project code of IC Naming has always been open source. You can browse the relevant documents and JS-SDK in their GitHub.
During this period of time, ICNaming rarely talked about why they chose DFINITY and why they chose to develop a domain name service. It has recently become apparent that they believe that DFINITY is the public chain with the most potential to demonstrate what Web3 should look like.
The Internet Computer is the public chain with the most potential to demonstrate what Web3 should look like. Currently, the IC can directly support the release of decentralized websites and boasts cheap built-in on-chain storage. As we know, domain names are the entrance to decentralized websites, and more importantly, a decentralized identity.
We can see that the Internet Computer has many great social media Dapps and Defi projects that emerged within just one year after its launch, from dapps such as DSCVR (decentralized Reddit) to Distrikt (decentralized Twitter) and OpenChat (decentralized chat),  as well as our partner, the DeFi giant in waiting, InfinitySwap. Therefore, as a cross-system identity, domain names will play a very important role in those application scenarios.
The goal of IC Naming is to create a unique digital identity for every Web3 user. Currently, users' identities in Web3 are based on different wallet addresses. Wallet address often has long and unreadable numbers and alphabets, just like an IP address. The display of the identity with a bunch of numbers and alphabets that can be understood by the machine is an effective identification, but not a user-friendly approach. Thus, in the future, users' digital identities must be easy to understand and remember.
In the future, IC Naming will become a digital identity compatible with any public chain. However, as we all know, there is a huge problem in the Web3 world: Information interaction between different public chains is difficult and vulnerable to attacks. Between different public chains, the digital identity and liquidity of users have been separated.
At present, there is ENS on Ethereum, Space ID on the BNB chain, and IC Naming on the IC, but the digital identities of the three projects are not interconnected. IC Naming chose to build a domain name service on the IC, because IC has chain-key technology, which can make it compatible with all the public chains that use ECDSA as the underlying cryptographic algorithm for interaction through smart contracts. This is a unique advantage of IC Naming.
Still, there's a long way to go, but ICNaming is progressing with each step they take as planned. There are some key initiatives that they would like to share with you.
First, IC Naming will integrate with as many applications as possible. Most users are concerned about the collaborations between IC Naming and other projects. ICNaming thinks collaborations with other projects are the most important step for them, but before collaborations, they have to optimize and advance IC Naming first to improve the user experience. That is why they have integrated the best wallet on the Internet Computer, the Bitfinity Wallet into their platform.
In recent weeks, IC Naming's back-end code and UI have been updated, and the collaborations with Relation and Yumi Marketplace, and our very own InfinitySwap are also completed. Next, they will open to collaborations with more projects, and the latest news will be synchronized on Twitter.
Subsequently, IC Naming will conform to the spirit of Web3: decentralization. In their plan, an IC Naming DAO is a key part of the next step and is a key step for the project to achieve community governance and profit sharing. In addition, their previous commitments will not change.
Within one year of the initialization of DAO, all DNS tokens in circulation will be held by users. They will seriously consider your suggestions on the distribution of DNS and create more application scenarios that would benefit the value of DNS. They hope more people join them and can benefit as early adopters, which is one of their main goals: profit sharing.
We therefore recommend for you to join and participate in ICNaming's Discord.
ICNaming will read each comment and any feedback dropped in Discord. If you have any suggestions, you can contact them through Twitter or Discord.
Connect with InfinitySwap
Twitter | Website | Telegram | Discord | Github

*Disclaimer: While every effort is made on this website to provide accurate information, any opinions expressed or information disseminated do not necessarily reflect the views of InfinitySwap itself.