Announcement
InfinitySwap Forms a Strategic Partnership with DSCVR
InfinitySwap and DSCVR have announced our intention to collaborate on a variety of different levels in order to further the development of the Internet Computer ecosystem.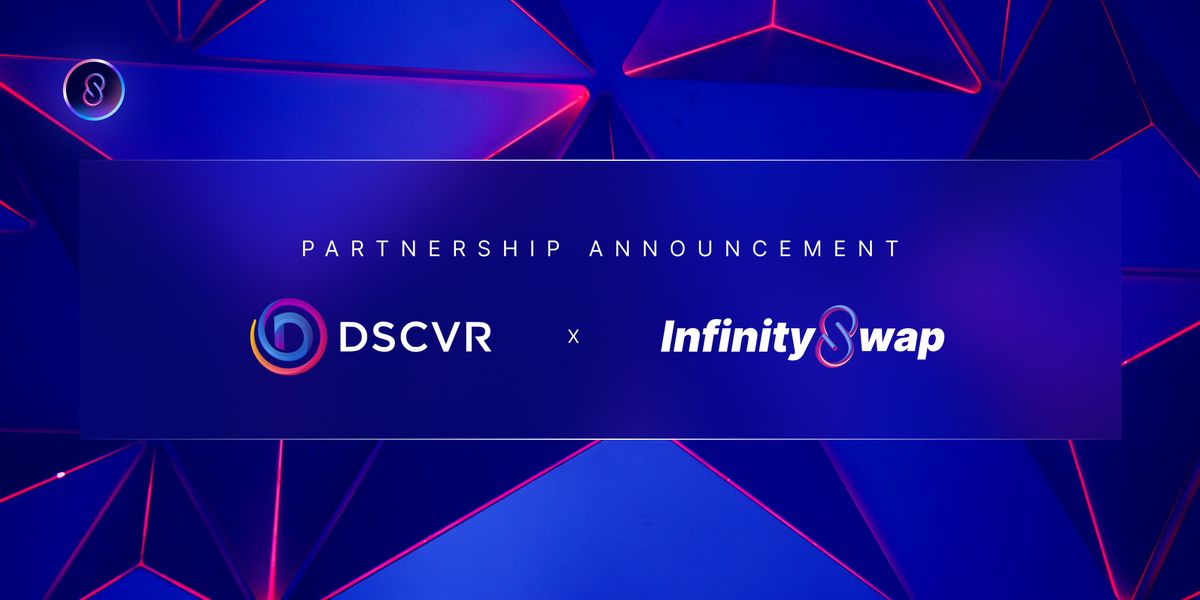 InfinitySwap and DSCVR have announced our intention to collaborate on a variety of different levels in order to further the development of the Internet Computer ecosystem.
We are delighted to announce a new partnership with one of the largest social media projects on web3, DSCVR.
About DSCVR: building the first decentralized social network that is ready for mass-market adoption
DSCVR is a decentralized social content platform running on the Internet Computer blockchain where users control not only the content but also the platform itself. It is similar to Reddit, if Reddit's development were governed by the most dedicated members of its community through a tokenized framework.
On today's major social media platforms, critical decisions about their design and features are made arbitrarily and often without regard to users, leaving them feeling conflicted about the platform and their relationship to it. Users typically have no agency in determining how these platforms are composed, how user data is packaged and sold, and how matters that affect the product and the user experience are decided. This situation is characteristic of today's social networks.
DSCVR empowers its users to direct such decisions by establishing governance rights that are represented by two native tokens, each representing 50 percent of the voting rights: Social tokens and Service tokens.
"We think we have the opportunity to build the first decentralized social network that is ready for mass-market adoption."
One of the greatest preconceptions about dapps is that they are necessarily slow, yet using DSCVR feels unmistakably fast, no different than Reddit. But in contrast, DSCVR envisions a different, decentralized future — one that puts power in the hands of the user community and allows it to guide the direction of the platform. Governance will be crucial to realizing this future, with two main concepts:
Users earn governance rights via tokens. With these rights, they can make product decisions to guide the direction of the platform.
Users earn tokens via upvotes. Users earn governance rights and tokens by receiving upvotes on posts, comments, and portals they manage and create. In essence, DSCVR's most valuable and dedicated community members will decide its future.
Users earn Social tokens by participating in the platform and receiving upvotes. DSCVR is focused on giving users real influence over their experience. The platform's emphasis on productive participation empowers its most constructive users, allowing the good actors to clearly distinguish themselves from the bad.
Users earn Service tokens by funding the platform and supporting its growth. Service token holders will focus on creating economic value for the platform.
As it evolves, DSCVR aims to open up this platform model with Social Fabric, an open protocol that enables users to create separate, autonomously governed community platforms that are based on the same ecosystem of tools behind DSCVR. With this goal in mind, DSCVR is architecting an adaptive social protocol from the ground up that is broadly applicable to a highly diverse set of social platforms. This will equip a community of builders with the tools to follow their own visions and create a wide spectrum of self-governed social platforms.
The power of social media platforms to shape our everyday lives raises big questions. Social media has become one of society's core means of communication, but who owns it? Is it something Elon Musk can decide to purchase (or not) on a whim? Who gets to make money from user-created content? Who controls the algorithms? Who decides what partners can build or integrate with social platforms?
Ultimately, what does an alternative model for social media look like?
Such was the thought process behind the development of DSCVR (pronounced "discover") - one of the first and largest Web3 social networks. It runs entirely on the Internet Computer blockchain while being as approachable to users as a conventional web platform. Now DSCVR has announced that it has attracted more than 100,000 users since launching last year, as reported by TechCrunch, and has raised a seed round of $9 million led by Polychain Capital.
"With our exponential growth in users, this raise will help us accelerate our roadmap and make Web3 accessible to anyone who knows how to use social media," says DSCVR co-founder and CEO Rick Porter.
The platform was conceived in contrast to the prevailing models of corporate social media giants, which typically function with disregard for users and their data. DSCVR operates similarly to Reddit, with the distinction that its users will eventually control not only the content but also the actual platform. Users can already create, govern, and own social communities within DSCVR, some of which may evolve into decentralized autonomous organizations (DAOs).
"Decentralization and community governance is very important to us, given the questions around who should control social media. We feel it can really differentiate us from the big traditional social media platforms," Porter explains. "We're starting by focusing on ways to empower individual communities within DSCVR by providing them features to tokenize and self-govern. DSCVR's overall tokenization strategy is still in development, but should enable community governance and incentivize community growth."
"When it comes to the state of social media, it's clear people are seeking a new option," said Polychain Capital founder and CEO Olaf Carlson-Wee following the seed funding announcement. "DSCVR is pushing the boundaries of what is possible by creating a native Web3 social solution with unique functionality."
DSCVR has quickly become one of the first decentralized social networks that is positioned for mass-market adoption. This is largely because users don't need to hold crypto, use a crypto wallet, or pay "gas" fees to interact with the network, eliminating friction that has helped it grow organically.
"The craziest part about our user growth is that we have put zero effort into marketing or advertising," notes Porter. "It's been fulfilling to see more people learn about DSCVR by word of mouth and keep using it simply because they enjoy using the platform."
The idea is to seamlessly connect users to the features of Web3 without complexity or confusion. DSCVR is built entirely on the Internet Computer, which has allowed crypto-native functions and integrations to be built directly into the platform. This means that users can receive NFT airdrops directly to their user profiles, for example, and that NFTs can be used as keys that allow users to access gated social communities. The platform rewards users for providing great content with NFTs that have traded for as much as $18,000.
"In Web3, a lot of the infrastructure is not as developed as Web2, which can be challenging, but it gives you the opportunity to create new standards and paradigms and play in a space where there aren't set rules or a fixed playbook," says Porter, a former Google engineer who also has experience developing on Ethereum.
"In Solidity or on Ethereum, which is a great protocol, your smart contracts are not necessarily upgradeable," he explains. "There are definitely upgrade patterns, but it's not intuitive enough. On the Internet Computer, you have this path to pivot your product quickly and understand your audience, and actually evolve your Web3 product just as you would a Web2 product."
This is a big shift that is beginning to have a positive impact on the growth of Web3 startups, which contend with development limitations on resource-intensive networks while often relying on cloud providers to run their frontend user interfaces. It's now possible for Web3 developers to build on-chain while progressively making changes that address the needs of users.
"As users experience problems and as features arise, you can pivot your product to meet the demand of your users," says Porter. "This is a perpetual process in the Web2 world, and it should be a perpetual process in the Web3 world. That's exactly, to me, what DSCVR's true success has been. We can listen to the community, gather their feedback, and actually make changes on the fly."
"We've probably released five backends and maybe 20 frontends within this last week," he adds. "So it's just constant iteration, constant pivoting. What protocol can you do that on right now? You can definitely do it on the Internet Computer."
One of DSCVR's advantages is that it operates in an environment where backend development can easily be shared across multiple projects.
"We have so many integrations because ICP creates a shared ecosystem where we feel like we're building together with other teams," notes Porter. "It's a highly collaborative community. We're all building on the same system and developing shared standards. We think this can fundamentally transform how development has been done previously. In Web3, we're all building together."
This sense of collaboration is also expected to grow internally at DSCVR. The platform's core development team is using its new financial resources to recruit additional engineers who can build in Rust, aiming to deliver various user-requested features while building DSCVR into a Web3 onramp for the masses.
"We built DSCVR with essentially no team, and it's grown to be one of the largest Web3 social media platforms," reflects Porter. "We're constantly pushing the limits of what can be stored on-chain. This raise is going to allow us to build a real team that can break through those limits, as well as allow us to rapidly iterate, test features, and define what Web3 social media can be."
The team is continuously rolling out updates, and this week alone we can expect to see a primary wallet paradigm implemented that will allow users to select where they want their airdrops to go.
We are also delighted that DSCVR is integrating the Bitfinity Wallet and that we will be collaborating in a range of other areas, including technical and marketing.
We wish all the best to our new partner and know that they will take the world of web3 social media by storm; after all, who wouldn't want to own and monetize their own data and output?
Connect with InfinitySwap
Twitter | Website | Telegram | Discord | Github
Connect with DSCVR