InfinitySwap Forms a Strategic Partnership with Cthulhu
InfinitySwap and Cthulhu have announced our intention to collaborate on a variety of different levels in order to further the development of the Internet Computer ecosystem, including the integration of our Bitfinity Wallet to their platform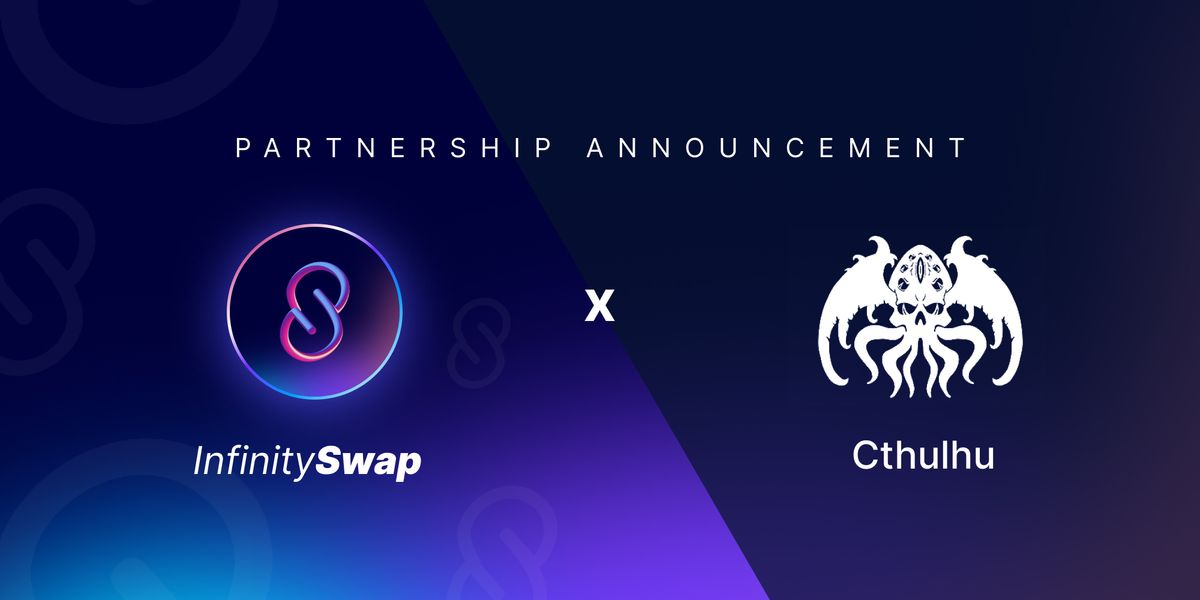 InfinitySwap and Cthulhu have announced our intention to collaborate on a variety of different levels in order to further the development of the Internet Computer ecosystem, including the integration of our Bitfinity Wallet into their platform
About our new partner:

Cthulhu is building the first horror metaverse game for the Internet Computer blockchain.
Team Members
5 Tech artists/Unity Devs
1 Main Unity and Motoko/React developer
2 Community members

Project Roadmap V1.0

Survive - Early 2023 (Alpha)
Adventure and main story. You start on an island full of dangers and enemies. The remaining survivors may try to help, while others will try to use you and benefit from you. Your goal is to survive and explore the place to find an exit from this nightmare.

Farm - Late 2023 (Alpha 2.0)
Your own land and village. Gather resources from different lands and craft powerful devices and weapons to slay your enemies. Professions and resources will play a bigger role to participate in end-game content. Trading with other players will benefit your progress.

Collect - 2024 (Beta)
Clans & Guilds. End-game dungeons and raids will become available as human reign draws near and the armies of the Void claim this world. Folklore creatures and ancient races that remained dormant or silent will have to fight back against Cthulhu and their Old Gods' army.

Battle - 2025 (Beta 2.0)
PVP, Battle arenas. Many clans, guilds, and alliances have formed after the Void War. The remaining survivors will battle for supremacy and reign over the festered lands of the planet.

---
LORE
For billions of years, their cosmic indifference swayed them from gazing upon our universe. Everything changed when an epoch of interstellar warfare led to a spiritual awakening and the first contact with Azathoth.
The consequence was the spawning of the great old ones. Born with control over reality, their corruption was fast and relentless, they decimated entire intergalactic empires. Only the ones who escaped to the farthest reaches of the universe could flee their oblivion.
Then saw Galactic warfare that lasted for eons. After the war, peace followed while the remaining aberrations hid, undetected, under the ocean floors and in the deepest crusts of celestial bodies. Including planet Earth.

Come forth if you dare and gaze upon the hidden history of humanity dealing with the eldritch abominations, watch their true and blasphemous influence awakening within us.

Play the demo
*The demo is gated-access. You may require a Cursed Skull NFT
Get one here.


---
How Crypto Cthulhu was born- By Wos, CEO
Hello, my name is Wos and I want you to talk about our lord and savior Cthulhu. It all started back in August 2022. We are a group of friends that love anything that comes under the name of the 'Horror' genre. From movies to comics to games, to literature and art. After working on another project on the Internet Computer we saw a great opportunity to create something fresh and new. So one night, we gathered together in Discord and started to pitch some ideas. This is how Crypto Cthulhu was born. It is a deity from H.P. Lovecraft's works that is unique and known worldwide, with enough lore to develop.

We started by creating a collection using Midjourney. Since two of the starting members are focused on art, they curated a collection of 333 images from the AI. They added a lot of cool features and details to the raw computer-generated images, making every one of them unique and terrifying.

A month later, a friend that was also working with us on our past project reached us after he found out what we have been doing and creating. He is an expert art/game producer and pitched us the idea to create a horror game with the help of Ricardo, a seasoned Unity game developer with over a dozen released game titles.

We were a bit uncertain about making a game all over again since our last experience was awful and quite bitter, to be honest. But, Ricardo showed us his past projects and showed us his Unity skills, and together with Angel, convinced us to start building a Cthulhu game for the Internet Computer.

Our main goal was to get the aid of the DFINITY Foundation as soon as possible, so in order to get their attention we decided to build a DEMO for them. We started with some 2D concepts for enemies and game assets, like weapons and tools, while Ricardo built a skeleton to integrate the assets we created.

After a month of development, we managed to pull a public MVP and we deployed a public demo on Halloween night (Oct 31st). We were blessed with several players testing our first demo, while it had several issues that affected gameplay, over a dozen of players managed to finish the demo's main story.

A week later we deployed a patch that fixed some issues with the DEMO and after all the good vibes and comments we got from our public launch, we decided it was time to apply for a DFINITY Grant. Spoiler alert, we got it!
Our main objective now is to build an Alpha build, focused on gameplay and to be a fun game, rather than another Gamefi project. We are building a strong community that will enable our project to ride the tides of web3 into success.
---
Cthulhu project milestones achieved:

August 2022
 Crypto Cthulhu is born
 Social Media are born

September 2022
'The Awakening' Collection is born
AI artwork curation starts

October 2022 🎃
Our game, code-named "FRM" is born
A playable public demo 🎮is launched! (Oct 31st, on Halloween night)
Demo updates & bug fixes 🛠️ were deployed
Completion of 'The Awakening' 333 unique NFTs artwork🌒


November 2022 💀
Massive airdrop of Cursed Skulls for DSCVR1 community 🎁 (minted with Entrepot and DSCVR staff help)
'The Awakening' Collection is ready to be launched in Yumi Marketplace (postponed. To push forward game development instead)
December 2022 🎅
Demo runs 100% on an ICP canister (https://szweg-hiaaa-aaaag-aa5ja-cai.ic0.app/)
Rewards for 'The Awakening' HODLRs 🎁 (Postponed sale)
Apply to DFINITY GRANT (Game fully on chain, Gated access, and Game NFTs) 🎮
DFINITY Foundation funds Crypto Cthulhu with a grant

January 2023 🥂
Our devs took part in Motoko Bootcamp 2023
The most popular ICP wallet- Bitfinity- integrated to our DEMO
NFT Gated access to our DEMO using Cursed Skulls NFTs as keys!
NFTs integrations: vanity items and pets.
'The Awakening' Collection launch on Yumi Marketplace (Jan 31st)
First Milestone of DFINITY grant delivered. (100% of objectives completed)


February 2023
Code name "FRM" Alpha version build dev pipeline starts
Rewards for 'The Awakening' Holders deployed LIVE on DEMO
Cursed Skulls and Top Holders event airdrop (A pet companion to test our first Game NFTs)
Second Milestone of DFINITY grant delivered.
End of our first DFINITY Grant

What's coming in Mid-late 2023?
ICP Metaverse integrations
The main story, missions, and rewards
Alpha version 1.0
Main characters as NFTs
Game NFTs 2.0
Homemade Music/SFX
New enemies/Animations
Dungeons and Lands
More to come….

Social Media
Twitter |DSCVR|Distrikt|Linktree| Medium

---
OFFICIAL NFT COLLECTIONS

The Awakening (Yumi Marketplace) Jan 31th

Invasion (Airdrop for The Awakening holders): Soon
We wish Wos (a really nice guy!) and the team every success moving forward! Thanks for integrating Bitfinity and we are excited to play the games as they develop!
Connect with InfinitySwap
Bitfinity Wallet |AMM | Twitter | Website | Telegram | Discord | Github