Announcement
InfinitySwap Forms a Strategic Partnership with Ceto
Two giants in the DeFi Sector, InfinitySwap, and Ceto, have announced their eagerness to work together to help bring about the next iteration of decentralized finance on the Internet Computer.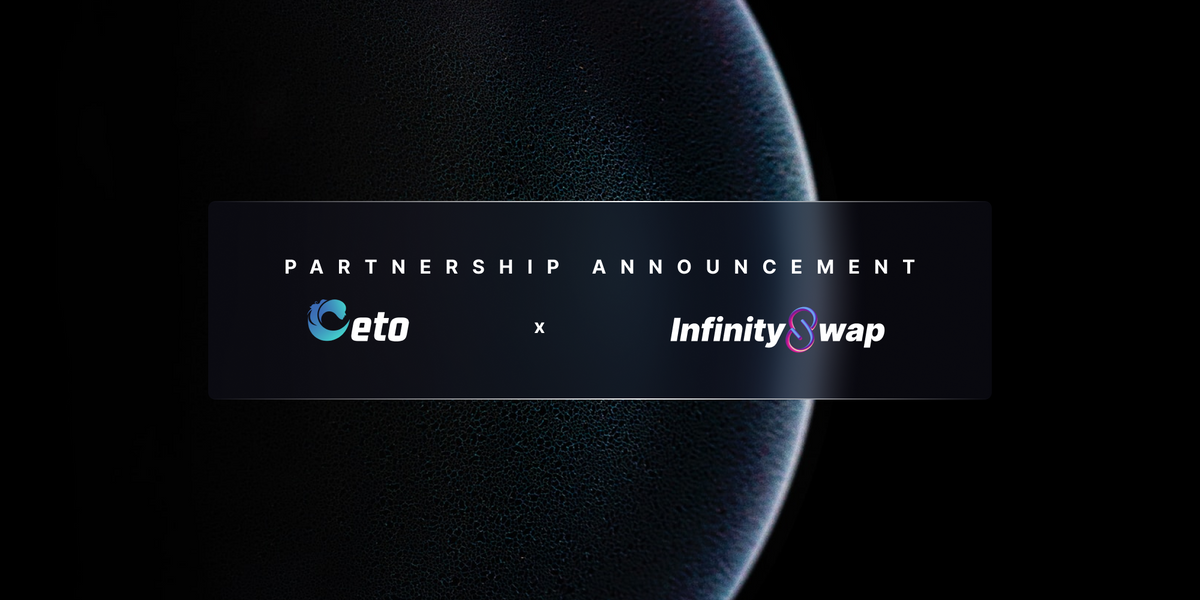 Two giants in the DeFi Sector, InfinitySwap, and Ceto, have announced their eagerness to work together to help bring about the next iteration of decentralized finance on the Internet Computer.
Here at InfinitySwap, our vision is to build a best-in-class cross-chain AMM on the Internet Computer. Our AMM is backed by Polychain Capital's Beacon Fund and brings institutional liquidity to projects launching through us. We will be the first AMM to enable staking/ swapping your project's tokens with BTC or ETH as well as ICP, widening our reach and users.
Our powerful community marketing platform via our blog and social media presence can add an additional element to our partnerships. We will support projects using our services via published articles and announcements.
We have an ever-growing team of world-class developers and talented professionals ready to implement the next iteration of DeFi on the Internet Computer and bring the best features to our platform.
We are pleased to announce that our wallet is being integrated with Ceto. Our Infinity Wallet is not just a wallet for the Internet Computer but also the BTC and ETH ecosystems; essentially the most interoperable wallet in the blockchain.
The wallet also supports IS20 and ledger tokens, meaning Bitcoin, Ethereum, and other non-IC tokens are supported. Additionally, there is support for NFTs listed on DAB. We will also be exploring further ways in which we can further grow our exciting new partnership, such as the implementation of our IS20 token standard.
What is Ceto?
Today Ceto is proud to announce the official rebranding of CetoSwap to Ceto, in alignment with the goal they have set, to be the first order book trading platform of fractionalized non-fungible tokens(F-NFTs) and a professional marketplace for crypto collectibles. Although 'Swap' has been removed from their name, this does not mean that this feature will be permanently abandoned by Ceto. On the contrary, the Ceto team is waiting for an opportune moment to roll out this critical function. Until then, Ceto will serve you in the form of an order book regarding F-NFT/FT trading.
Ceto, derived from the primordial sea goddess in Greek mythology, is believed to have infinite power in the ocean while maintaining the order and balance of all marine creatures. With a similar mission to this, Ceto has set sail to a much wider world, building a truly decentralized exchange on DFINITY and beyond.
Where to Start?
Don't worry; rebranding does not necessarily mean the team is waving goodbye to everything on CetoSwap. They will continue to promote the fast-growing NFT market on the IC, walking side by side with CCC Protocol. If the NFT market keeps booming on Ethereum and Solana, then what reasons do we have to doubt that DFINITY will not be the next? On top of that, quality, potential, and legitimacy have always come first on Ceto, and projects will be entitled to a chance of listing unless they are truly worth it.
F-NFT is the Key
Maybe it is still too early to discuss the notion of F-NFT, especially when numerous uncertainties are looming over the entire crypto market and the majority has plunged heavily. Nevertheless, when Ceto first bumped into the concept of F-NFT, they knew this could be something promising, and with time, the market will come to realize its true value.
So how does F-NFT work? To technically break this NFT into fractions, it must first be locked in a smart contract, which will then split the DIP-721 token into multiple DIP-20 tokens. Each fraction or DIP-20 token created represents partial ownership of the original NFT. The fractions can then be put up for sale at a market price or listed with your own price setting until they get sold out. (On Ethereum, they're ERC 721 & ERC 20 standards.)
Introducing the Ceto Order Book
NFTs derive value from their rarity. Nevertheless, this also makes them less liquid than many other tradable digital assets. F-NFTs bring liquidity to the NFT market by allowing smaller investors to own assets collectively.
Make the Trading Clearer
Fractionalization is by no means the easiest and most effective way to sell expensive NFTs quickly and to make the market more liquid. Ceto introduced an order book to F-NFT trading to further unleash the liquidity, thereby activating the market. An order book shows the buy and sell prices in real-time (constantly being updated). It allows market participants to make informed decisions.
F-NFTs: A New Trend in the Market
Moreover, an order book helps market participants understand the market trends and dynamics over time. It's frequently adopted by centralized exchanges, and Ceto reckons that the combination of the two will be a game-changer in the NFT market.
What to Expect on Ceto
Expanding their partnerships with major players in the space while continuing to add new features and optimizing their website will be the next essential moves.
Exclusive Staking Feature to FCE Community
As most of the community must be aware, Ceto added the dark mode to their platform, making it a perfect match to order books. The dark mode has become the default setting when logging in, but you can change it back to light mode anytime with just one switch. This is one of the first adjustments they have made to link the F-NFT trading to the NFT marketplace smoothly. The staking feature is currently under development and will be exclusively open to the FCE community first.
In this case, users can stake FCE for an optional period by obtaining lottery tickets and some collateral earnings from the prize pool, into which 10% of the platform service fee will be deposited monthly. The tickets will then be used to participate in Ceto's community giveaways. The greater the number of lottery tickets, the higher the probability of obtaining the airdrop and whitelist of upcoming projects. Ceto will directly transfer profits to your addresses by the end of each month. This is another crucial attempt to engage the community, and more excellent features will soon be implemented.
More to Come
Furthermore, Ceto has already kicked off the integration of the Infinite Wallet backed by our InfinitySwap team. This offers more login choices to users, and Ceto has also reached out to ICPCS to negotiate about adding Ceto onto the first-ever decentralized OS on IC that is close to launching. What's also thrilling is that Ceto is in the early phase of discussing the feasibility of listing fungible tokens, and the first two will be XTC and OGY.
The integration of Bitcoin on IC is around the corner, and bridging to Ethereum is also part of the plan; no doubt, in the foreseeable future, more mainstream tokens will gradually arrive on DFINITY, and that is when Ceto could provide a fully-fledged F-NFT/FT market to fulfill the mission being a legit Web 3.0 DEX.
We are delighted to have such an accomplished partner and look forward to a bright future together!
Ceto Roadmap: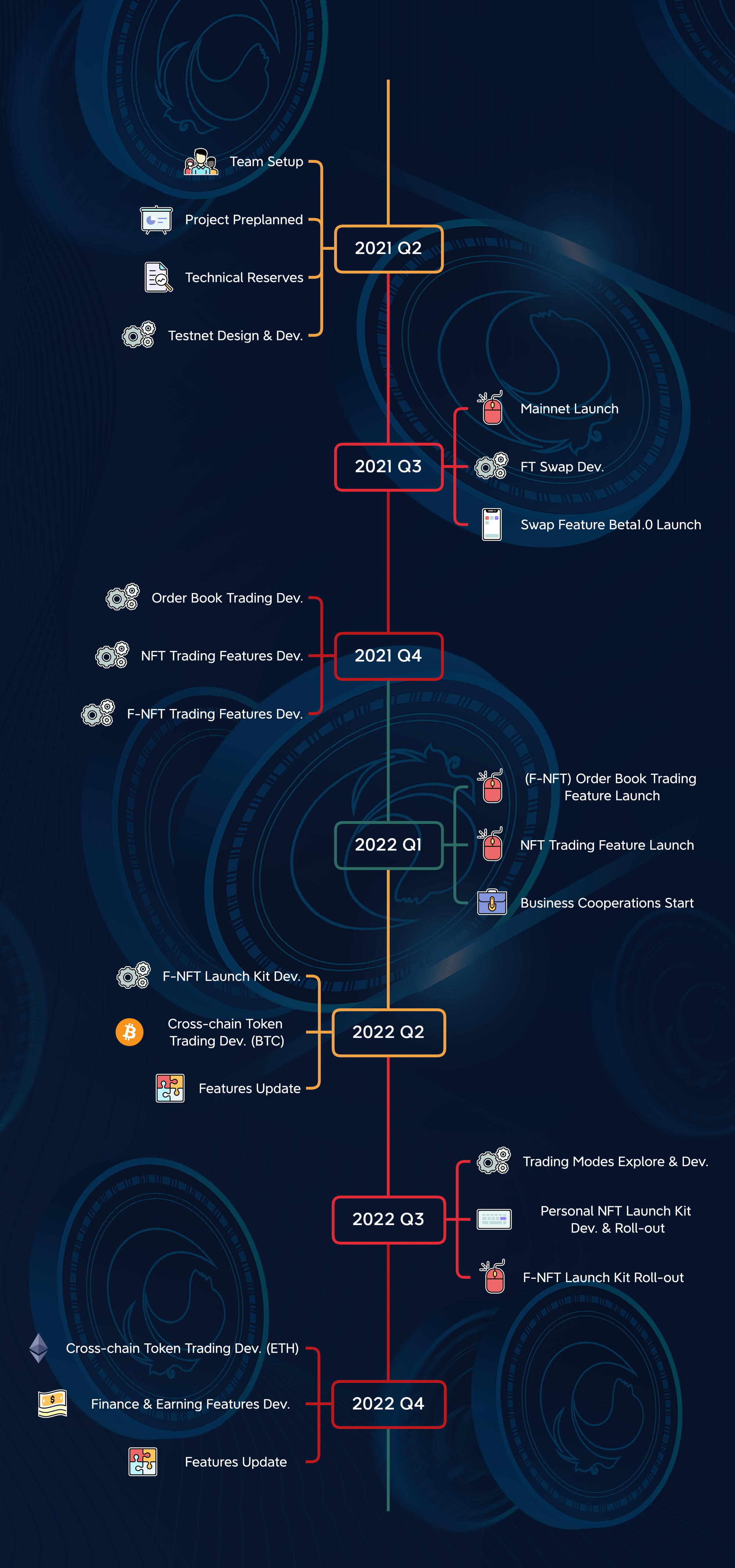 ---
Connect with InfinitySwap
Twitter | Website | Telegram | Discord | Github
---