How Code & State Catalyzes Web3 Entrepreneurship on the Internet Computer Protocol
We are partnering with Code & State in a variety of ways, particularly in an effort to promote the development of the Internet Computer.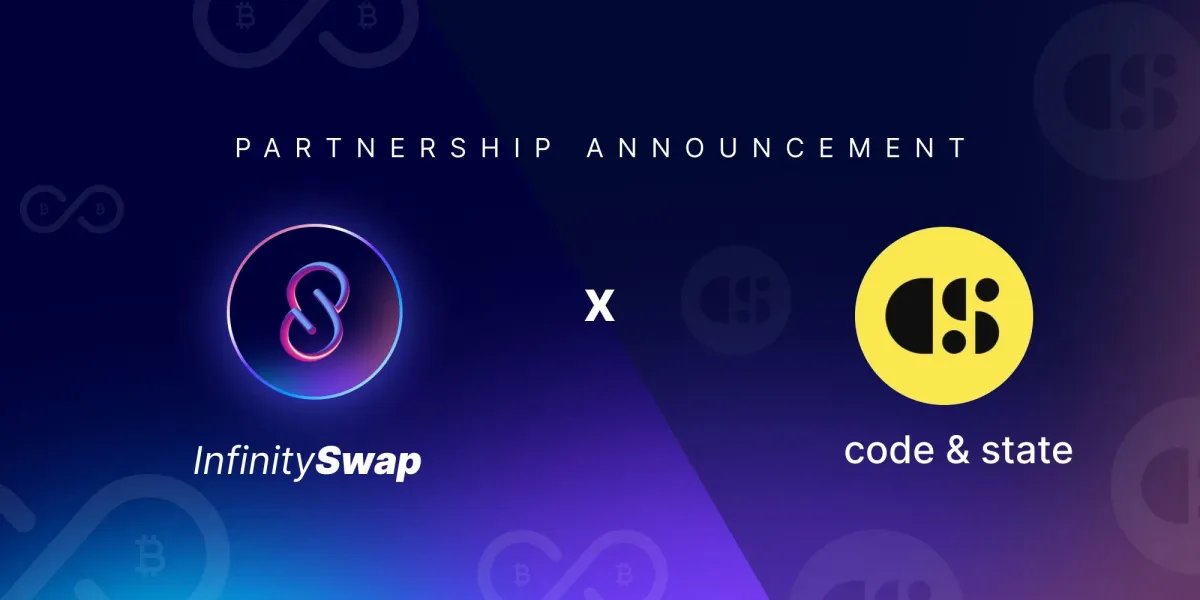 The following piece has been written by Code & State, our new partner. Here, they share exactly what they are aiming to achieve, and will be working with us to bring in and educate the next wave of developers on the Internet Computer.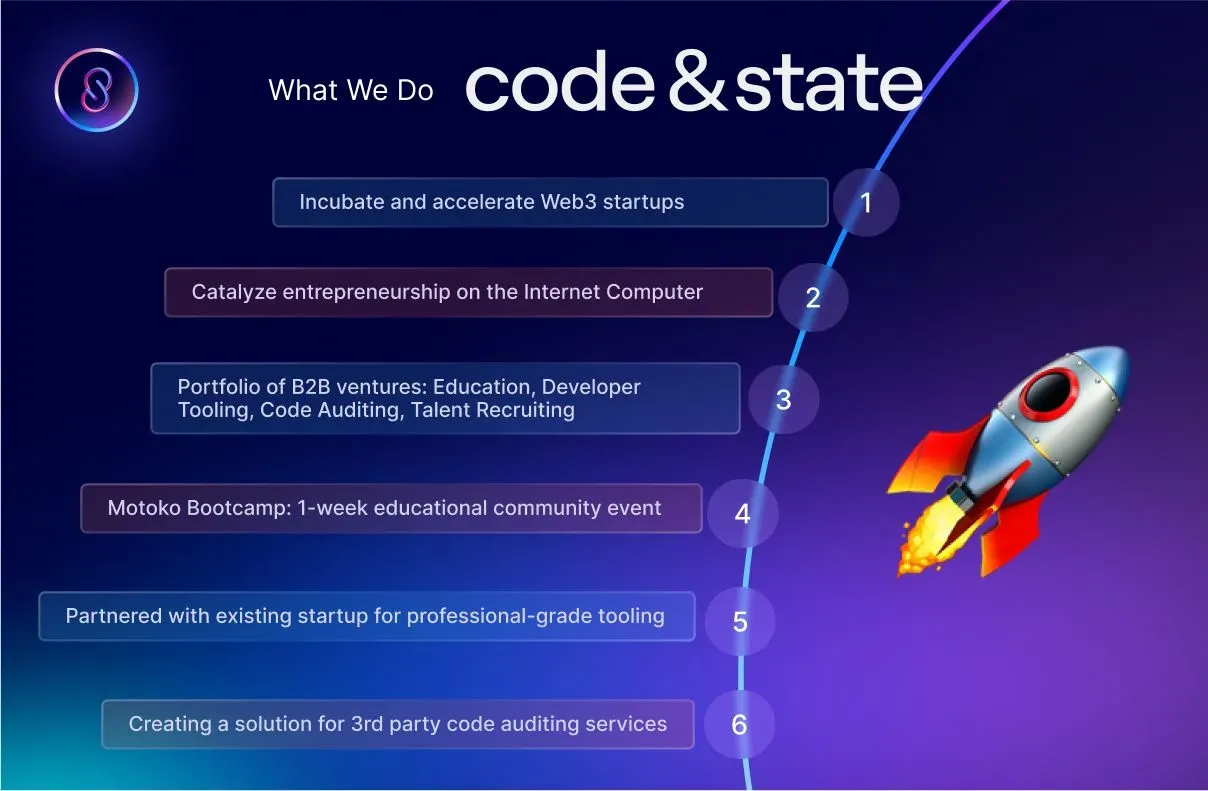 TL;DR
Code & State, founded by top ex-DFINITY entrepreneurs, accelerates and incubates top-tier startups in the Internet Computer Protocol ecosystem.
Our mission is to make it easier for entrepreneurs to build and earn on the Internet Computer.
We're hosting and expanding Motoko Bootcamp, a 1-week educational community event from January 16th through 22nd, you can learn more here.
We're onboarding top talent into the Internet Computer ecosystem, so reach out if you're looking for full-time work in web3.
We're looking for innovative startups to join our portfolio, so contact us if you're a founder who shares our mission.
Participate in and follow our Twitter Spaces to get answers to all your questions.
👉Follow us on Twitter, join our Discord and our email list.
Table of Contents
Why Code & State?
Internet Computer Adoption
The Internet Computer is the most advanced blockchain technology ever created. Despite the network's enormous potential, there still aren't enough people using it.
Why?
Adoption will increase with the quality and quantity of dapps on the network, and right now it's still difficult for new builders to get started. Tech entrepreneurs in the Internet Computer ecosystem must overcome significant resource gaps in developer tooling, reference/educational material, talent, funding, guidance, marketing, & revenue. Addressing these barriers is why we started Code & State — to make it easy for entrepreneurs to start building and earning!
From Venture Capital To Venture Studio
Few can understand the needs of startups within the Internet Computer ecosystem as well as Cédric Waldburger. After being a founding board member of DFINITY Foundation and operationally working at the foundation for over three years, he went on to create Tomahawk.VC, one of the most active investors for early projects on the Internet Computer.
While working closely with builders, he identified roadblocks that were bottlenecking innovation and stalling entrepreneurship. These issues pointed to a need for hands-on support that went beyond what a venture capital fund is structured to provide.
This insight led Cédric to the concept of a venture studio, which can be thought of as a "company-building machine". He partnered with Artia Moghbel, who is also a VC & ex-DFINITY executive, and together they kicked off Code & State in Q3 2022 with a series of global launch events in Singapore, Bali, Dubai, New York, and LA.
What We Do
Code & State is a collective of experienced entrepreneurs, investors, marketers, and developers who incubate and accelerate early-stage Web3 startups that catalyze entrepreneurship on the Internet Computer. We envision a future where a new ICP developer will create a business and start generating revenue, all within a single weekend.
To achieve this, we will start by building a portfolio of B2B ventures within these 4 categories (more categories & ventures to be added later).
1. Education
Code & State is hosting and expanding Motoko Bootcamp, a 1-week educational community event. The first Motoko Bootcamp had over 168 remote students participate to learn Motoko full-time and create a prototype of a DAO on the Internet Computer. The next Motoko Bootcamp will be from January 16th through 22nd, and around 1000 students have signed up for this edition; you can learn more here.
Additionally, Code & State has established the Education Working Group with the goal of creating a collaborative, brainstorming environment within the community to serve the broader goal of educating people about the Internet Computer.
2. Developer Tooling
Code & State has partnered with an existing startup to create a suite of professional-grade tooling for Internet Computer development. More details will be announced soon, follow us on Twitter to stay in the loop.
3. Code Auditing
We are creating a solution to provide 3rd party code auditing services, which will increase security, reliability, and user confidence for dapps across the ecosystem. If your project needs a code security audit before going open source or launching a decentralization sale on the SNS, please get in touch.
4. Talent Recruiting
To streamline talent onboarding, we are creating an Internet Computer-focused talent agency. This will help projects find & develop the talent they need so they can focus on building. If you are interested in either full-time employment on the Internet Computer or hiring, please get in touch.
Your Startup?
Let us know where you see gaps, and come talk to us if you are a founder who is devoted to driving growth for the Internet Computer ecosystem! Learn more about what startups we're looking for here.
Who We Are
Cédric Waldburger
Founder of Tomahawk.VC, former board member of DFINITY, and co-founder of Code & State. Cédric has had an exceptional career in tech entrepreneurship, both as a successful founder, investor, and industry leader. He's building Code & State with a strong passion and clear vision for empowering entrepreneurs within the Internet Computer ecosystem.
Artia Moghbel
Former COO of DFINITY, active VC, and co-founder of Code & State. Artia got his start as a tech entrepreneur with multiple successful exits. He's now an active VC with a large portfolio of early-stage startups across web3, climate, fintech, and proptech. He brings a wealth of experience to Code & State as a co-founder.
Sebastien Thuillier
Co-Founder of both Motoko Bootcamp & dSquad. Seb dropped out of school 1 year ago to start his ICP journey and has been a rock star builder on the Internet Computer ever since. He has a talent for helping others get started and involved in this exciting space and contributes exceptional technical expertise to Code & State as a Software Developer.
Isaac Valadez
A serial entrepreneur who co-founded dSquad & Motoko Bootcamp, Isaac is also the creator of the NNS Proposal Submission Dapp & ntagle. He brings over a decade of marketing and business development experience to Code & State in his full-time role as Marketing Lead.
…You?
We are looking for exceptional talent, both to join our team directly and to join the talent pool of our Web3 recruiting agency! Please contact us if you're interested.
Join Code & State
If you share our desire to see entrepreneurship thrive within the Internet Computer ecosystem, then join our cause and get involved!
As a Community Member
Stay in the loop and help us spread the word about the incredible opportunities the Internet Computer has to offer:
Participate in and follow our upcoming Twitter Spaces.
Follow us on social:
As Talent
Are looking for top tier:
UI/UX Developers
Front End Developers
Rust Developers
Motoko Developers
Developer Relations Engineer
Smart Contract Auditors
Technical Recruiters
To express interest, please get in touch.
As a Startup
We are looking for early-stage (pre-seed/seed) startups which are building B2B solutions that will directly empower other builders and entrepreneurs within the Internet Computer ecosystem. If interested, please reach out to start the conversation!
FAQ
What are the benefits for a Startup that joins Code & State?
Acceleration
Mentorship & guidance from experienced & successful tech entrepreneurs.
Cash investment.
Incubation
Support with low-level business administration (legal, operations, accounting, HR).
Support with high-level business development (strategy, marketing, fundraising, road mapping).
Access to top-tier talent for development & marketing.
How much equity do we take?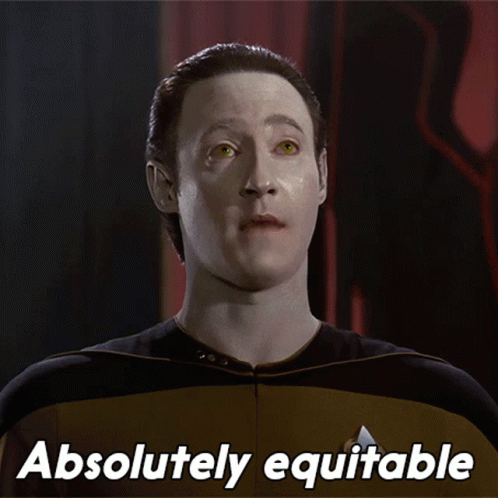 As an alternative to a typical early venture round where a startup offers ~20% equity in exchange for funding, Code & State offers both funding and hands-on incubation/acceleration for 20% equity in ventures that join our portfolio. As a venture studio, we are also more invested (financially), and involved for a longer amount of time when compared to an accelerator or incubator.
What type of startups should apply?
We aren't accepting play-to-earn games, standard NFT collections, or other types of projects which are only consumer-focused. We're looking for B2B projects that are directly building something of use to future Internet Computer builders and entrepreneurs.
What does the startup application process look like?
After reaching out, there will be a few calls between the startup founders and members of our team over the course of about a month. As things progress, we'll set up a shared slack channel to make it easier for us to share information/feedback during the process. If everything seems aligned, we'll make an offer and begin work shaping the partnership!
Is Code & State part of DFINITY?
No. Code & State is founded by ex-DFINITY executives and maintains a positive relationship with the DFINITY Foundation, but it is a separate organization that runs completely independently.
Will Code & State become a Known Neuron or DAO?
These are long-term goals, but for the time being, we will be 100% focused on getting our 4 initial brands off the ground. We aim to do everything "in the spirit of web3" by incorporating radical transparency and community involvement wherever possible!
We are excited to be teaming up with Code & State and look forward to the prosperity our partnership brings.

Connect with InfinitySwap
Bitfinity Wallet |AMM | Twitter | Website | Telegram | Discord | Github