CaniPlay: Web3 for the Masses
We've partnered with Canistore, one of the biggest projects on the Internet Computer. To say we are delighted about this is an understatement, and we have already discussed and outlined a plethora of synergies that will allow us to grow together as we prepare to take the world by storm.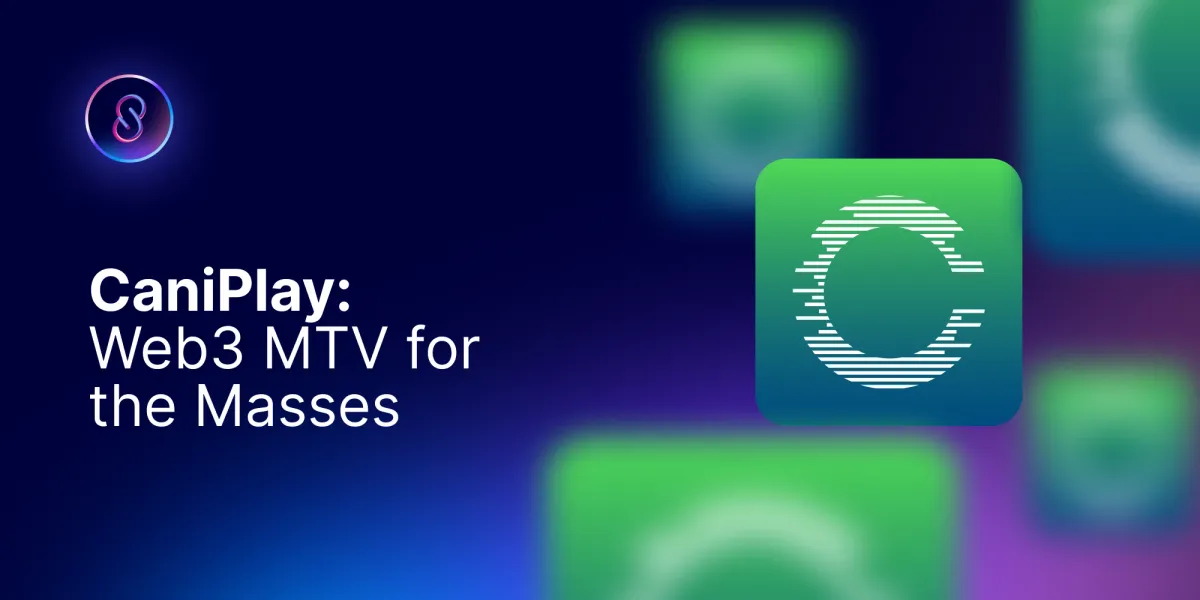 We've partnered with Canistore, one of the biggest projects on the Internet Computer. We have already discussed and outlined a plethora of synergies that will allow us to grow together as we prepare to take the world by storm with the full release of our product suites.
For those of you old enough to remember, MTV used to be the best way to listen to the hottest new music. Yet as technology progressed, MTV's relevance faded. But what about a Web3, upgraded version, where your Bitfinity Wallet will stay connected for potential drops!? Canistore is dropping its alpha release CaniPlay sooner than many would expect, now is the time to get excited about what's coming! This will be the first of two highly anticipated product launches.
CaniPlay- Coming Soon to Music Lovers
CaniPlay revolutionizes the way content is broadcasted to the community by being the world's first NFT broadcast station. It eliminates the need for intermediaries who control what and how content is broadcasted. Instead, it offers a user-generated playlist, similar to Spotify, where creators can submit their audio in the form of NFTs.
What sets CaniPlay apart is its community-driven approach to content broadcasting. The community is given the power to decide what content is worth airing. They can upvote content they like or report content they deem inappropriate. This democratic process ensures that only the most exceptional and compelling content is aired.
In addition, the CaniPlay community is encouraged to "Keep it locked" by connecting their wallets to the platform. This connection opens up opportunities for them to win prizes and receive random airdrops from projects across the IC and beyond.
This incentive further enhances community engagement and participation. CaniPlay's platform is not only an excellent avenue for creators to showcase their content, but it also offers a unique and exciting experience for the community.
It redefines the traditional broadcast industry and paves the way for a more decentralized and community-driven approach to content creation and broadcasting.
What is Canistore? In their Own Words:
Canistore: An integrated decentralized media platform on the Internet Computer
Canistore is a decentralized media service provider and social application that will be governed and owned by its community.
The creative economy generates more than $2 trillion in revenue annually and employs nearly 50 million people around the world, but creators face a diverse set of problems within creative industries. These challenges include protecting their intellectual property rights, managing followers across different social platforms, relying on monopolistic platforms for distribution and monetization, and fighting for their fair share of revenue.
Fortunately, the development of Web3 can empower creators to take greater control over their work and associated data. Enter Canistore, a tokenized digital media service provider running on the Internet Computer blockchain that offers a native licensing protocol. This social-store mobile application enables creators to upload and monetize their music, videos, and artwork.
Canistore is a next-gen social-store dApp (decentralized application) built on @DFINITY ∞ that combines culture and…
Canistore combines social interactions with monetization features from legacy social platforms like Facebook, Instagram, and Twitter, as well as music streaming platforms like Spotify and YouTube. Founder and CEO Barry Paisley envisioned Canistore as an online "Swiss Army knife" for creators that provides access to a variety of valuable services, freeing them from the control of centralized companies and social media platforms while enabling direct content monetization.
Transforming the Creative Industry
Because of unclear licensing regulations, companies usually have an undue advantage over the creators who contribute and distribute original content on their platforms, and typically enforce an opaque monetization policy that short-changes creators. Problems can also arise simply from relying on online storage providers to host creative work.
"Emerging artists have their IP at risk by storing music, images, and videos on computers, hard drives, and centralized clouds," explains Barry. "Each of these holds a risk of losing your original file. If lost, how would you prove the date of creation in the case of a copyright infringement case? How would you prove ownership?"
Canistore's licensing protocol empowers users to upload digital files on-chain and timestamp them to prove indisputable ownership. It provides a globally recognizable and legally binding agreement without paying any legal fees.
"Canistore as a licensing protocol allows us to solve the fundamental issues regarding copyrights and protecting your IP," Barry asserts.
Canistore also allows creators to sub-license their copyrights to third-party production companies like filmmakers, game developers, and advertisers — but unlike the legacy creative industry, Canistore eliminates the need for intermediaries that take a large share of the artist's revenue. This way, creators are able to directly interact with third parties and enjoy unmediated profit distribution.
Additionally, Canistore provides content creators with a multi-purpose platform where they can use a single application to distribute and monetize their content across external platforms. Why use multiple platforms when you can earn by contributing through just one?
Canistore's integrated protocol also enables artists and creators to directly connect with their followers, without losing fans due to opaque platform conversion rates. Canistore users can mint any form of content as an NFT and immutably store it on the Internet Computer. By leveraging advanced blockchain technology, creators can establish sovereign ownership of their assets, and no one has the right to sell a user's data without their permission.
"Simply put, the Internet Computer is the only blockchain that gives us the ability to build Canistore," notes Barry. "We have speed, on-chain storage, and security — a trio of attributes that aren't offered anywhere else."
JoinTheFrequency!
CANI — The Native Community Token
The CANI token powers the Canistore protocol and performs multiple roles on the platform.
First, it is a governance token that allows users to vote on proposals for protocol upgrades and future developments. Second, artists can earn royalties and revenue in CANI. Third, users can earn CANI as a reward for moderating content on the platform.
Moreover, artists and users can stake their CANI tokens to access exclusive and premium features on Canistore. They can also use the tokens for contributing to crucial board decisions, as well as to select winners for Canistore Creator Awards.
Canistore NFT Collections
Canistore is building an NFT club called Club 888, with a collection of eight audio NFTs. The first installment, called Revolucio, is already available, and Canistore will soon release the remaining seven NFTs. Canistore's existing NFT collections, Revolucio and CANI Club, are described below.
Revolucio
Revolucio is a set of 888 audio NFTs on the Internet Computer blockchain developed in collaboration with P2J, a famous artist who has previously collaborated with Beyoncé, BurnaBoy, and Wretch32. Revolucio has several utilities: NFT holders can earn a percentage of sales, receive airdrops, access an exclusive Discord channel, and burn NFTs for CANI tokens.
CANI Club
CANI Club is a set of 10,000 membership NFTs on the Internet Computer blockchain with which users can access the CANI Club in London. NFT holders can earn rewards of between 300 to 60,000 CANI tokens as monthly airdrops ranging across one to 10 years. The membership NFTs have a total of 50 million CANI tokens attached to them as rewards. Canistore users can chill in the CANI Lounge, attend premium events, access the media hub, or enjoy the Roof Terrace in the CANI Club.
Shaping the Future
Canistore recently completed alpha testing, with Club 888 members having privileged access in the testing round. Canistore's roadmap includes extensive beta testing, artist onboarding, and online-offline festival tours.
By leveraging the cutting-edge decentralized technology of the Internet Computer, Canistore aims to strengthen creative industries by empowering creators to reassert control over their work.
*Note: The above information was originally published by Canistore in a Medium post. We are extremely excited to be working with this talented team!

Connect with InfinitySwap
Bitfinity Wallet |AMM | Twitter | Website | Telegram | Discord | Github