Guest Post
BetBase: Web 3 Social Gaming
Betbase has integrated the Bitfinity Wallet and is a valued partner we will increasingly look to work with over time. We want to share the details of this exciting project's launch with our community via a guest post written by the team.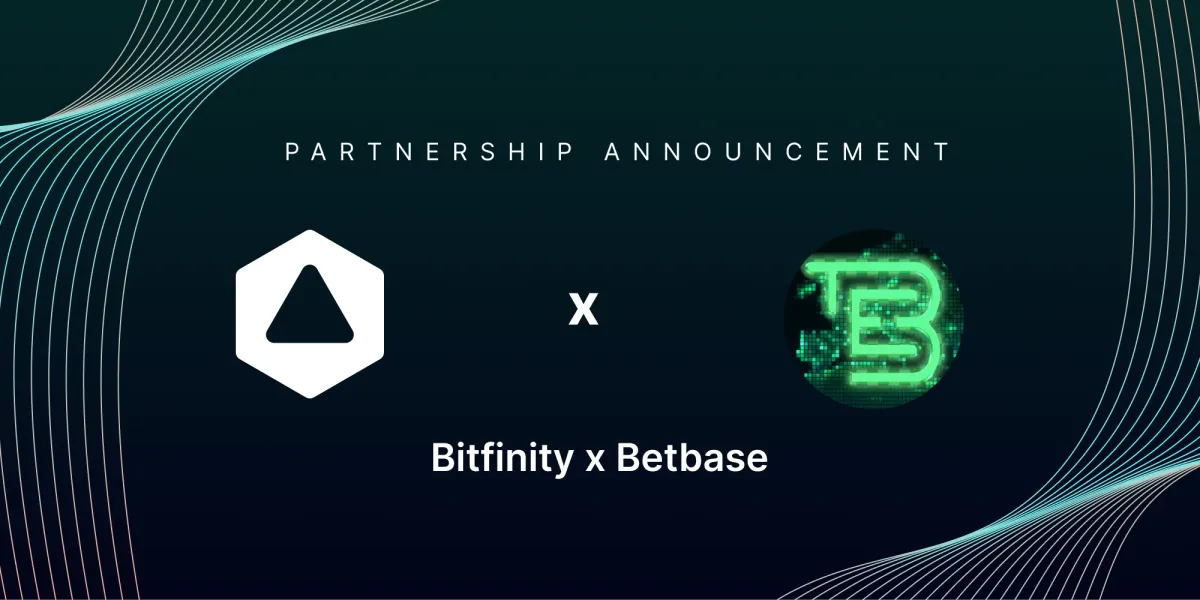 Betbase has integrated the Bitfinity Wallet and is a valued partner we will increasingly look to work with over time.
We want to share the details of this exciting project's launch with our community via a guest post written by the team.
Contents:
1. What exactly is BetBase?
2. Where are we right now in terms of development?
3. Where are we going & what exactly are we trying to achieve here?
___
The Betbase idea was spawned from a collective of highly experienced developers, UX designers, and Web 3/internetcomputer enthusiasts.
We wanted to come together to build a project, and like many others, we were inspired by Dominic William's vision of the "World Computer".
We decided to put our minds together. We reviewed and analyzed ICP's main technological benefits and quickly identified an exceptional opportunity and novel idea.
Imagine a Web 3 Gaming Platform, where you could play games such as Poker, Roulette, Slots, Blackjack, etc. (to name a few) but doing this in a social media style format, where you could relax and socialize with your friends. Community-driven, where users feel part of a team, helping to push the platform.
A fast, highly secure, trustless playing environment that anyone across the world can access and enjoy, which offers unique privacy benefits, that essentially will give complete freedom back to the user.
This was the very foundation of BetBase and what we're setting out to achieve. Web 3 Social Gaming.
____
What are the key benefits of using BetBase?
Fast and Secure Transactions
You may have to wait several days for your transaction to be processed using traditional payment methods such as credit cards, bank transfers, or e-wallets. Cryptocurrencies allow almost instant deposits and withdrawals, so you can start playing your favorite games immediately.
ICP (The Internet Computer) is a revolutionary, new, cutting-edge blockchain built by some of the world's best computer scientists and cryptographers, which offers "bridgeless" integrations to the BTC & ETH blockchains. This adds a cheaper, faster layer and makes them more programmable by ICP's more complex form of smart contracts called " canisters."
To put it very simply, and what is most relevant from a user's perspective, is that by utilizing this technology, BetBase aims to be the cheapest, fastest, and most secure way to bet and game online with BTC & ETH currently available. Our site will offer almost instantaneous payouts and is built 100% on-chain (no info is stored on AWS etc.).
BetBase wants to be a pioneer and intends to be a breakout app for the Internet Computer. We want to help broadcast its unique capabilities to the wider market, where it seems to be underlooked.
For more information on this, please review the following article.
Anonymity
One of the biggest advantages of BetBase is anonymity. When using traditional payment methods, you must provide personal and financial information such as your name, address, and credit card details. This information is stored in a database, and there is always a risk of data breaches and hacking. This is not the case on our platform.
No information is stored on third-party servers. ICP is a sovereign network where everything is stored entirely on the blockchain. No AWS! To learn more about how this works, we suggest reading the following website for further insights.
BetBase allows you to play anonymously. When you transact with a cryptocurrency, you only need to provide your wallet address, a string of randomly generated characters.
This means you can play without revealing your identity, and your personal information remains private. ICP makes this happen by providing users with a cryptographically secure, signing-in system called the Internet Identity.More info here.
Provably Fair Gaming
Provably fair gaming is a concept that was introduced with the rise of cryptocurrency gambling. It is a method of ensuring the fairness of casino games by using cryptographic algorithms. This means that players can verify each game's results and ensure they are not being cheated.
Provably fair gaming is only possible with cryptocurrencies because it relies on the transparency and security provided by blockchain technology.
Knowing that BetBase games are fair and transparent gives players peace of mind.
______
2. Where are we right now in terms of development?
BetBase V1 Early alpha launch was released on Sunday, 9th April 2023. We want to inform our early testers/users that this basic site is intended to be released so we can test our canister infrastructure, clear out any bugs, and gather user feedback. We have far more elaborate UX designs ready to go.
We also wanted to release this version, as we want the community to feel part of the early stages of development and feel part of our progression. We want to build a solid organic base of users from the very start. These early users WILL be rewarded, so keep that in mind!
_____
3. Where are we going, and what exactly are we trying to achieve here?
BetBase, over the coming months, will have an aggressive rolling release schedule. As you can see from the early alpha launch, our very first game is Dice, but next up will be multiplayer Poker ( q2 roughly). Then after this, a plethora of other games, such as Roulette, Blackjack, Sports Betting, etc.
Once our key games are released, we'll contact the community and gather thoughts on what you want next. The possibilities are almost endless!
The overall vision for BetBase is to be a global premier Web 3 Gaming & Betting site.
Our eventual goal is to have complete 3D playing environments where users can play & socialize. Everything you see and interact with will be an NFT, which can be bought and sold through our secondary NFT trading marketplace. Avatars, Playing Cards, Slot Machines, Poker Tables. All NFTs, all tradable. Eventually, we will have frequent limited NFT launches, which users can collect.
Here is some early concept art
We also want a creative element to our site, where community members can build their own items (NFTs) and then release them to sell on our platform. Utilize our liquidity, and make revenue for yourself! This opens up a whole new world of opportunities.
From here, we want to scale out and have incentivized community managers worldwide, which push the BetBase brand and be part of our success. Communities in Europe, Asia, & beyond.
Imagine having global, region-to-region Poker tournaments. Ranked Leagues? Live streamed. NFT championship medals, VIP rooms. All are coming…
Once everything is in place and our site is tested and fully functional, we then initiate our advanced marketing strategy…
I hope you are as excited by our vision as we are now. This is just the start.
Welcome to BetBase. V1 Early Alpha Launch. April 9th, 2023.
Please follow us on our socials to keep informed.
We want to thank the Betbase team for their introduction to the community and are looking forward to a fruitful future relationship!
Social Gaming Platform beta early 2023. Fast, Secure, Trustless. 100% On-chain.
linktr.ee

Connect with Bitfinity Network
Bitfinity Wallet |Bitfinity Network | Twitter | Website | Telegram | Discord | Github