Guest Post
The Evolution of a Lunatic
We're evolving every day, and so will each and every Lunatic minted in our Genesis Collection of 777 fine art NFTs.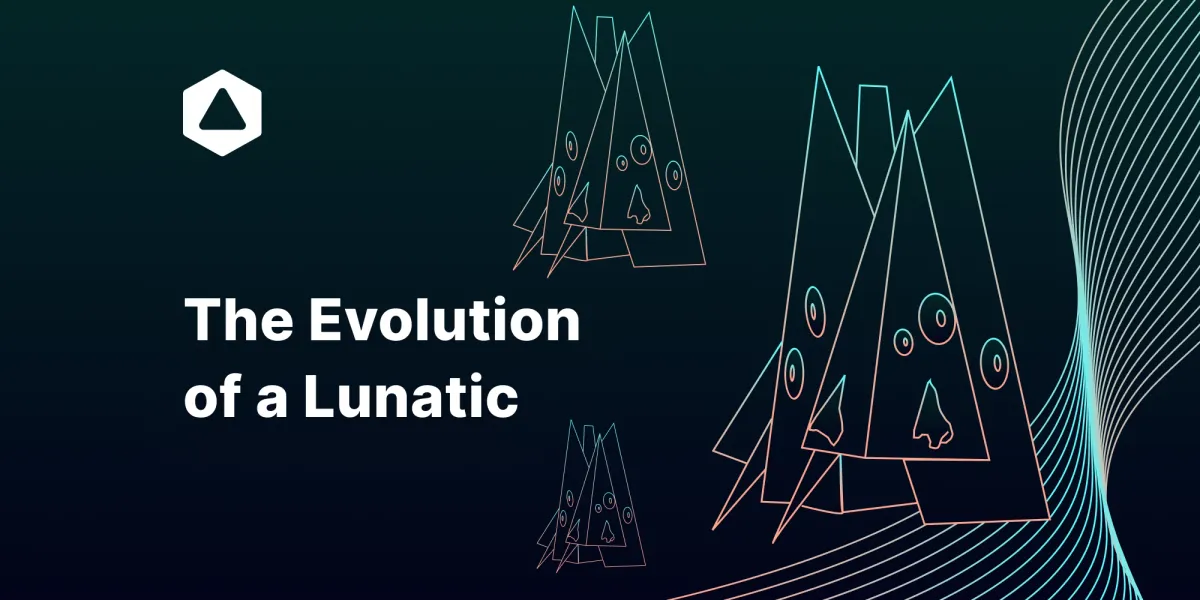 Lunatics wants to make it easy & fun to create and consume music again! Their mission is to lead the next generation of fine art and music licensing by harnessing the power of blockchain to onboard the next generation of creators, fans and collectors.
There is one universal truth that every Lunatic knows well — what begins a journey is never the same thing that ends it. This is true for people, objects, dinner — you name it, the rule applies. And the same is true for Lunatics.
Lunatics aren't born into this world understanding the full power (and potential) of their inner Lunatic. They evolve to embrace it, and as they do, their passion, strength, and unbridled, mad focus take on a more vibrant form.
Inspired by this evolution, we're creating a new way of experiencing and holding NFTs that embraces the evolution of a collection to its fullest. Simply said, we're evolving every day, and so will each and every Lunatic minted in our Genesis Collection of 777 fine art NFTs.
What is the Evolution?
The Lunatics community represents the next evolution for art collectives, bridging the world between physical and digital art and introducing members to world-class artists from both spaces.
To represent this ideal, every NFT in the Genesis Collection will evolve from an all-white shape to the crazy, colorful, final form of a fully-evolved Lunatic. And since the Lunatics' collective is all about art and technology, this evolution will happen automatically and with a mechanism on-chain in the smart contract itself!
How will this work exactly? After being minted, each Lunatic will reveal its basic shape and outline with all of the colors and attributes removed, starting from a floating white figure as the beginning point of the evolution and transforming into a fully evolved form over the course of six full days of holding.
Hold to Evolve
Every 24 hours (worth of blocks processed on the ETH blockchain; around 7,115) that a user holds their NFT, the Lunatic will evolve and add a new trait, revealing more of its final form and becoming richer and more colorful as it takes shape.
Each day held will unveil the secrets within. After six days of holding, the Lunatic will be fully evolved.
The evolution happens automatically when the owner holds the Lunatic for the necessary amount of time and will be trackable on the contract by looking at the energy accumulation.
If a user sells or transfers their NFT, their Lunatic will remain in the evolutionary stage it was transferred in, and the evolutionary time resets to the baseline. This means new holders must wait 24 hours from the time of transfer to evolve to the next stage.
For example: If I hold a Lunatic that's evolved for two days, and then I trade it to someone else, the timer resets automatically. The new owner needs to hold it for approximately 24 hours in order to evolve to day three of the reveal.
The evolution is just the beginning and represents the first of three phases for the Lunatics.
Phase One: The Lunatics Evolution (the Lunatic reveals its true form, with one stage revealed every 24 hours over six days of evolution)
Phase Two: The beginning of holder benefits, including IRL art giveaways and unique community events
Phase Three: Fully ANIMATED Lunatic (date to be announced) to show off on your favorite device screens (we like Infinite Objects personally)
The Possibilities are Endless
This block-based accumulation system gives the Lunatics enormous flexibility as the project unfolds. The energy that evolves the Lunatics will be stored after the evolution completes and be used in a variety of ways to support the Luantics' project, including:
Physical, hand-embellished prints from Christopher Lizarraga
NFTs from partner projects
New art (physical and digital) from Launchpad artists and projects
More planned, but we don't want to spoil the reveal yet
The Lunatics' mint promises to be an experience like no other. Don't be a watcher. Be a doer and share our updates on Twitter. Your chance to mint the evolution is almost here.

Connect with Bitfinity Network
Bitfinity Wallet |Bitfinity Network | Twitter | Website | Telegram | Discord | Github

*Disclaimer: While every effort is made on this website to provide accurate information, any opinions expressed or information disseminated do not necessarily reflect the views of Bitfinity itself.