Guest Post
A Swiss-Army Knife for Projects on ICP — Introducing GOODMINT
A Guest post from new InfinitySwap partner, GOODMINT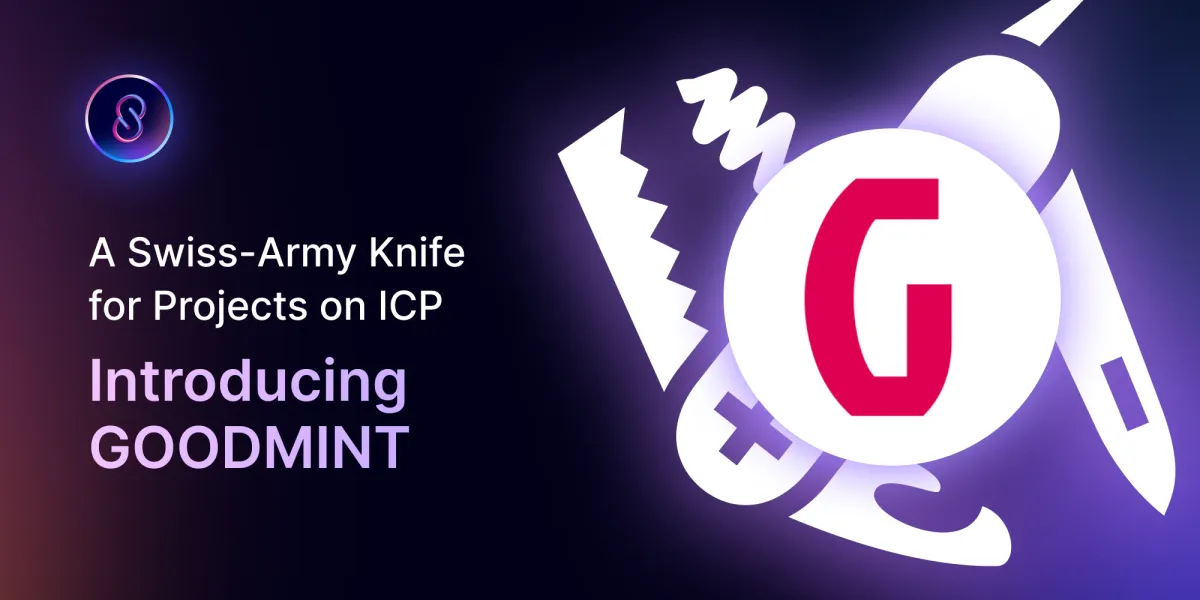 *This is a guest post from the wonderful team at GOODMINT
Previously, we discussed the growth of the NFT ecosystem on the Internet Computer, which eventually flattened due to three primary factors:
1) A lack of utility for most NFTs
2) A plateauing size of the NFT fanbase
3) A steep learning curve for collectors from other ecosystems.
In response to these challenges, we introduced the GOODMINT app in our last article.

GOODMINT, developed by ICPverse Labs, challenges the traditional methods of project promotion by amalgamating the material and community aspects onto a single platform. By catering to the needs of NFT artists and collectors, game developers and gamers, token creators, and crypto enthusiasts in general, GOODMINT's uniqueness sets it apart from its competitors. With its advanced algorithmic whitelisting and giveaway system, GOODMINT offers an unparalleled, trustless experience.
Furthermore, it provides an extensive range of services, including exclusive broadcasts, VIP clubs, and the option for premium projects to create location-based clubs, thereby offering a comprehensive solution for project information. With an expanding set of cutting-edge features continually added, GOODMINT is poised to transform how projects are promoted in the web3 space. Don't miss out on the launch of this game-changing application!
Why GOODMINT? NFT projects and marketplaces are recycling the same community base, resulting in overexposure to too many NFTs, leaving many unsold. To target a wider trans-chain and trans-genre NFT ecosystem, GOODMINT was developed.
How Will GOODMINT Bring Users? GOODMINT works on the principle of creating a win-win scenario for all stakeholders. The creator end of the spectrum gets to pool their visibility and fandoms together on a platform solely dedicated to this task, and they get access to cool tools and offers. Meanwhile, the collectors get to apply for whitelists, giveaways, and other contests free of cost. They also get to socialize in project chat groups and plan events locally if they desire. They are also incentivized to use the app more because simple actions like "Logging in with Bitfinity Wallet" leads to them being awarded points which will later be redeemable for whitelist slots, promotional NFTs, platinum membership, etc.
How Can I Apply? Apply for GOODMINT by requesting entry in the GOODMINT channel on our Discord server. Project creators need an invitation to register and can have up to five wallet accounts as admins. GOODMINT supports Plug, Stoic, and Bitfinity wallets, and a team can have multiple NFT or game projects.
For collectors, it is free and always will be. For projects, there is a free tier and a premium tier. The premium tier has VIP Lounges, HODLers club, member chat, HODLer map, among some other secret cool features. Projects will be able to seamlessly upgrade or downgrade their tier at any time.
We plan to launch in the first week of April. Read out our documentation, privacy policy, and terms of service here.
Don't miss the launch!

Connect with InfinitySwap
Bitfinity Wallet |AMM | Twitter | Website | Telegram | Discord | Github