Analysis
What InfinitySwap Offers to Those Affected by the FTX Fallout
InfinitySwap could have prevented risks created by Centralized Exchanges like FTX by leveraging on the benefits of decentralized exchanges to customers who do not need to transfer their assets to a third party.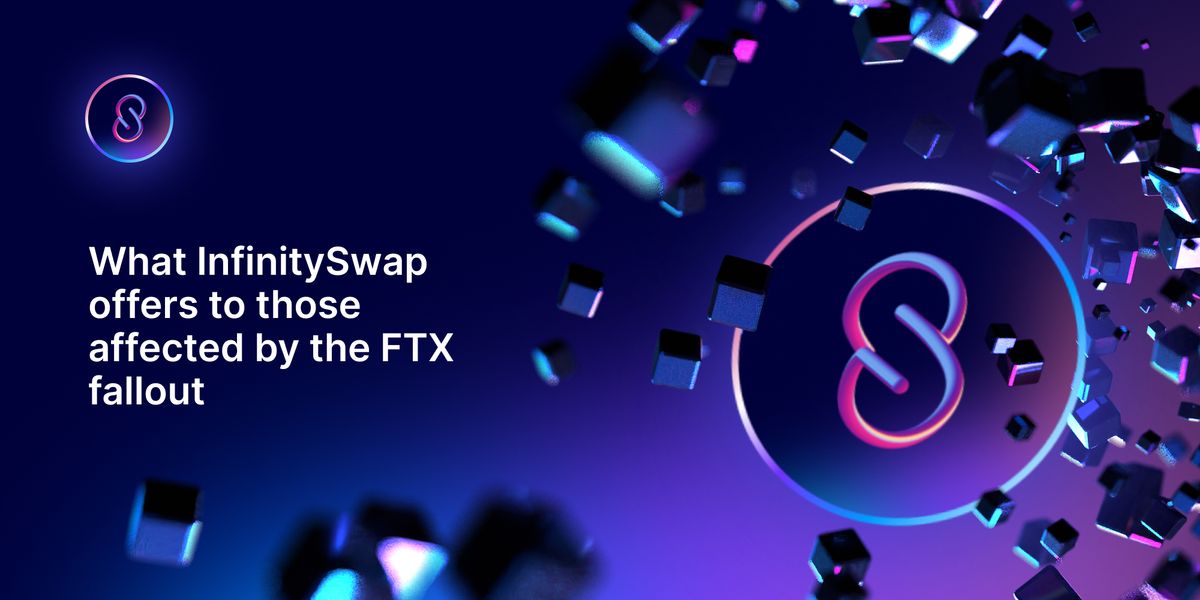 The most shocking news recently in the crypto world is the FTX collapse. Alameda Research and FTX, are two different firms. FTX, founded by Sam Bankman-Fried, is a crypto exchange that lets consumers buy and trade digital currencies. Sam Bankman-Fried, popularly known as SBF, also founded Alameda Research, a quantitative trading firm. SBF siphoned and transferred much of users' deposits on FTX exchange to his other firm, Alameda (which appears to be highly interdependent), making the fund seem healthy while the reality was that he was losing money on leverage trades.
In early November, CoinDesk revealed that two-fifths of Alameda's $14.6 billion balance sheet was held in FTT, prompting fear among FTX consumers. Binance's CEO sold 23 million FTT, sending its price tumbling. CZ announced a plan to buy FTX, then abandoned it after taking one look at the balance sheet.
According to Reuters, SBF established a secret backdoor in FTX's bookkeeping system to move depositors' money to Alameda without telling customers or most of his personnel. Also, SBF took around a $1 billion loan from Alameda's coffers.
The Current State of The FTX Implosion
After FTX's crash, many in the cryptocurrency community feel this may be the end of crypto. The crypto bank run led to the fall of FTX and exposed its illegalities and the mismanagement of consumer assets has accelerated across the industry. Every centralized crypto exchange is seeing record withdrawals. Who can you trust if one of crypto's most trusted crypto exchanges has failed? Many investors still need to be able to withdraw their money from FTX, and matters have been complicated with FTX filing for bankruptcy.
The Bahamas Supreme Court has appointed two PricewaterhouseCoopers provisional liquidators to supervise the assets of the crypto exchange, which is located in the country.
Recently, the Bahamas Securities Commission ordered that FTX Digital Markets' digital assets be transferred to a digital wallet maintained by the commission to protect "the interests of clients and creditors."
Turkey's Financial Crimes Inquiry Agency has become the latest institution to join the investigation into FTX's demise. In addition, the regulator stated that it has been monitoring FTX's actions in compliance with the country's Anti-Money Laundering (AML) rules.
Meanwhile, US and Bahamian authorities are reportedly contemplating the prospect of extraditing Sam Bankman-Fried, the company's former CEO, back to the US for questioning.
How Infinity Swap Can Help
The introduction of the Internet Computer ecosystem has significantly altered the trajectory of the blockchain industry. Developers can create their programs and apps on the Internet Computer without worrying about setting up servers, databases, or payment systems. By eliminating the need for additional middleware, it streamlines the technological stack for programmers and makes it simple to create any distributed application.
InfinitySwap could have prevented risks created by Centralized Exchanges like FTX by leveraging on the benefits of decentralized exchanges to customers who do not need to transfer their assets to a third party. Therefore, there is no risk of a company or organization being hacked, and users are assured of greater safety from hacking, failure, fraud, or theft. After all, not your keys, not your coins as the adage goes.
Infinityswap will allow for the peer-to-peer exchange of cryptocurrencies to avoid market manipulation, protecting users from fake trading and wash trading or putting their assets in a company with low accountability.
To overcome the limitations of competing centralized exchanges, InfinitySwap utilizes novel Internet computer tech such as chain key cryptography to remove the need for use of hackable bridges and introduces digital wallets with new operational and promotional features that will shape the platform's long-term viability through a newer, safer and more secure DeFi platform.
Connect with InfinitySwap
Twitter | Website | Telegram | Discord | Github

*Disclaimer: While every effort is made on this website to provide accurate information, any opinions expressed or information disseminated do not necessarily reflect the views of InfinitySwap itself.