Understanding the European Markets in Crypto-Assets -Regulation
MICA refers to the Markets in Crypto Assets framework proposed by the European Commission to regulate cryptocurrencies and crypto-asset service providers in the EU.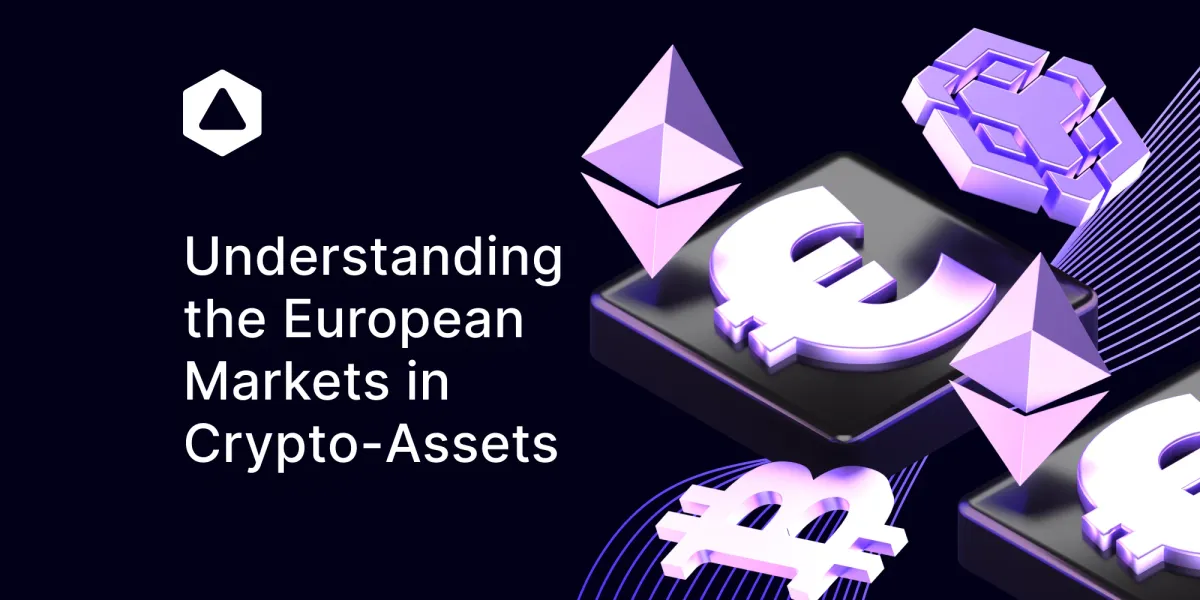 The European Union's Markets in Crypto-Assets (MiCA) regulation is a set of rules aimed at regulating the issuance and trading of cryptocurrencies and other digital assets. The regulation is set to come into effect in the near future, and it's important for businesses in the crypto space to understand what it entails. In this article, we'll go over some of the key details of MiCA and what it means for businesses operating in the EU, as well as its potential impact on the European residents.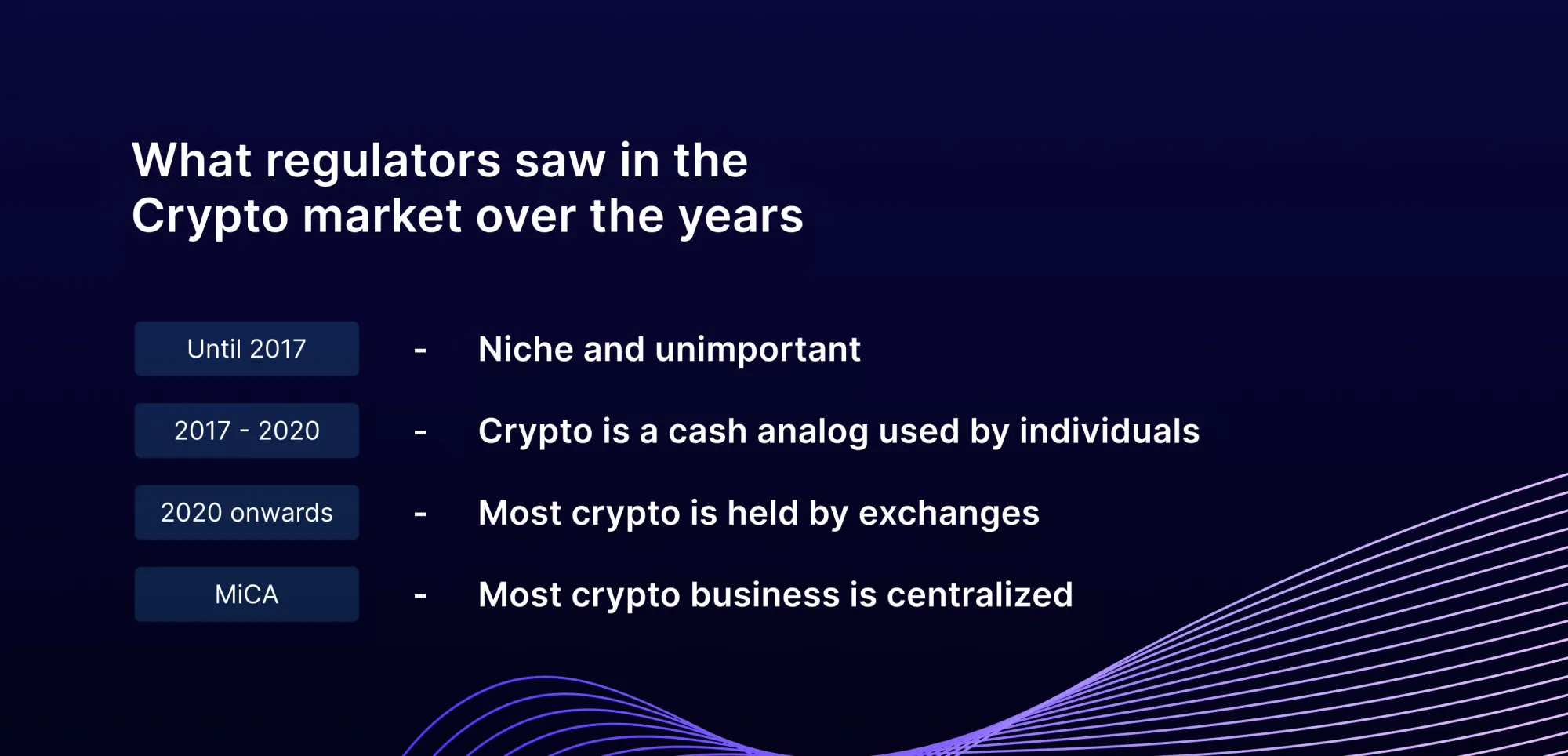 Current Status of Regulation in the Crypto Asset Industry
The traditional financial instrument industry in Europe has been regulated under the Market in Financial Instrument Directive (MiFID), but the non-traditional financial market, which includes token issuers and businesses providing crypto asset-related services, has lacked a unified regulatory framework.
This lack of harmonization creates a significant challenge for businesses that want to operate across the EU.
What is MiCA?
MiCA, or Markets in Crypto-Assets Regulation, is a proposed comprehensive EU-wide regulatory framework aimed at governing crypto-asset service providers and issuers, with the goal of creating a harmonized regulatory framework that enhances investor protection and ensures market integrity.
It introduces new rules on licensing, capital requirements, and investor protection and simplifies the regulatory process for crypto asset service providers in Europe by allowing them to offer their services across the EU with one license.
When is MiCA expected?
MiCA is expected to be formally adopted in late 2023. EU member states will then have 18 months to transpose MiCA into national law. So the regulation will likely take full effect in 2025.
A Brief History of Crypto Regulation
Crypto regulation has gone through several phases throughout the years.
Until 2017: Regulators saw crypto as niche and unimportant, with little need for regulation.
2017 - 2020: Regulators started to see crypto as a cash analog used by individuals, so minimal regulation was reasonable.
2020 onwards: Regulators discovered that most crypto is held by exchanges on users' behalf. They realized exchanges act like payment providers, so regulated them accordingly.
MiCA: Regulators finally understood that most crypto business is centralized, with users having no control. MiCA regulates crypto service providers like payment providers.
Who does MiCA apply to?
It will apply to all companies that provide services around crypto-assets or issue crypto-assets within the EU. This includes:
Crypto exchanges
Custody wallet providers
Crypto brokers
Advisors/portfolio managers
Issuers of crypto-assets
All service providers operating within the EU are required to comply with its regulations, including obtaining a license and meeting certain capital requirements. Failure to do so may result in being blocked from operating.
What does MiCA regulate?
The new regulation covers a range of legal aspects related to crypto business. Some of the key legal aspects includes.
Definitions of new types of crypto assets: MiCA introduces new categories of crypto assets, including cryptocurrencies, tokens, and virtual assets. These definitions are important for determining the regulatory requirements that apply to different types of crypto businesses.
Licensing requirements: It also introduces new licensing requirements for crypto businesses, including crypto exchanges, wallet providers, and custodians. To obtain a license, businesses must meet certain capital requirements and comply with strict AML/KYC regulations.
ICO rules: MiCA regulates initial coin offerings (ICOs) and requires businesses to provide detailed disclosures about the project and its risks to investors. Failure to comply with these rules can result in fines and other penalties.
Conduct: MiCA establishes strict operational, organizational, and governance requirements for crypto businesses.
Transparency: MiCA requires disclosure of rules around fees, risks, trading volumes, etc.
Investor protection: MiCA safeguards client assets and requires businesses to meet certain capital requirements.
Prevention of market abuse: MiCA establishes rules against insider trading, price manipulation, etc.
Protecting 'Consumooors'
All crypto service providers under MICA will be required to implement measures that protect investors, such as providing clear and accurate information about the risks associated with investing in crypto-assets. Regulators aims to protect consumers by introducing new rules on investor protection and preventing money laundering and terrorist financing.
New regulations on customer identification will also be introduced, ensuring that the crypto asset industry operates 'safely and securely'. To counter money-laundering risks, the European Securities and Markets Authority (ESMA) will set up a public register for non-compliant crypto assets service providers that operate in the European Union without authorization.
These regulations aim to ensure that crypto transfers can always be traced, and suspicious transactions can be blocked. The law also covers transactions above €1000 from self-hosted wallets when they interact with hosted wallets managed by crypto-assets service providers.
The new legislation will also apply to transactions over €1000 from self-hosted (such as Metamask, Trustwallet,...) wallets when they interact with hosted wallets managed by crypto-asset service providers.
Future Outlook
The implementation of the Markets in Crypto-Assets Regulation (MiCA) in the EU is expected to have significant impacts on the European crypto industry. MiCA aims to harmonize regulatory requirements across all EU member states, which could reduce the operational costs for crypto companies in the region.
However, the success of MiCA will depend on the implementation standards and enforcement practices developed by EU supervisory authorities. Some provisions in MiCA may pose a burden for industry participants, including individual crypto enthusiasts. It could also potentially become a regulatory standard for crypto-assets globally, with other jurisdictions adopting MiCA operating standards.
Conclusion
MiCA is a comprehensive regulatory framework that aims to provide consumer protection and prevent illicit transactions in the crypto asset industry. Although it may have some impact on innovation, it provides a common set of rules for businesses to operate under in the EU. Understanding MiCA is crucial for businesses and European residents who want to engage with crypto within its borders. However, the impact of MiCA on mainstream adoption is yet to be seen, and its effects will be felt in the future.

Connect with Bitfinity Network
Bitfinity Wallet | Bitfinity Network | Twitter | Telegram | Discord | Github

*Disclaimer: While every effort is made on this website to provide accurate information, any opinions expressed or information disseminated do not necessarily reflect the views of Bitfinity itself.