Partner Updates
The Vision: The Swop Multimedia
What exactly is the vision that drives the burgeoning ICP platform, The Swop? We are delighted to partner with the team for marketing and infrastructure integration.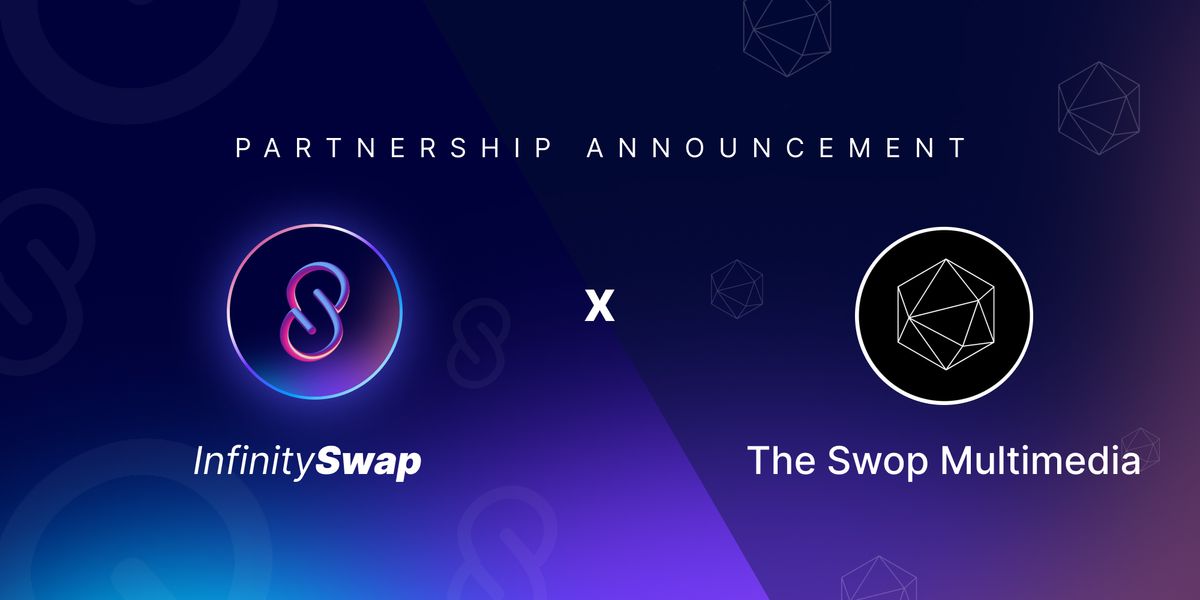 Read about our partner, The Swop, who we will be working closely with to support the development of the ICP ecosystem via marketing and integration of infrastructure such as Bitfinity Wallet and utilization of the InfinitySwap EVM and AMM. Here, Kyle Stoflet, CEO sets out his Modus Operandi in a detailed guest post.
TL;DR
The Swop: Key Points
- Education (translated content will be necessary)
- Community Meet-ups/Spaces IRL & Metaverse
- Conferences/Festivals IRL & Metaverse
- NFTs & Merch
- NFT Ticketing
- Token(In no rush to launch)
The Swop 2023: Plans
- Attend Conferences as Media
-Interview/Content/Network NFT NYC + Bitcoin Conference + more
- Continue growing our Spaces (Twitter + DSCVR)
- The Swop Magazine
- Continue building theswop.icp.xyz Our site will gain more features. (Storing our Spaces on-chain on The Swop site would be ideal!)
We are also building Goated Gamer Dapp (Ultimate gaming experience) & Community building around Outpost Metaverse Project!
Brief history
The Swop has been actively working on the Internet Computer since January 2022. Some may be familiar with our Twitter Spaces, and some may have noticed us on Twitter in general. Throughout our experience on ICP, we have continuously been recognized as an influential brand by Lunar Crush data and recently jumped into the top 200 Web 3 Twitter Spaces!
The Swop was previously awarded a Community Awards Grant from the DFINITY Foundation in May 2022. In June of 2022, Kyle, Founder of The Swop, was also awarded his first Hackathon win by placing 5th with Internet Computer Services in the Blue Sky track at DFINITY's Supernova!
Education
The Swop will take the initiative to educate new users about the Internet Computer. Our projects become the face of the network in the grand scope of things. Whether it's on social media or at one of our conferences, we will be educating the masses along the way in our journey. Several of our side projects bring it all together to introduce the masses to the Internet Computer collectively. We will evolve our educational content over time, and it may play a way into earning rewards further down the road.
The best communities are educated, which will translate to our community members guiding new users through their experience in the web 3 world. Goated Gamer will be the gateway for most users to learn. We will also look to have our content translated to help reach more languages to help educate a wider audience! Translating our content will be very important for our overall growth in the IC ecosystem!
Community Events/Meet-ups
Community events will be a strong focus at The Swop. Twitter / DSCVR Spaces. Eventually, those will integrate into the Metaverse. We are working closely with the Outpost Metaverse project. We will heavily contribute to building the community around the 3D interactive world. We will host events, performances, conferences, and community-inspired activities inside the Outpost.
Then, of course, our community can expect real-life events and meet-ups before conferences. This is a significant focus for us and will contribute to growing the brand globally as we look to do events outside of the US. (We are based out of Wisconsin, USA).
Community Artist Fund
We aim to inspire creators from all over to join our community and build a strong culture. In doing this, we can help build up many reputable artists, musicians, and storytellers! We have many opportunities to uplift our community so they can continue to follow their dreams and passions. We can provide the tools to help give value back to our community and to help members continue pursuing their passions. This would be a competitive approach in which the community helps decide the beneficiaries. Future projects from The Swop may send a portion of the raise to the CAF.
Conferences & Festivals
The Swop will draw attention to Outpost by hosting festivals for users to enjoy! We will grow and attract artists and musicians to join The Swop through the Community Artist Fund. So over time, we will continuously be increasing artists from within our community to perform at our festivals. We are looking to scale to host festivals in real life. We plan to have this complement Goated Gamer.
We will host eSports Tournaments with that project, so having mini-festivals at events will become a regular occurrence. We also aim to host conferences in Milwaukee (close to Chicago without the expense). We also want to be able to collaborate with other ICP projects to host conferences worldwide. This will take time to do, but this is what we are building towards.
Conferences in the metaverse will become normal, and we may even have some go on at the same time as the IRL conferences. We already have a contracted team member for organizing our conferences; Alicia has organized Comic Con NYC, E3, and The Xbox One Tour. She has confirmed that she will join The Swop once we are ready to start scaling to those events.
She's a close friend to one of our consultants at The Swop; Alicia will significantly contribute to our growth. These events will lead to our NFT Ticketing. (The NFT Ticketing may or may not become a new entity from The Swop).
NFTs & Merch
The Swop will look to introduce two tiers of merchandise. One will be to market to the general public to build our brand out to the masses. The other will be higher-end merch directed toward holders of specific projects. The general tier will most definitely come first before any high-end tier merchandise makes an entrance into The Swop universe.
The Swop OG 3D NFT will launch this March! Article releasing soon with details.
Later in 2023, we will be launching The Swop All-Access Pass! This will be your metaverse pass to enjoy our private events, festivals, and future conferences.
NFT Ticketing
This comes into play when we host events, whether online or in real life! It will play a part in selling tickets to our shows/events. We will have private events in the Metaverse, requiring a pass or NFT ticket to enter a private event, festival, or conference. We will also look to expand further into NFT Ticketing by working with musicians. We can see this scale up as we grow our brand. There are unique ways to make ticketing stand out, and this is an area we want to explore more.
Token
We will launch a token, but it's important not to rush this. We want to be super cautious with launching a token in the US. The Swop is very ambitious; launching a token early could lead to significant setbacks. We are looking out for our community by holding off on launching a token for now. We will carefully consider our options as we monitor the SEC. It's in the best interest of everyone to be patient with us on this. We will focus on bringing more awareness to what we are building on the Internet Computer, and a token will come later.
The Swop 2023
So, 2023 has been off to a great start! We've been growing our Twitter Spaces, and we've been blessed with incredible guests from within the ICP ecosystem. Many projects have joined our space to discuss plans and drop alpha for the IC community! Dominic Williams came on to discuss Proof of Useful Work! Bitcoin Magazine came into our space to discuss Bitcoin and the upcoming Bitcoin Conference.
So what can we expect for the rest of 2023?
We will continue building our Spaces (Twitter + DSCVR); these will continue to grow stronger and bring more awareness to what we are building! We will add sub-spaces, allowing us to explore more topics instead of our usual interviews and community discussions! We want to bring more entertainment into Web 3; our community members will be a significant part of helping these grow!
This year, we will also attend numerous conferences! The Swop has received Media Access Passes to NFT NYC & Bitcoin Conference! We plan to cover each event and get some interviews with speakers/projects! These will be great networking opportunities to continue growing our reach in the blockchain industry! We will be looking to attend several more conferences throughout 2023, and Media Access will give us an edge in connecting with speakers at each event.
We are going to release The Swop Magazine. This will be a digital magazine collectible! We intend to grow this magazine to become available in multiple languages, and this may take time to find the proper help for translators. However, early editions can be expected in English. We want to be able to connect more with our global audience, and this is going to help build awareness worldwide! This magazine will be meant to bring culture into the Web 3 space! We know this will be an evolving place for creativity and will be entertaining.
Our website will continue to see updates over the year! One of the features we are looking into adding is on-chain storage for all of our Spaces!
Thank you for reading!
- Kyle
Follow the Swop's Twitter
Join the Swop's Discord

Connect with InfinitySwap
Bitfinity Wallet |AMM | Twitter | Website | Telegram | Discord | Github