Crypto
Sam Bankman-Fried Arrested: Allegations Include Fraud and Market Manipulation
It is becoming increasingly apparent that people's digital assets are not safe on centralized exchanges. Moreover, the crypto community cannot rely on for-profit blockchains to have their best interests in mind.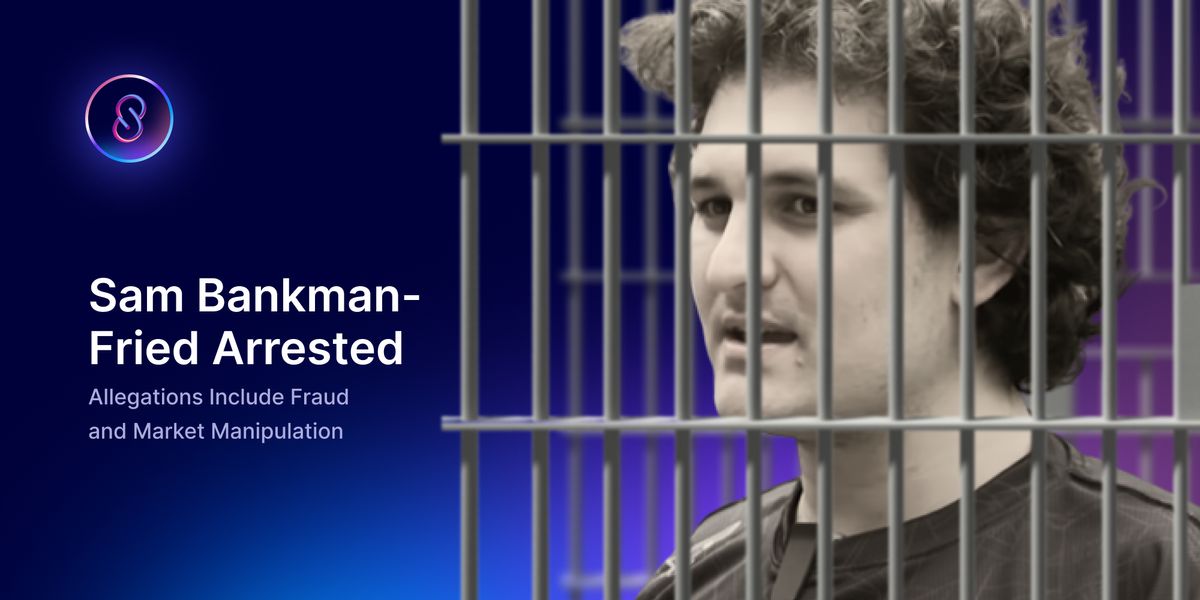 As reported by Yahoo Finance, Sam Bankman-Fried (SBF) was arrested in the Bahamas on Monday, December 12, 2022. He faces imminent extradition to the United States on criminal charges including wire fraud, wire fraud conspiracy, securities fraud, securities fraud conspiracy, and money laundering.
While many had expected SBF to face criminal or civil charges in the wake of FTX's collapse last month, it's unusual for events to progress so quickly. White-collar crimes can take years to build a case for prosecution. Based on the US Justice Department's swiftness, however, it seems likely that witnesses or collaborators may have stepped forward to provide compelling evidence and testimonies against SBF.
The New York Times' Miscalculation
The implications of SBF's arrest are vast. First, it contradicts the positive narrative about FTX embraced and arguably promoted by the New York Times and several other major news outlets, which until recently had praised SBF and Caroline Ellison as wunderkinds. Even after FTX's downfall, CoinDesk criticized an NYT interview that was widely perceived as toothless, tone-deaf, and perhaps an attempt to recast SBF as a victim of his own success.
It's unclear whether NYT's alleged bias in favor of SBF is related to SBF's and Caroline Ellison's family ties to influential Ivy League circles and Democratic Party fundraising groups and initiatives. What is clear is that the NYT has quickly pivoted its coverage to keep pace with the developing situation.
Three key facts have been confirmed:
SBF is a major donor to the Democratic Party; meanwhile, he was secretly donating equally large amounts to the GOP to play both sides of the aisle.
SBF's parents may be under scrutiny for potential involvement in criminal activities related to FTX.
As stated by the NYT: "Prosecutors in Manhattan have been examining whether FTX broke the law by transferring billions in customer funds to Alameda Research, a crypto hedge fund that Mr. Bankman-Fried also founded and owned. They have also focused on whether Mr. Bankman-Fried and his hedge fund engaged in market manipulation that may have helped cause the failure of two prominent cryptocurrencies last spring."
What were these two prominent cryptocurrencies?
The NYT does not say, but Crypto Leaks previously alleged that SBF engaged in market manipulation against ICP and may have used his connections or deceptive techniques to publish a potentially libelous hit piece in the NYT via a questionable investigative firm known as Arkham Intelligence.
Is Binance the Next to Fall?
Everyone is now aware of SBF's alleged criminal activities. Far fewer, unfortunately, know that Binance is also currently under scrutiny by the US Justice Department for possible money laundering. Indeed, in the span of only 24 hours, Binance has seen $1.9 billion USD in withdrawals and has been forced to pause withdrawals of the USDC stablecoin.
"Binance's withdrawals are increasing due to the growing uncertainty about its reserves report," a Nansen spokesperson said. The withdrawals were "business as usual," Binance CEO Changpeng Zhao tweeted. "We saw some withdrawals today (net $1.14b ish). We have seen this before. Some days we have net withdrawals; some days we have net deposits."
We'll see what happens, but it certainly feels like deja vu.
Conclusion
It is becoming increasingly apparent that people's digital assets are not safe on centralized exchanges. Moreover, the crypto community cannot rely on for-profit blockchains to have their best interests in mind.
The not-for-profit public Internet Computer blockchain is the clear choice over the apparently widespread cronyism and fraud in the crypto industry. People need to know their money, fiat currency or otherwise, is safe — and the best way to do that is with decentralized exchanges that aren't at risk of liquidity crises, run on automated smart contracts, and don't have intermediaries who might be tempted to play fast and loose with others' cash.
---
Connect with InfinitySwap
Twitter | Website | Telegram | Discord | Github
---

---
*Disclaimer: While every effort is made on this website to provide accurate information, any opinions expressed or information disseminated do not necessarily reflect the views of InfinitySwap itself.