Announcement
Internet Computer GameFi: Introducing the MetaSports Basketball Association
MBA has a Super Smash Bros™ vibe. Turn your favorite NFT collections into playable 3D basketball characters! How might this impact the future of Internet Computer GameFi?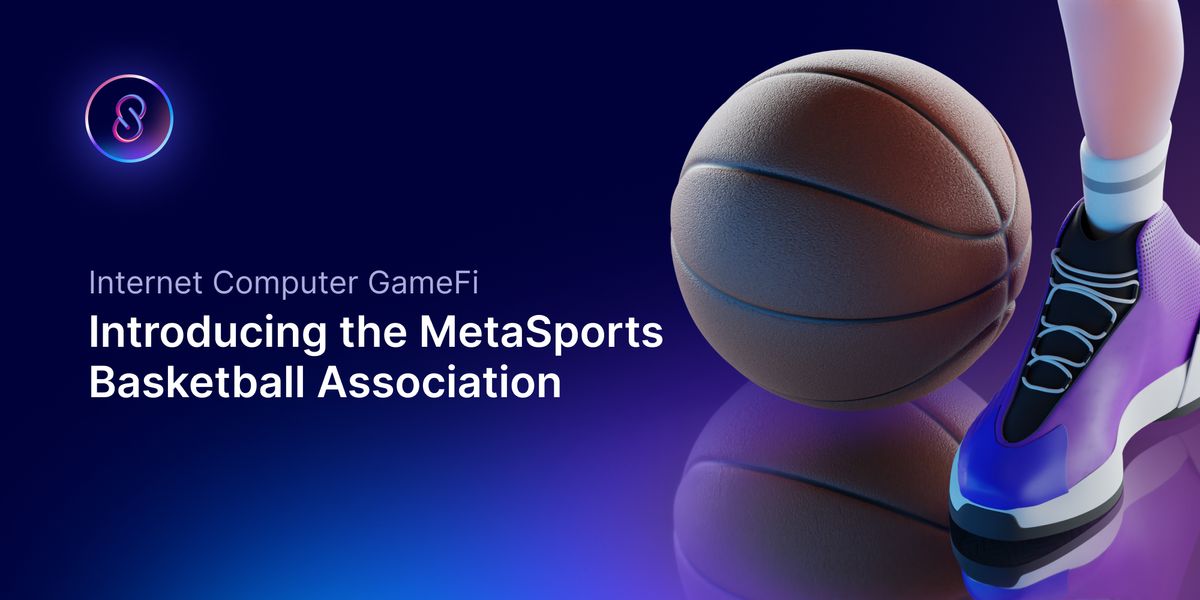 Imagine morphing your favorite NFT characters, including Bored Apes, into playable, 3D game characters. Wouldn't that be awesome?
Well, I've got great news for you! You won't have to wait much longer for reality to catch up to your imagination. The MetaSports Basketball Association (MBA) has harnessed the combined power of Ethereum, StarkWare's StarkNet, IPFS, and the Internet Computer blockchain to deliver an unparalleled e-sports metaverse gaming experience.
Diehard hoop heads will be delighted!
By the end of this year, MBA's ambitious roadmap promises:
MetaSports NFT starter packs to pump up the community;
Tokenomics for game governance ($MBA) and utility ($BALL);
The ability to make famous NFT collections into pro-ballers; and
A general manager (GM) mode with an in-game marketplace.
To realize this expansive GameFi vision, Psychedelic, the decentralized Web3 studio behind MBA, is getting truly creative. Let's go courtside to learn more about what it will take to make your dream basketball team come true.
How Does MetaSports Basketball Work?
According to Yahoo News, MBA divides its functionality across different blockchains to capitalize on its strengths. In fact, the way in which these varied blockchains work together is similar to a basketball team.
Ethereum plays center as the base asset layer for MBA NFTs. StarkNet makes for a formidable power forward, thanks to its talent at being a reliable orchestration and game reward layer. IPFS, for its part, keeps its eye on the data like a point guard, functioning as a storage redundancy layer and using unique content identifiers for assets. Bringing it all together, the Internet Computer serves as a shooting guard and small forward virtuoso for gameplay, logic, and low-value transactions.
With all the players in place, it's time to talk gameplay.
The Basketball Management Simulation
The first game mode on offer from MBA is a general manager (GM) simulation. You'll build all-star teams, perfect your squad to face any opponent by customizing character choices, and make mid-season adjustments to seize victory. You'll need to navigate an ever-changing NFT ecosystem where digital pro-ballers develop their stats, achieve legendary status, go out on loans, and ultimately retire. It's all up to you to shape their careers and fortunes — and, of course, win a return for your efforts.
You'll be able to achieve MBA greatness in four steps:
Build your team by trading for the best MetaSports NFT players on offer;
Play free or salary-based options for $MBA and $BALL to get ahead;
Train your players' stats and skills to increase their value and ability; and
Grow your salary cap to play in higher-end seasons and leagues.
Don't want to spend too much real-world money at first? No problem! There's something for everyone in MBA. You can try out free tournaments and seasons to unlock NFTs and earn $BALL utility tokens. Then, you can spend your $BALL to buy NFTs and play in paid leagues and tournaments to expand possibilities for your team. Soon enough, you'll be creating potent team combinations with your hard-earned NFT MBA players.
MBA Character Salaries and Tiers
Psychedelic designed MBA with a low entry cost in mind to maximize the size of their player base. Its clever tiered system divides players into leagues based on their team's salary cap, which is calculated from NFT characters' in-game stats and skills (their rating). This ensures a fair playing field for new and old players and accommodates differing risk tolerances.
NFT Character Stats
Your NFT characters will come to the game with generated stats and traits. Physical and statistical traits max out at 99. Likewise, 99 is the max for a character's overall rating, which is calculated from their combined stats.
NFT Character Life Cycle
When you mint, your NFT characters will be randomly assigned an age. Most characters will be able to play for 15 to 20 seasons before retiring between the age of 34 to 40. After each season, a character's stats will increase (or decrease) based on factors like minutes played and performance during the season.
Even after retirement, you'll still get to revisit your favorite characters in exhibition tournaments and assign them to coach and train new characters. This way, MBA will keep its gameplay fresh while still respecting players' attachments to favorite characters. There is even a planned Hall of Fame!
Approved External NFT Character Collections  
Thus far, the MBA has already built compatibility to morph the following NFT collections into pro-ballers: Bored Ape Yacht Club, Gutter Cat Gang, Clonex, Fluf World, Crypto Punks, World of Women, Mutant Ape Yacht Club, Crypto Coven, Doodles, Meebits, Azuki, Invisible Friends, Party Bear, Pudgy Penguin, and Moonbirds. Don't see your favorite collection on the list? More will be added on an ongoing basis, depending on popularity. So if you want to see an NFT collection ported to the MBA, make some noise!
The Future of MetaSports
MBA's general manager game mode is only the beginning. By early to mid-2023, Psychedelic intends to have brand partnerships in place, in-game equipable items, and power-ups for characters. They're also set to launch virtual arenas and storefronts by then. However, I think the most exciting development will be the release of their 3D game mode in Q3 2023. The beta demos look very neat!
In the future, power players will be able to purchase and trade entire MBA teams and franchises in addition to individual NFT characters. This functionality will roughly mirror the way team ownership works in real-world contexts like the NBA.
Broader Implications for GameFi
On its own, the MBA presents an exciting development opportunity for the Internet Computer and NFT trading across different blockchains. But I think the MBA may be indicative of a broader trend in GameFi. Over the past year, bear market conditions are forcing NFT creators to get increasingly inventive in imagining new utilities for this emerging technology.
MBA has a Super Smash Bros™ vibe, but not everyone is a basketball fan. There is vast potential for Psychedelic and other decentralized studios to develop GameFi for soccer, football, golf, and pretty much every sport imaginable. Going even further, why not introduce something like Super Smash Bros™ where NFT characters brawl? The DLC model has proven lucrative in the wider gaming industry. It's conceivable that someone in GameFi could make a fighting game with purchasable NFT characters. Randomly determined stats at mint would encourage trading and collecting.
Will the idea catch on? Who knows! But what an exciting time for GameFi!
Connect with InfinitySwap
Twitter | Website | Telegram | Discord | Github