Announcement
Interview with Jin Maa of VRSTL Studios
Hyuna, Editor-in-Chief at DfinityCommunity, interviews Jin Maa of VRSTL about his upcoming collaboration with InfinitySwap. The Gizmo NFT drop is the first of its kind on the Internet Computer.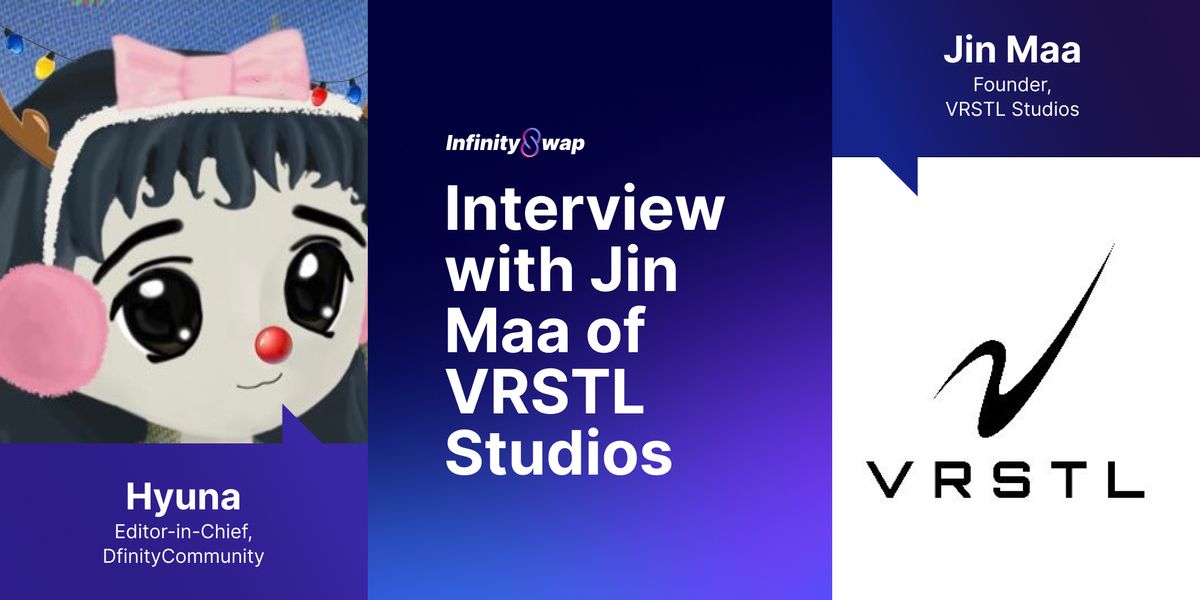 Hyuna, Editor-in-Chief at DfinityCommunity, interviews Jin Maa of VRSTL about his upcoming collaboration with InfinitySwap. The Gizmo NFT drop is the first of its kind on the Internet Computer. Not only it is a major collaboration between two powerhouses in the IC, but Gizmo will be a dynamic representation of the InfinitySwap wallet as it evolves.
---
Jin Maa is the founder and project lead behind VRSTL Studios, the first digital fashion brand on the Internet Computer. Jin has built a reputation of delivering highly covetable collectibles--all VRSTL NFTs have held their floor above mint price, even through the worst of $ICP price performance. It's not hard to see why VRSTL has such a dedicated following: Jin approaches everything VRSTL with a hodlers-first mindset, and the sentiment is well reciprocated by his community.
H: Hi Jin! The last time I interviewed you, it was just before your first ever NFT launch (the Dragon Boots). You've launched several collections since then but this is your first ever collab. What made you decide to partner with InfinitySwap?
Jin: My mindset has grown a lot since the Dragon Boots. I don't want to say that I don't see value  in collaborations, but I've stayed away from them because I think they can be a double-edged sword. I don't see Gizmo as a simple collaboration--I see historical value here. InfinitySwap is the only truly community-oriented AMM on the IC and it is an honor to work with them. They've given me a lot of creative liberties and I am eager to make our mark in ICP history together.
H: In a lot of ways, this collab makes sense for you on a personal level. Not many people are aware of this, but you do have an extensive background in DeFi as a trader. Can you tell us a little about your crypto history?
Jin: I fell in love with Eth in 2016. Finding it was a moment of illumination for me. I understood conceptually that there would be railroads of liquidity, that it was an inevitability that these financial roads would be built. I was there in the early days of DEXs (think EtherDelta) and saw the evolution of AMMs as I rotated around different chains. I've been particularly impressed with PancakeSwap but while I've seen refinements, I haven't seen much innovation happen in DEXs.
InfinitySwap is different because it is in a truly great position to do SocialFi right. Not only is it necessary for an AMM's front end to have 100% uptime, but the IC also enables unique social opportunities. With InfinitySwap's community approach, I know they see a future where individuals are given real opportunities to rise up.
H: What do you imagine the future convergence of DeFi and NFTs to look like?
Jin: I imagine the crypto trading experience to become more of a social activity, with AMMs acting as social hubs--going back to the mid-1800s stock floors vibe as we move forward with 3D tooling. Adding this level of social elements effectively lowers the barrier to entry in finance while enabling a meritocratic experience. In the future, Gizmo will truly act as a "smart wallet" and will make sure you know where the good stuff is happening.
Gizmo will be a major flex. Getting token price alerts and seeing heads turns trying to spot where that trademarked ringtone is coming from. This could be you: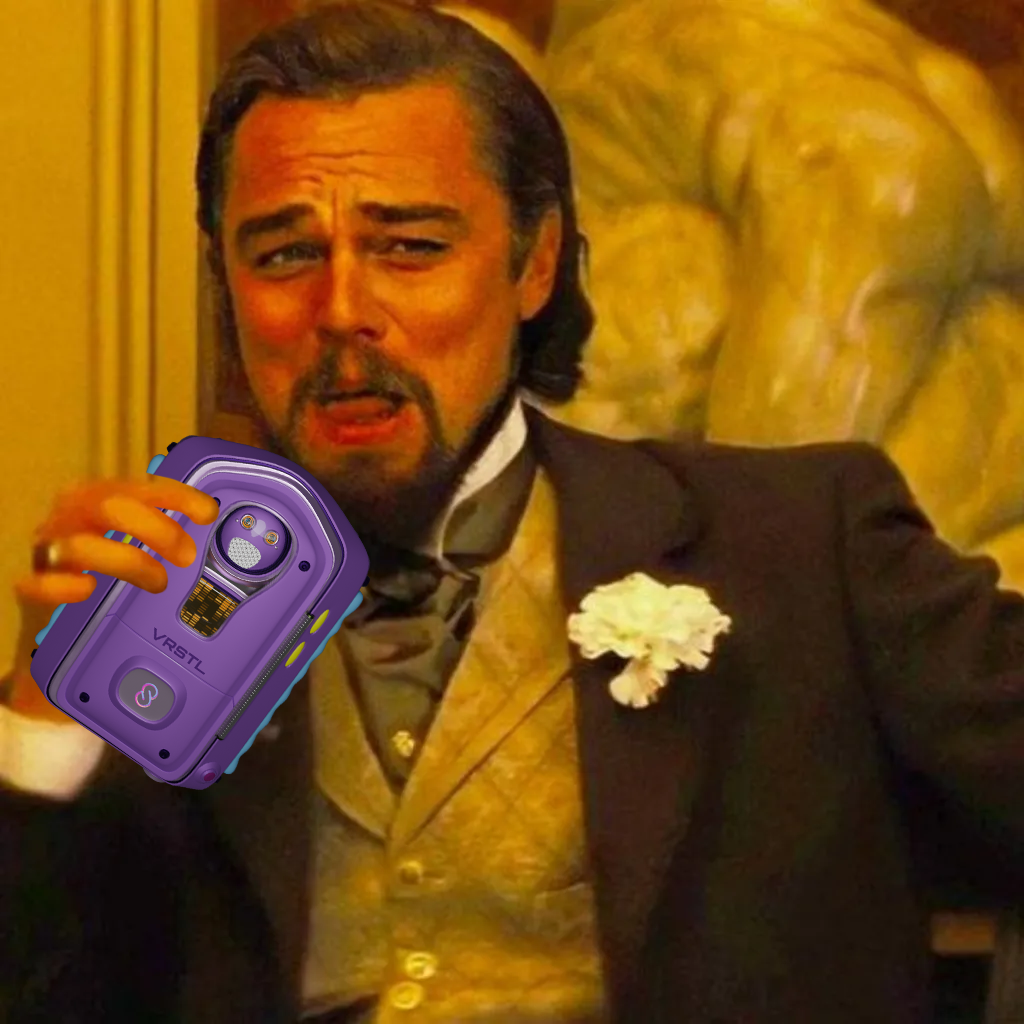 H: I can really see that happening. What you're saying reminds me of playing Runescape as a kid and seeing all of the big ballers wearing party hats and rare gear to stand at the Grand Exchange and trade.
Jin: Worlds are merging 💯
H: What are your immediate plans for Gizmo? Obviously we are not at that stage of immersive SocialFi trading yet...
Jin: I don't like plans, first of all.
As I mentioned RE: my vision of future AMMs, Gizmo will become a true companion you interact with. It's one of the reasons why I decided to work on the Gizmo AI. I want Gizmo to feel real, with personality and a background, and capable of making you really think (and laugh).
I'm thinking up of cool upgrades that Junk could enable too. Different skins, different voices, even different personalities, etc.
H: Whenever I go to the VRSTL Discord, I can't help but laugh at some of the interactions your community has with Gizmo. I don't think many people are aware of exactly how real he is. He's not just a generic ChatGPT clone.
Jin: Of course, you'd say that, as you programmed most of his personality.
But you bring up a good point. Most people don't nail AI right; they see them as tools. I've been tracking AI development closely for the last two years, and we're at the right time to show that AIs aren't just about productivity or efficiency, they're good entertainment, and they will evolve to become something more.
H: I want to make a disclaimer here that the super unhinged things Gizmo says weren't me.

Jin: Let's just say, Gizmo (right now) is not for children. But Gizmo is constantly learning, and it's become a community activity to shape his personality. We fed him his background and initial personality but what Gizmo is now is the result of all the interactions people have had with him.

H: Any final comments to round off this interview?

Jin: Come interact with Gizmo on our Discord! Don't be offended if he ignores you. Sometimes he's in the mood to troll. He can usually be lured out with candy, though.
Here at InfinitySwap, we are extremely excited about the upcoming launch of GIZMO, and cannot wait to see how the series evolves over time to represent the iteration of our Bitfinity Wallet.  Thanks to Hyuna and Jin for this humorous and informative session.
Connect with InfinitySwap
Twitter | Website | Telegram | Discord | Github