Interviews
Interview with Dmail Network- Email for the Web3 Generation
We interviewed Rex, a marketer for Dmail Network. Here he outlines the progress made by Dmail, including some huge partnerships in recent weeks.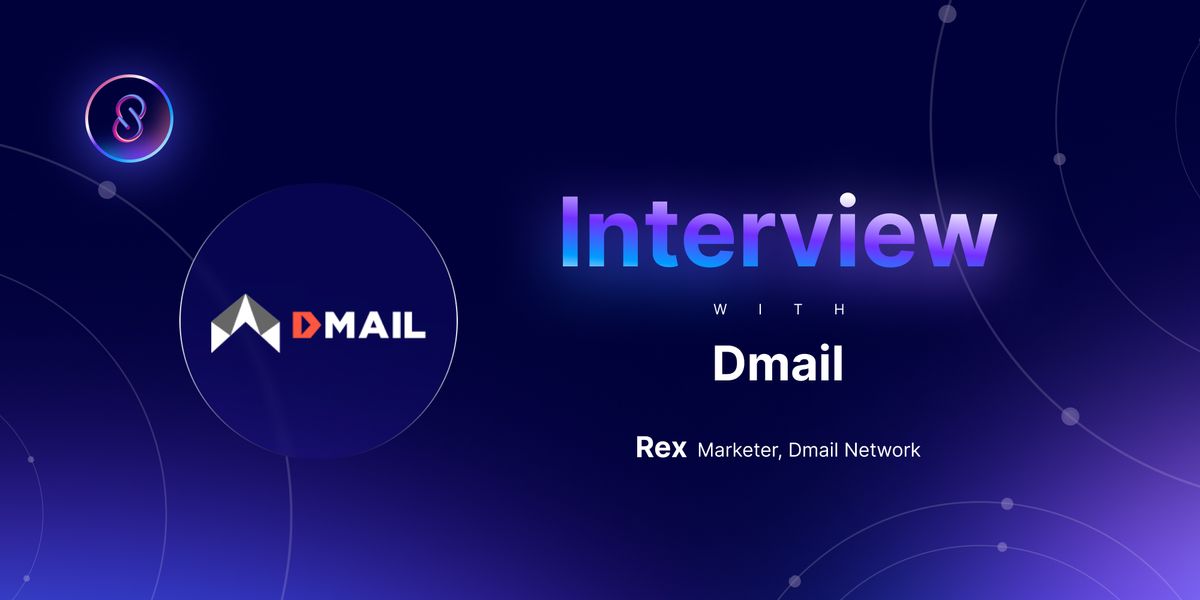 We interviewed Rex, a marketer for Dmail Network. Here he outlines the progress made by Dmail, including some huge partnerships in recent weeks. We apologize for the technical issues in the AMA, but can now provide a detailed overview of the state of play for decentralized web3 email via Dmail Network.
1. Please tell us about you, your name, your position in the project, your credentials, etc., so that we can introduce you.
Hi, I'm Rex, the marketing manager of Dmail Network. I'm so glad to be here today with so many Dmail fans and crypto followers.
2. What attracted you initially to Blockchain?
So I first became interested in blockchain because of its decentralized nature. In the world of web2, many problems are caused by over-centralization, such as information leakage and information security problems we usually encounter; and the loss of flexibility and creativity due to over-centralization of centralized organizations.
However, blockchain technology can use decentralization to solve these problems. For example, decentralized storage technology can help us better ensure information security, and the way of confirmation by voting by network nodes can also improve management efficiency to a certain extent. This may be an opportunity to enable another leap in product development and restructuring of production relations in our era.
3. Of all the platforms you could have chosen, why did you decide to build on the Internet Computer?
Well, choosing the IC public chain was the choice we made after careful consideration it was the right choice. This is mainly based on our positioning of the Dmail product. We want to build Dmail into a web3-level decentralized mailbox solution, which requires the public chain to have the main elements in line with web3 development. For these reasons, we chose to build on the IC.
First, the IC advocates dApps attributes in ecological development. In 2021, when most of the mainstream dApps of public chains were financial attribute products around DeFi, there were already a considerable number of social media-based DApps in the IC ecosystem, and the foundation to achieve all this is its technical architecture.
For example, the IC lays out data centers around the world that host dedicated node hardware (e.g., servers, etc.), which communicate with each other to reach a consensus on the state of the Internet Computer. At the same time, subnets and containers within the network allow for unlimited scaling to host any number of smart contracts computing and storing any amount of data. All these lay the foundation to help Dmail become a web3-level DApp.
Secondly, the distributed storage function can complete the storage and privacy protection of emails; Dmail is built around the IC's network when the initial information security system is built, and its unique "container" function ensures that Dmail users' information can be stored in Canister through decentralized storage, which ensures users' information security. The information security of users was ensured.
For example, its reverse gas model can solve the problem of high gas fees in the market at that time; the strong scalability and high interoperability of the IC network can ensure the potential for public chain network expansion. These are the reasons why we initially chose to deploy on the IC.
4. How long has your company been established, and what is your business model based on?
The earliest concept of Dmail took shape in March last year and was formally put into development in May when the IC Grant was launched, which clearly defined the business direction that the IC focuses on and supports.
Regarding the business model, in simple words, it is to build a professional web3-level decentralized mailbox service and use the most familiar office, communication, and assets to become the traffic entrance for more users to enter the web3 world and become the revenue source of the project through VIP service at the toC end and enterprise mailbox service at the ToB end.
Of course, it will also integrate more web3 scenarios, such as NFTMarket, dApp center, Drive, etc. I think the most important are two businesses, one is a privacy information agreement, and the other is to provide accurate marketing push service by using Dmail as the terminal for sending and receiving information.
5. What makes your company marketable, and what will ensure its long-term success?
No matter when and where you have to admit that mailbox is the highest commercial communication tool used by humanity at present, and it is widely used in our daily life and business office. And we are currently in the transition stage of the Internet era from web2 to web3, and the transformation of mailbox functions will become a big trend. From this perspective, we are doing the right thing in the long run, which is one of the elements to ensure our success in the long run.
Secondly, Dmail has received a lot of attention from a lot of good investors and investment institutions from the beginning, including Hashkey Capital, Draper Dragon, Outliers Fund, and others, who were the main lead investors in our seed round.
We have also received 3 rounds of Grant support from the DFINITY Foundation and have a strategic investment relationship with Amino Capital. Recently, we just closed a Pre-A round of $2.8 million led by KuCoin Labs, OIG VC. This shows that the investors recognize Dmail's product, technology, and business model.
In addition, we have a young but experienced startup team. The core members of the team have all worked for leading companies in the crypto industry and have a deep understanding of decentralized technology and the vision of web3. At the same time, our team can execute our plans on the ground.
The Dmail test network went live in June this year, and the number of emails sent and received in the network has already exceeded 1 million. We are continuing to upgrade and iterate on our product, and will gradually roll out the full Dmail network and all the features we have planned in our roadmap. These are all necessary elements to ensure our long-term success.
7. What overall vision do you have? Do you have a roadmap? If so, what does it involve?
We want to make Dmail the leader of a web3-level decentralized mailbox. In order to achieve this goal, we are stepping up the construction of new features and the main network of Dmail. We have planned the following in our roadmap: open API, launch Dmail APP, implement multi-wallet login, layout multi-chain ecology, mainnet launch, and truly become users' DID on web3. Of course, you can find all this information on Dmail's official website.
8. What advantages do you believe you have over other competitors?
First of all, compared with other competitors in the market, Dmail is the first project that proposes to build a web3-level decentralized mailbox service. This is a kind of first-mover advantage. Based on this first-mover advantage, Dmail has a more comprehensive perspective when planning the product. We envision Dmail as an integrated information interaction platform covering B- and C-end users with information interaction and encrypted asset management. While most of the current competitors' products are only partially decentralized or focus on one or two functions, Dmail is clearly doing more.
Especially at the information security level, Dmail is gradually realizing the full encryption capability of the product. For example, in our planning, Dmail's emails can be divided into three categories by encryption level.
Ordinary encryption: email contents are not chained and stored normally.
Advanced encryption: email headers are chained and body encryption is placed within distributed storage.
Full encryption: email header and body encryption are put in distributed storage.
Under the state of fully encrypted emails, the user logs into Dmail by means of a blockchain wallet (key or helper word), and when the user sends the email to the recipient who is also a Web3.0 user, only through the keys of the recipient and sender written in the contract can the content of the email be parsed, and this process is executed by the contract, and no third party has the right to view the content of the email except the recipient and sender (even Dmail also has no access to it).
In addition, remember what Michael said: "Most dApps are really just web 2.5, they use MetaMask login or IPFS storage, but the actual technical processing is centralized", which is very different from Dmail. It is because Dmail is completely decentralized that it provides the basis for the development of features that enable Crypto assets, NFT PFP, information privacy protocols, etc. This is of course the biggest difference between Dmail and its competitors.
Dmail will never criticize any of its competitors, their existence is a complement to Dmail and an incentive for the Dmail team to be vigilant and awake at all times, to constantly improve development strength, and to keep the product and feature iterations. We hope that Mailbox in Web3 will blossom everywhere and users will have more choices to use the products they like.
9. Tell us about the team
This is an interesting topic. They are a dynamic group of young people with unlimited expectations and aspirations for web3 technology. Dmail has a decentralized administrative system with multiple-located offices globally such as in the United States, Malaysia, Singapore, the United Kingdom, and China. The core team members have worked for leading companies in the Internet and encryption markets such as Google, Huobi, OKX, Tezos, Coinness, and have extensive industry experience. The fusion of multi-culture backgrounds makes the development of Dmail full of vitality.
10. What advice do you have for anyone working in the same space as you?
Dmail is still on the road of entrepreneurship, so we may not be able to give others any advice. But as an entrepreneur, I would like to share a little bit of my experience with fellow travelers.
For the Internet, the mailbox is one of its most basic components, and we launched Dmail to pave the way for the migration of web3. Therefore, we are always thinking about how to improve the functions of Dmail from the perspective of web3, so that more users can feel the lightness and convenience of the decentralized world. But this process actually involves conflict and convergence.
To use an analogy, it's a bit like building a bridge over a river. We have to start building from one side of the river (like building the mailbox function), but we also have to consider the work built on the other side (building the web3 function), and then let the two finish docking at the river surface. This requires creativity, and imagination more than footwork. But we prefer to build this bridge to web3 together with the industry's access people.
11. What other projects building on the Internet Computer are you most excited about?
Personally, I would follow more projects related to the the direction of NFTs, and Interesting NFT Protocol is a project that I find very interesting. It is an NFT-based interest rate protocol from ToniqLabs that allows
Collateralizing NFT for short-term liquidity.
Earning interest on deposits to ICP.
The right to earn rewards for trading in the secondary market.
NFTs are still a PFP in many people's eyes, but the process of NFTfi has already started in many ecologies, and I am glad to see the emergence of products for NFT liquidity in the IC ecology, which can further enrich the NFT market in the IC ecology. Of course, we see that there are many good projects on IC, such as InfinitySwap, Openchat, Distrikt, Relation, etc. Developers are still enriching the IC ecology.
12. Do you have any plans to collaborate or partner with other projects building on the Internet Computer?
Of course! Dmail was first deployed as a DApp based on IC, and although it now also supports Ethereum, BNB Chain, and KCC now, it still has a great relationship with the IC ecosystem. For example, Dmail is supported by IC Foundation's 3 Grants, has deep cooperation with InfinitySwap, Dfinity Community, Relation, Modclub, ICDrive, etc., and Dmail's 3D Cyrstal NFT is distributed on CCC's NFT trading marketplace. Dmail's 3D Cyrstal NFT is distributed on CCC's NFT Exchange.
It's worth mentioning that Dmail is communicating with Infinityswap about a new partnership that not only supports Infinityswap wallet users to log in and use Dmail but also allows them to receive alerts from Dmail on their wallet side. You don't have to keep DMAIL open all the time, you can just view the information from your wallet.
13. Do you have any token sales planned for the future? If so, when? Can you give details?
It will be planned in the future. I think our goal is still to continue to improve Dmail's mailbox functionality until we launch the token. At present, the Dmail test network is already online and can support most of the messages sent between web2 and web3 mailboxes. Meanwhile, in order to improve users' experience, we also recently launched the PFP avatar function, users can upload NFT in their wallet as a mailbox avatar. Besides, Dmail is still steadily promoting our multi-chain ecological plan. So far, we support multi-ecology and multi-wallet logins such as MetaMask, Bitkeep and BNB Chain, as well as of course the Infinity wallet. You'll definitely see more new features in Dmail in the future, so stay tuned!
14. What are your short and long-term achievements and targets?
Our team has a strict process and clear goals. The features developed at each stage and the partners we work with follow a roadmap plan. For the short term, Dmail has achieved good results in both product and market, which includes:
The test network went live on June 1, already supporting Ethereum, BNB Chain, KCC and Dfinity public chains, supporting login for at least 5 wallets.
Going live with NFT PFP functionality, supporting Ethereum and BAB's NFT settings for avatars.
Built-in Presale and Referral functions in the test network.
Reaching deep cooperation with KuCoin ecology and receiving support at the market, technical and financial levels.
Establishing cooperation with ChainLink to provide feeding services to make Presale more accurate.
Being selected for AWS's cloud creation program.
Cooperation with more Web3 projects outside the IC ecology, etc.
Dmail will focus on products and cooperation in the next period, mainly on the launch of the points function, optimization of the storage system, and cooperation with DID & social mapping projects. We want to optimize the product, improve the brand and expand the user data as much as possible in the current financial environment.
15. Please provide all your social media handles and websites:
1) Testnet:
https://evyc3-ziaaa-aaaak-aam5a-cai.ic0.app/inbox

2) Introduction:
Website: https://dmail.ai
Twitter: https://twitter.com/dmailofficial
Discord: https://discord.gg/RyYNmdqjF9
How to use Dmail: https://www.youtube.com/watch?v=yIy6BFk70mI
Gitbook tutorial: https://dmailofficial.gitbook.io/helpcenter/v/english/


16 Why did you choose Mailbox in many tracks
As mentioned before, the mailbox is the communication tool with the largest number of users and the highest usage rate at present, and it is widely used in our daily life and business office. And we are now in the transition stage from web2 to web3 in the Internet era, and the transformation of mailbox functions will also become a general trend.
At the same time, the track of the mailbox has very good extensibility. From the perspective of the users, they can reach both C-terminal users and broad prospects of enterprise users. From the function point of view, although the mailbox seems to be just a simple information interaction tool, Gmail has well shown us the business case of being a workspace traffic entrance. Then we also believe that in the world of web3, there is still a broad prospect for a decentralized mailbox track.
In addition, from the technical point of view, traditional mailboxes have problems such as data leakage and lack of management rights, the emergence of decentralized mailboxes is inevitable, compared with other decentralized communication products, mailboxes are the easiest track to cut into because mailboxes only involve personal migration, it does not need your social network overall migration, which means that web3 mailboxes are more likely to succeed compared with web3 instant messaging.
17. What do you think is the most outstanding feature of Dmail or a short summary of its vision
Dmail is the first decentralized web3.0 encrypted mailbox solution completely built on blockchain and using distributed storage technology; it builds the asset management and data storage functions in the Web3.0 era and opens the information channel between Web2.0 and Web3.0 through DID and on-chain information interaction protocol; it enables Web2.0 users to quickly enter the Web3.0 world through high frequency, low learning cost and easy to understand mailbox scenarios. It allows Web2.0 users to quickly enter the Web3.0 world and becomes the first application for users in the Web3.0 world.
18. We noticed that Dmail not only works with the IC but also cooperates closely with other chains and projects. Will Dmail be multi-chain integrated in the future?
Currently, the public chains we support include IC, Ethereum, BNB Chain, KuCoin Community Chain, and those we are developing to support are Polygon, Aptos, Sui, etc. Of course, we have a good relationship with other public chains, and we hope that Dmail as a tool attribute dApp can provide underlying services to more users. We hope Dmail as a tool property dApp can provide underlying services to more users.
In addition, Dmail also works closely with Projects of different chains, from deep product integration, technical seminars, marketing promotion, resource recommendation, and other dimensions, which also makes Dmail get more support from Web3.
Importantly, Dmail just announced cooperation with Consensys, Chainlink, KuCoin, etc. The cross-chain, cross-asset, and cross-domain cooperation make Dmail more diversified.
19. Please introduce Dmail's recent partnerships and developments
Well, we do have a lot of partnerships, as you can see from Dmail's tweets; not just with the IC ecosystem, but across all sectors, including with the full KuCoin ecosystem (KuCoin Labs, KuCoin Wallet, KCC, KuCoin CEX), as well as ChainLink, PolygonDAO, AWS, BitKeep, 0xScope, SpaceID, .Bit, HashkeyID, etc.
This is just a part of our collaboration, there are more to be announced, they are all great products and we welcome you to experience them. Last but not least, please stay tuned to our Twitter feed for the latest news.
A special note: Dmail has a big announcement in October, and I personally think it's the most exciting news since Dmail was founded, so remember to follow us!
We wish our partner Dmail every success moving forward and are excited to hear about the news of their developments and huge partnerships.
Connect with InfinitySwap
Twitter | Website | Telegram | Discord | Github

*Disclaimer: While every effort is made on this website to provide accurate information, any opinions expressed or information disseminated do not necessarily reflect the views of InfinitySwap itself.