Interviews
Interview with Boxydude NFT- These are not Cardboard Cut Outs!
We interviewed Slayffin, the CEO at Boxy about his ambitious plans for Boxy moving forward, including the imminent land sale.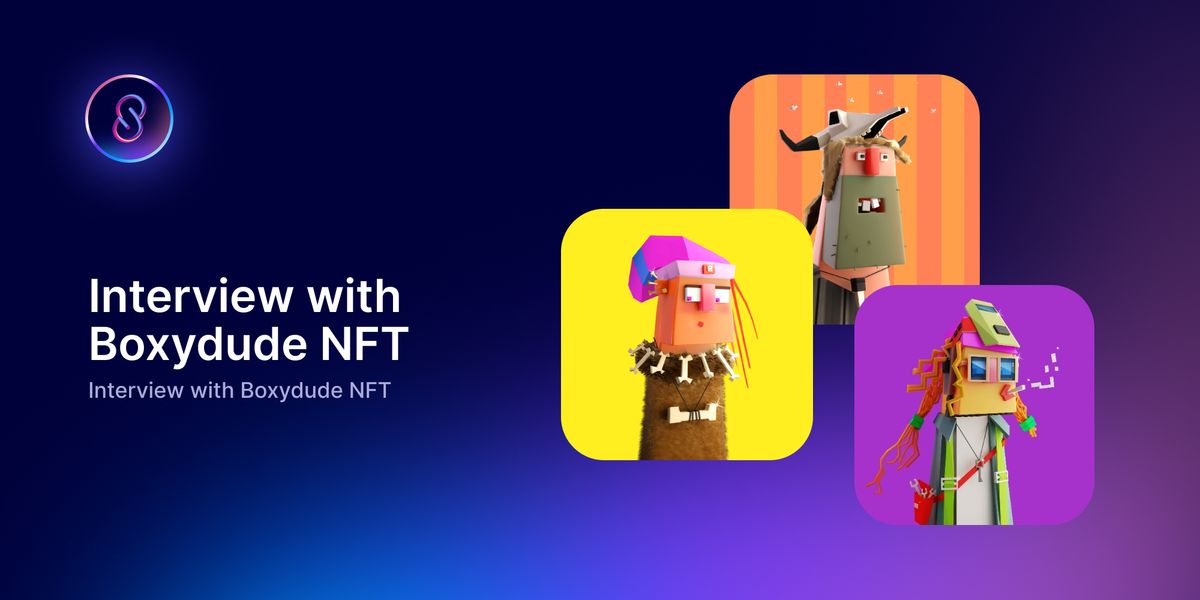 We interviewed Slayffin, the CEO at Boxy about his ambitious plans for Boxy moving forward, including the imminent land sale.
1. Please tell us about you, your name, your position in the project, your credentials, etc., so that we can introduce you.
A: Slayffin, CEO, and ICP OG for over a year
2. How would you describe your artistic style?
A: It's playful and unique! We want the user to have fun using web3 and not take it seriously
3. What drew you to NFT creation rather than traditional canvas-based art?
A: The team has worked in many different areas such as film, gaming, and tech start-ups. We are drawn to things that make expression easier for the artist and NFTs were the best medium for us.
4. Are there any artists who have inspired you? What do you like about their work?
A: We're all gamers and tech people, so we really like things that break the mold. We're into typical shooters & survival/crafting games.
5. What made you create NFTs?
A: The team and I have been in crypto for a few years and want to create micro-economies. We all wanted to trade those resources we spent ages farming or maybe even earn a few bucks for a rare pull. With our project, we aim to provide a rewarding web3 experience that allows them to learn DeFi Elements without all the complexities.
7. How many NFTs will be minted? Can you talk us through the process of how you create the art?
A: We're going to mint 10K NFTs, and we've already launched 20K NFTs. The art is whimsical in nature and invites the player/holder to harvest the resources nested within. The art itself is a mixture of 3D design and animation.
8. Will people be able to breed, stake, or rent your NFT, or will it ever be in a game or be a DAO?
A: Yes, yes, and yes! Our holders will lock the dude/girl NFTs on the land, then breeding will begin. The user will pay a breeding fee using our $BOX token (tradable on Sonic and ICPSwap) and wait a period of time for the child to arrive. After the child is here, you can use them to harvest the resources of your land. They will gather the resources, go on quests, and we may even have mini-games in the near future. Users can also take on more risk on quests; however, they may lose a child as a result.
9. What benefits do you think the Internet Computer has over other L1 blockchains when it comes to creating NFTs?
A: Easy answer - Speed and scalability. We trust that the network can support our vision and ensure that as we scale, so does the chain.
10. What other art have you seen that excites you in the Internet Computer NFT ecosystem?
A: Poked Bots are my personal favorite collection on the IC. The artist has lots of street cred outside of web3, and I respect what he's trying to build.
11. What excites you most about your launch, and which date is your launch?
A: This is the biggest part of our collection and will be the basis for breeding/earning. Our launch will be on Memecake on 11/12/22. Group Mint times will be announced in our Discord and on our Twitter Account.
12. What advice would you give to anyone trying to enter into the world of NFTs?
A: Build a community first, create something unique, have fun, and meet other builders to offer more value to your holders.
13. Do you have further plans to work with InfinitySwap in the future after this initial sale?
A: We would love a long-term relationship with InfinitySwap. We see this as being the go-to DeFi platform and primary infrastructure that will gain the most adoption. We aim to grow this ecosystem and will aid other projects looking to do the same thing.
14. Can you envisage a future where the most valuable NFT space is on the Internet Computer?
A: I can see this once we're able to integrate with other EVM chains. We may have a few of our own communities reach ETH or SOL level growth, but being interoperable is the key for us to dominate. If I didn't have to pay gas and could use the IC as an L2/L3, that would make users flock to our network.
15. Why do you think NFTs have become so valuable in such a short space of time?
A: People yearn for community and everyone is drawn to art in different ways. Gamers hate buying the same DLC and losing the value with each new version/season. Things should be interoperable and compatible across chains and metaverses.
16. Tell us about your team
A: I'm a Community Leader and am currently in a leadership position.
1. Abdul - CEO & Co-founder -Past project - https://www.outrealxr.com/
2. Sen - Co-founder - Past work - Call of Duty (https://www.callofduty.com/)
3. Munir - Co-founder - Past work - Stalker and more than 20+ movies (under NDA) (https://www.stalker2.com/)
4. Anay - Co-founder - Past work - ISRO Space mission, The Telling Room (2019), Playing it Cool (2014), and many other movies.
5. Vish - Co-founder - Past work - Vismaya Max Studio (https://www.ariesvismayasmax.com/). Currently working with a major studio (NDA)
17. What advantages do you believe you have over other competitors?
A: We have a strong team that has worked on AAA Games, worked for clients in the Hollywood Film Industry, and a group of devs that can build just about anything.
18. Do you have any partners other than InfinitySwap? Please tell us about them
A: We have partnered with just about every community locally, been very close with Memecake, and worked with Sonic during the $BOX implementation.
19. Tell us about the challenges you have faced while building your project?
A: During the early stages, the team struggled to build the community and there was tension from within. While the project did carry on, there was a need to change the image and culture. When I stepped in as the CEO, that was my main mission, and we've made great progress to be more inclusive. I've already partnered with many projects and healed some of those early broken bridges.
20. What are your short and long-term achievements and targets?
A: Short term, we aim to provide multiple ave's for our holders to earn and reward existing holders. Long term, we aim to create an interoperable metaverse with a circular economy. We want holders and investors to earn the way they want without restrictions.
21. Please give us some details about your roadmap.
A: After our land sale, we aim to do the following:

Build a Holder BoxyHUB to manage their NFTs
Integrate with IS to support the $BOX Token
Breeding
Land Staking
Allow for questing and resource harvesting

22. Do you have any plans to expand into the Metaverse?
A: Yes, this is the main goal of the project
23. Will your NFT be tokenized in the future?
A: Yes, we will have 6 potential tokenized opportunities.
24. Many individuals are still full of doubts about decentralized technology. Have you ever thought about attracting people who aren't familiar with decentralization to your NFT project?
A: Yes, we aim to create educational content not only about our project but about web3 and crypto.
25. Can you share your marketing plans before the official launch?
A: We will have animations and some shorts to release before the mint. I am also partnering with multiple communities and have provided a WL to them.
26. Do you have your eye on any other developing metaverse projects?
A: Ones that catch my eye are Cubetopia and Plethora. Thank you for taking the time to answer our questions 😊
We want to wish our new partner, Boxy, every success moving forward. It certainly sounds like a lot is planned and in store for the IC community!
Connect with InfinitySwap
Twitter | Website | Telegram | Discord | Github

*Disclaimer: While every effort is made on this website to provide accurate information, any opinions expressed or information disseminated do not necessarily reflect the views of InfinitySwap itself.