Announcement
How to Plug into InfinitySwap: Migrating to the Bitfinity Wallet
Want to plug into InfinitySwap? Here's how to migrate from other wallets like Plug to the Bitfinity Wallet.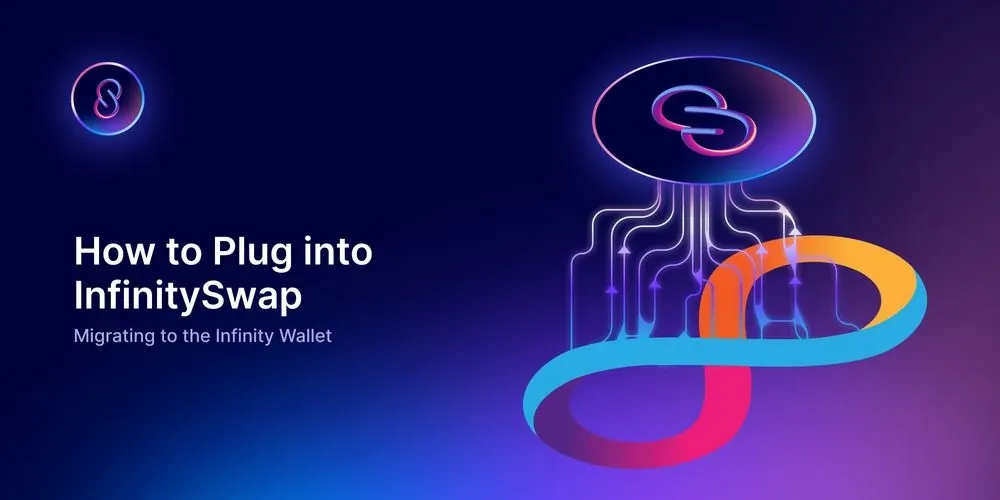 There's been a lot of recent movement in the Internet Computer ecosystem. For example, you may have heard about the Psychedelic DAO's decision to transition its development activities away from the ICP blockchain in favor of developing omni-chain products. Many are puzzled by Psychedelic's move, citing the Internet Computer's native integration of Bitcoin, HTTPS Outcalls, and bridgeless approach to multi-chain transactions.
Indeed, the Internet Computer is already the ultimate omni-chain product - why would it need any off-chain supplementals?
The implications of Psychedelic's change in direction are vast, particularly for users of the Plug Wallet. It is unclear whether, and in what form, support will continue for Psychedelic products that are hosted on the Internet Computer. Moreover, it is possible that Psychedelic will integrate its existing and future products with bridges like Terabethia, which could potentially expose users to the risk of bridge hacks.
Introducing the Bitfinity Wallet
Fortunately, Plug Wallet is not the only choice for an ICP wallet. The Internet Computer ecosystem also offers NNS dApp, Stoic and Earth wallets.
However, InfinitySwap's Bitfinity Wallet is the flagship wallet for the Internet Computer. We created our Bitfinity Wallet backed by a grant from the DFINITY Foundation, and our products are informed by thorough research on token standards. We have also raised capital from PolyChain's Beacon Fund, which was set up to support promising projects on the Internet Computer. Since our Bitfinity Wallet was developed by, for, and with the ICP community, it provides the most convenient and seamless way to interact with all the dApps and facets of the Internet Computer.
Notable Features of the Bitfinity Wallet
With the Bitfinity Wallet, you can view your ICP and IS20/ICRC-1 tokens, mint test tokens, view NFT galleries, and enjoy fast transactions with low fees and the Internet Computer's zero gas fees - and that's just the beginning!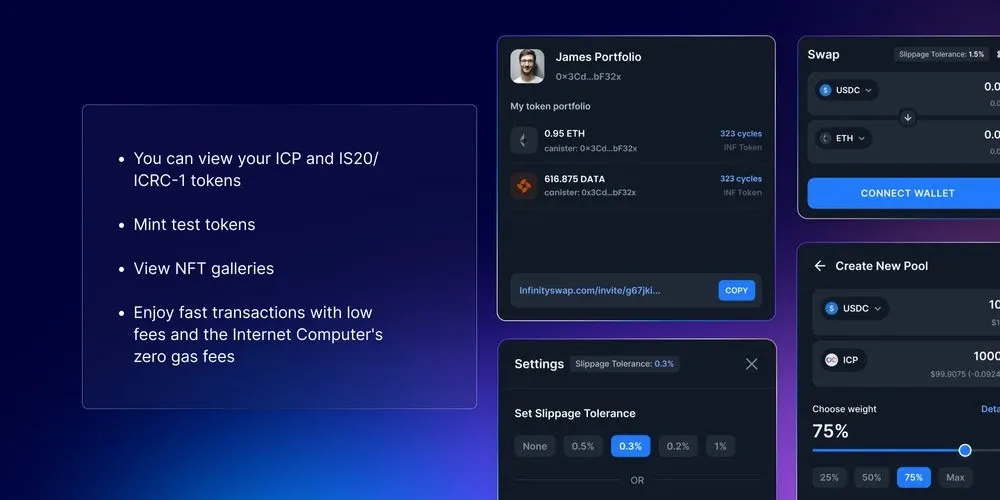 Our wallet is the first to embrace the ICP blockchain's Internet Identity for Web3 browsing, and therefore, it can serve as your primary way to engage with all major Internet Computer dApps and marketplaces, including Entrepot, Dmail, and CCC. We believe in providing a superior user experience of Web3. Thus, the Bitfinity Wallet features autolocking, dark mode, a contact book to organize saved addresses, a QR-code reader for easy transfers, and an active community and developer team with a lively Discord channel.
We listen to our customers and have consistently iterated our wallet based on your feedback! We are always open to your suggestions and thank you for your input.
Moreover, safety is of paramount importance to us here at InfinitySwap. The non-custodial nature of the Bitfinity Wallet means that you control your digital assets and that your privacy is respected. Also, the Internet Computer's direct Bitcoin integration means that Bitfinity Wallet offers the most secure way to trade Bitcoin in DeFi.
Finally, don't just take our word for it. Check out the exceptionally high 5* rating that our satisfied community has rated the wallet and the multitude of positive comments here.
How to Download the Bitfinity Wallet
Our Bitfinity Wallet comes as a simple, yet elegant, browser extension that empowers you to hold and transact tokens and NFTs on the ICP blockchain, opening the door for you to explore Web3. To download our Bitfinity wallet, simply go here. You can also get the wallet directly from the Chrome Web Store.
How to Plug into Bitfinity
Creating a New Account or Linking Internet Identity
If you don't already have an ICP wallet, it's easy to get started with Bitfinity Wallet. After the browser extension has been installed, read and agree to the brief disclaimer and click to create your account. You'll be offered two choices: (1) enter a password and create an account; or (2) link an existing Internet Identity.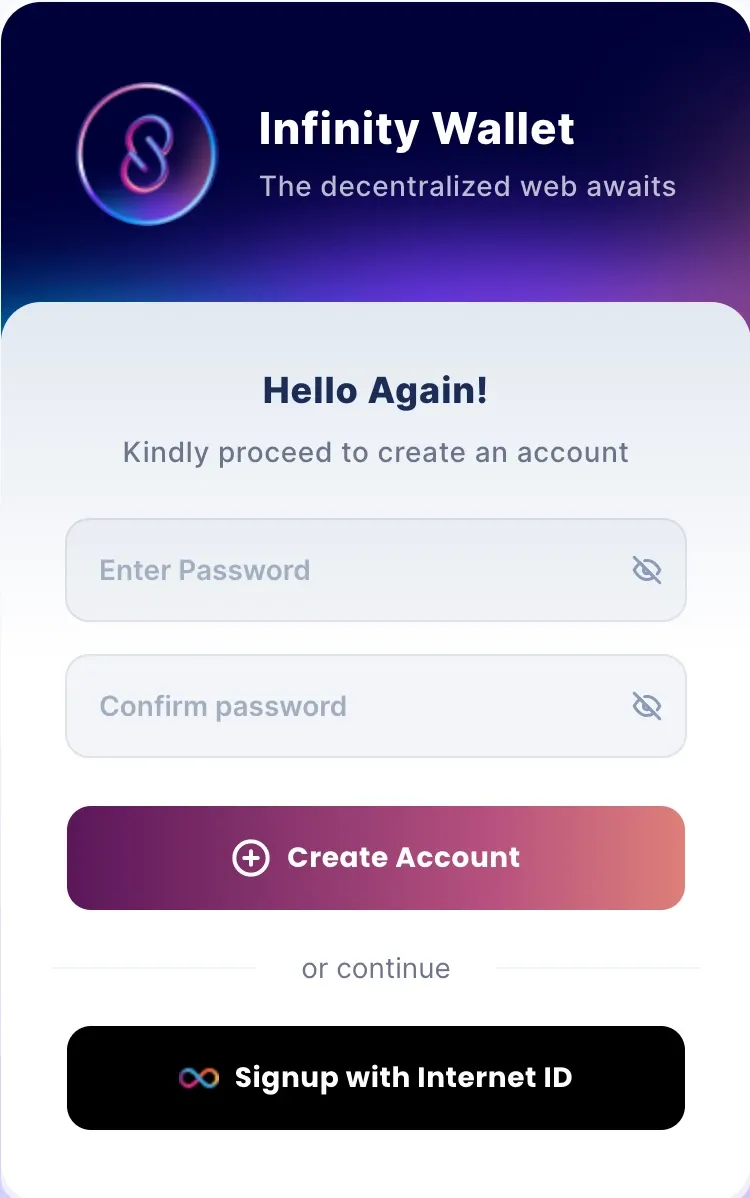 If you choose to create an account, you'll see a screen with what's called a seed phrase. Be sure never to lose this seed phrase. If you ever forget your password or misplace your security keys or other means of access to your account, you will need your seed phrase to regain access to your Bitfinity Wallet.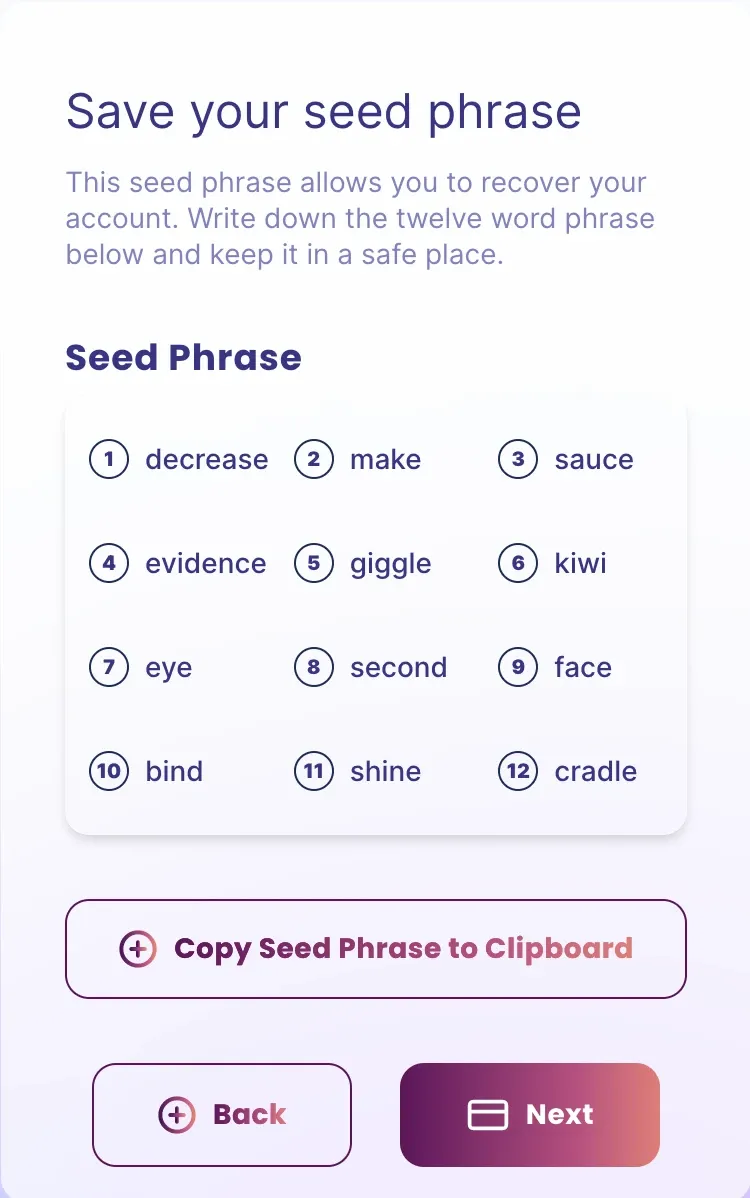 Alternatively, instead of creating a new account, you can link an existing Internet Identity. When you click "Signup with Internet ID," you will be redirected to the ICP blockchain's Internet Identity dApp. As soon as you establish your identity using a designated anchor, your Bitfinity Wallet will be ready to go and fully synced with your Internet Identity!
Migrating to the Bitfinity Wallet from Other ICP Ecosystem Options
But what if you already have a wallet? Thankfully, it's possible to fully migrate your digital assets to the Bitfinity Wallet. We'll use the Plug Wallet for the following migration walkthrough, but the process is essentially the same for any wallet.
1. First, you must have either your Plug Wallet seed phrase or your Privacy Enhanced Mail (PEM) key. You can get these by going to Settings and entering your Plug password.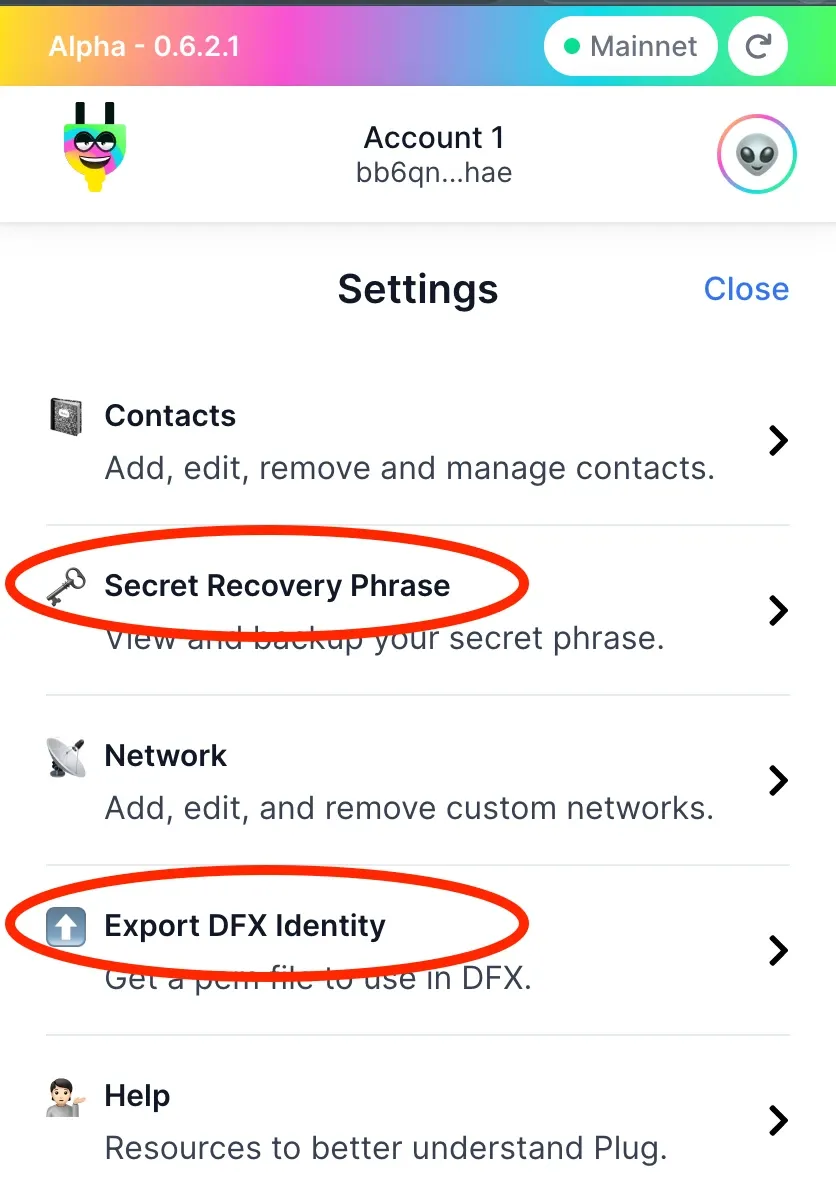 2. Next, you simply select "Want to restore an account? Click here" and then choose the seed phrase or PEM key option, as appropriate. Please note that logging in with your Internet ID will not import assets from other wallets, even if those wallets are linked to your Internet Identity.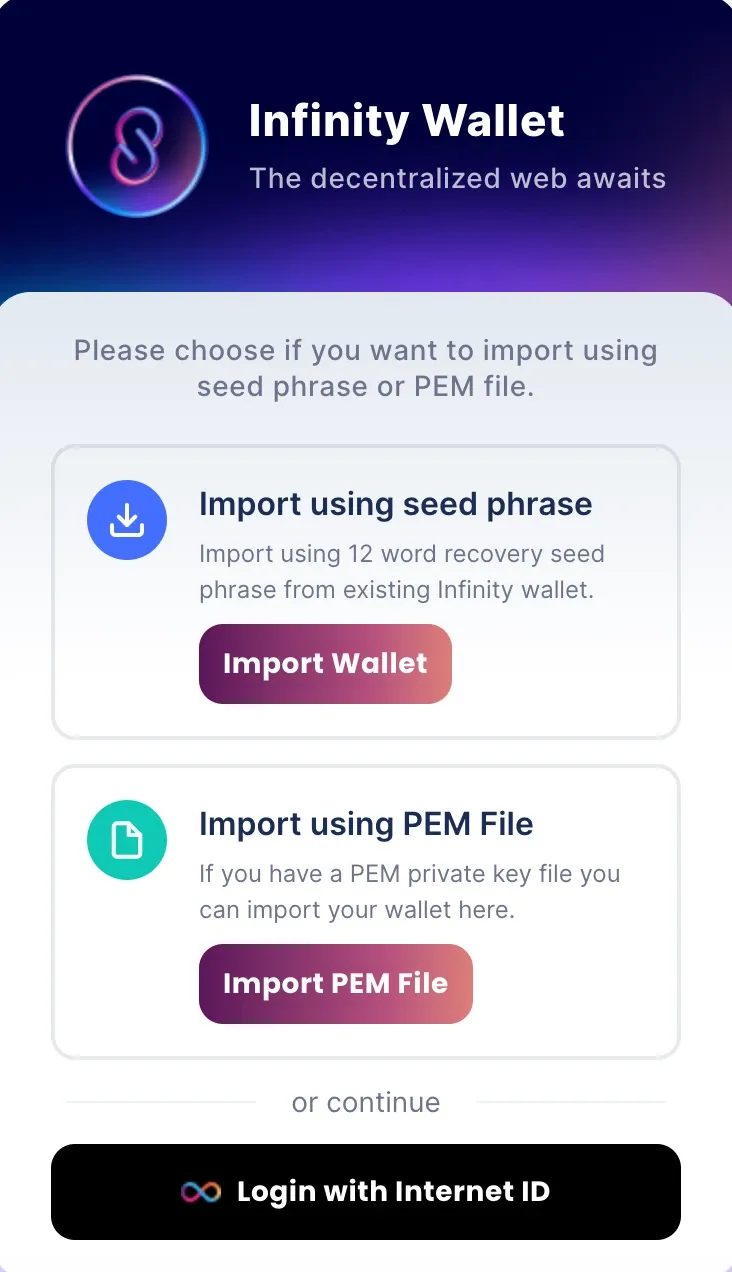 3. Once you pick an option, follow the on-screen prompt to import your data. Click to continue, and your private keys will be successfully imported into the Bitfinity Wallet. You're ready to go!
Note on Hardware Wallets: For users that use a hardware wallet, such as a Ledger or YubiKey, you can simply click "Login with Internet ID," which will take you to the default page to authenticate with your device of choice. From there, your wallet will be successfully integrated into the Bitfinity Wallet, after which you can use the Bitfinity Wallet as usual with your hardware wallet.
Conclusion
The Bitfinity Wallet, created by Infinity Swap, is the most convenient and powerful wallet the Internet Computer has to offer. Designed to prioritize user experience, its intuitive interface will allow you to easily interact with the Internet Computer and its various dApps, as well as send and receive funds with your Internet Computer address. Stay tuned for awesome new developments too! Please continue to share feedback and report issues.
We are relentlessly striving to constantly improve the Bitfinity Wallet, and will soon offer Bitcoin and, later, Ethereum integration, turbocharging this wallet to be a cross-chain powerhouse.
What are you waiting for? It's time to make the Bitfinity Wallet your wallet of choice.
Connect with InfinitySwap
Twitter | Website | Telegram | Discord | Github