How-to Guide
How to be an Internet Computer Node Operator
The Internet Computer offers a reward program for those willing to run a node on specialized hardware that fit predetermined requirements. The following is a guide to help you do just that, should you be interested.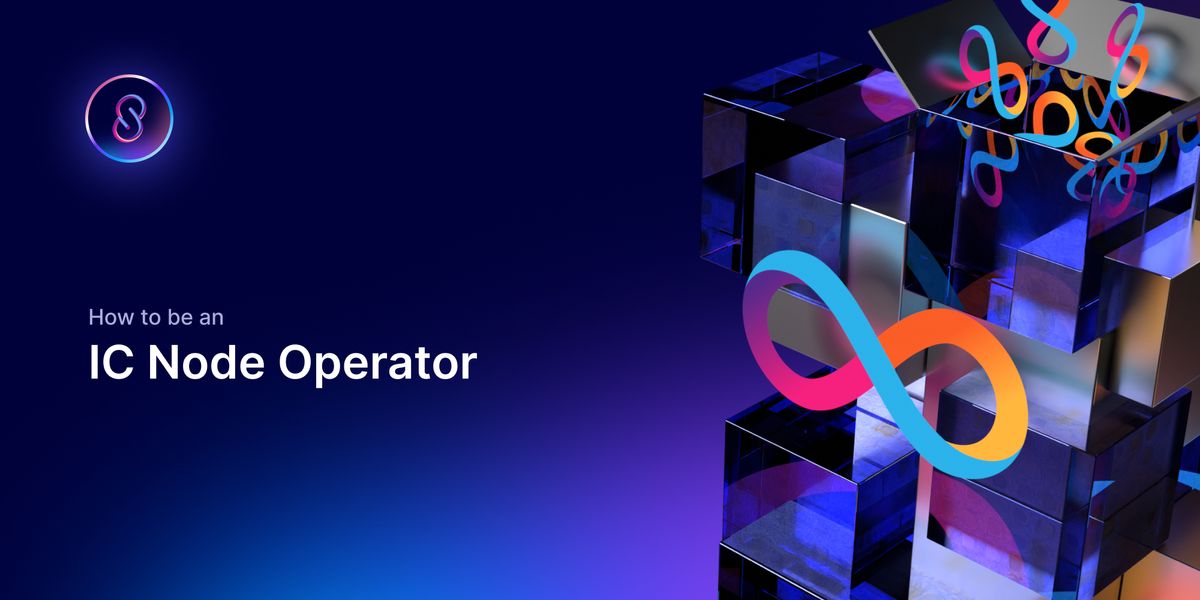 The Internet Computer offers a reward program for those willing to run a node on specialized hardware that fit predetermined requirements. The following is a guide to help you do just that, should you be interested.
Internet Computer Blockchain
The Internet Computer Blockchain enables unaffiliated data centers from all over the globe to collaborate and give a distributed substitute to the centralized online cloud service providers. It is a cost-effective, secure, high-speed, and new blockchain system that gives room to augment internet capabilities.
The Internet Computer blockchain is hosted on a distributed network of different nodes in various data centers across the globe. A subnet is a collection of nodes that ensures decentralization. The nodes involved in each subnet blockchain ought to process identical messages in the same sequence to guarantee they arrive at the same state. The Internet Computer Blockchain uses a cutting-edge consensus protocol to do this.
It is made to be safe, dependable, and expandable. Subnet blockchains executing smart contracts on certain nodes offer scalability. Internet Computer Blockchain's peer-to-peer layer provides dependable and encrypted communication between nodes partaking within the same subnet. The Peer-to-peer layer also gathers and disseminates users and other node messages for them to finally be duplicated throughout all the nodes within a single subnet blockchain.

Who can be a Node Operator?
Node operators are organizations and people that invest in, set up, and run specialized node computers in return for incentives from a distributed platform, paid out in monthly payments of Internet Computer Protocol governance tokens, ICP with a cash equivalent.
Node computers are set up in separate data centers managed by the NNS (Network Nervous System).
The processing power needed to handle the quick expansion of decentralized applications, open internet, decentralized finance, cross-industry platforms, and safe corporate systems operating on Internet Computer Blockchain is provided by node operators.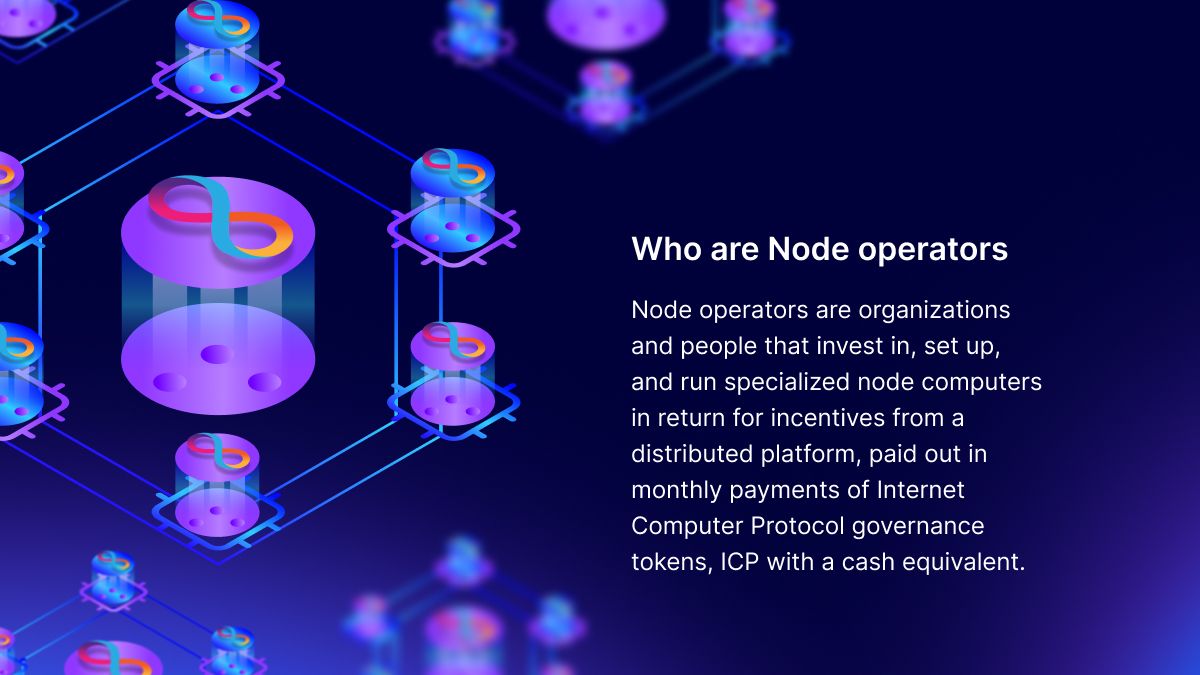 How to be a Node Operator
A queue system has been set up by the ICA (Internet Computer Association) to handle the continual queries from potential node operators looking to provide capabilities to the blockchain. The system queues up and onboards node operators to maximize these network objectives:

The overall growth of node operators
Datacenter geographical diversity
Sustainability/offsets evidence
Expansion of the variety of commercially operated data centers
Diversification of corporately owned fiber network service providers
Network pathing diversification

To fulfill the need of developers to create their apps on the blockchain network, the Internet Computer Blockchain's capacity is continually expanding.
New nodes would be assigned for onboarding during the creation of subnets. Internet Computer Blockchain needs the authorization of nodes by the public in a request to the NNS to preserve this physical layer's sovereignty.
It can require several weeks for node operators to authorize the request, buy the necessary hardware, and choose the data center. International shipping delays are presently being exacerbated by the intense economic pressure on the hardware manufacturing industry. Purchase, provisioning, and deployment of the node might take two to three months.

Requirements
Every unit on the Internet Computer Blockchain must meet a minimal set of technological requirements in order to guarantee lower latency, swifter speeds, and more dependability. There are now two types of Gen-1 Nodes:
Boundary Node Machines
Core Node Machines
Gen-2, the future generation of nodes, will shortly be established. The following provides details on the hardware requirements of nodes: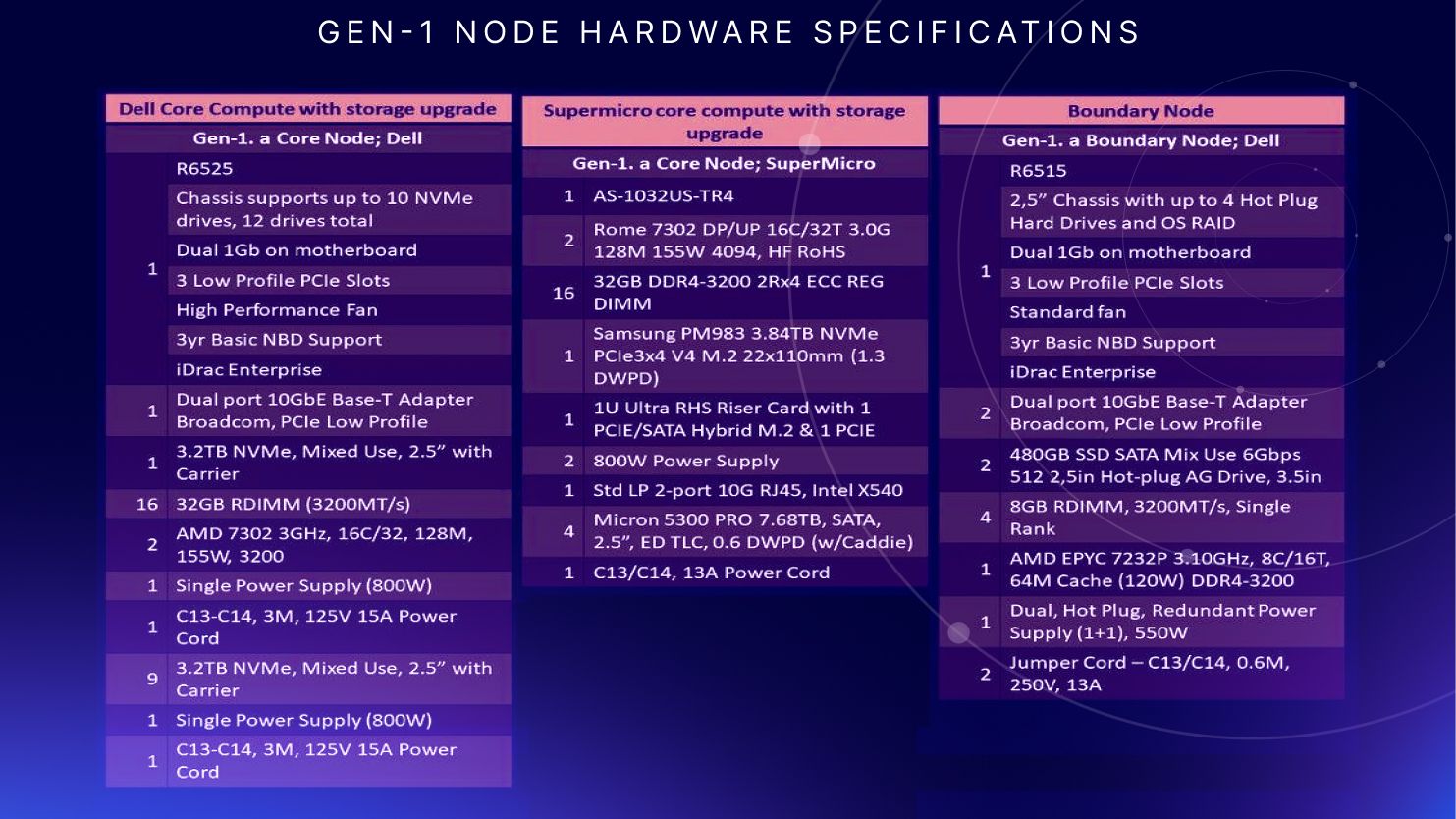 Costs and Rewards

Internet Computer Blockchain regularly announces new ICP tokens to reward and motivate people who play crucial roles in maintaining the network's functionality, such as those who run the node computers that house the network.
The NNS pays Node Operators to supply the Internet Computer Blockchain with computing and storage resources. All node operators invest money in advance for the equipment they must buy, ship, and deploy to supply this capability.
Every node operator pays monthly data center infrastructure costs to run the equipment. With the knowledge that these expenditures are closely tied to the capacity provided, the incentive system bases its payout calculations on these expenditures. Depending on the SLA uptime, the rewards are subtracted. Based on the relevant program, the prizes are spread out over a certain period of time.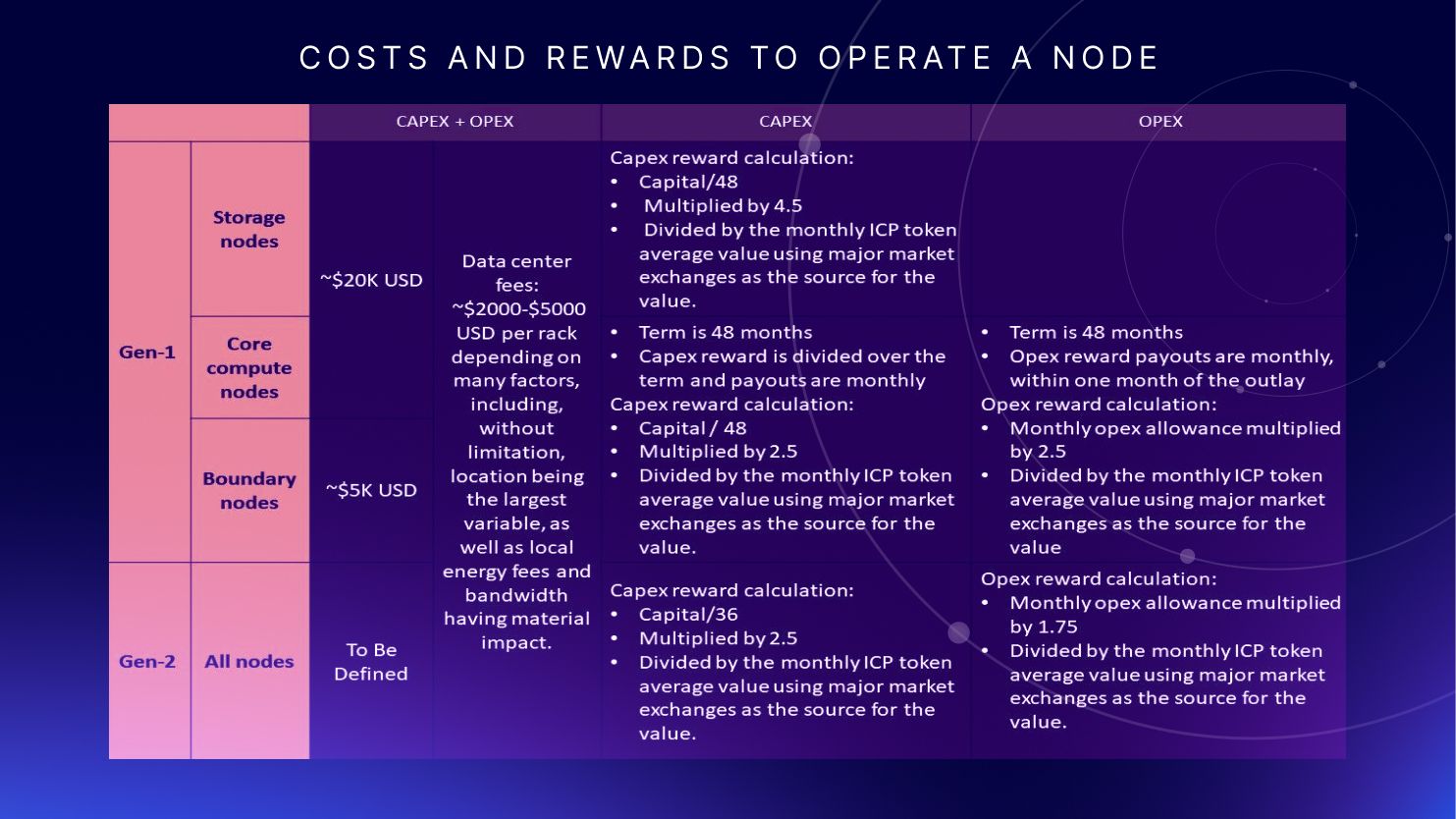 Because all "proper" node machines in the subnet blockchain process block and execute smart contracts in the same way, they ought to be capable of keeping up with the other machines. Only these scenarios should result in issues:
If nodes are employing hardware that doesn't conform to the "node generation specifications.
If they're not kept properly in a rack
If the various data centers that house them experience problems
Their bandwidth allocation is inadequate.
Problems may also arise if a node operator is unscrupulous and modifies a node's program from those that are pre-configured by the Network Nervous System.
A node is deemed defective in all of these situations, as shown by its statistically irregular telemetry. Statistical deviance can assume the shape of a faulty node producing fewer units than some other nodes, for instance.
It is therefore for each individual to assess the risk and rewards of being a node operator, but if you can afford the initial outlay it could prove a lucrative passive income.
*Note- This is not to be construed as financial advice, rather, it is a guide to inform. Do your own research and always make informed choices.
Connect with InfinitySwap
Twitter | Website | Telegram | Discord | Github

*Disclaimer: While every effort is made on this website to provide accurate information, any opinions expressed or information disseminated do not necessarily reflect the views of InfinitySwap itself.