DeFi
DFINITY's Titanium Milestone Is Good News for DeFi Enthusiasts
DFINITY's Titanium Milestone Is Good News for DeFi Enthusiasts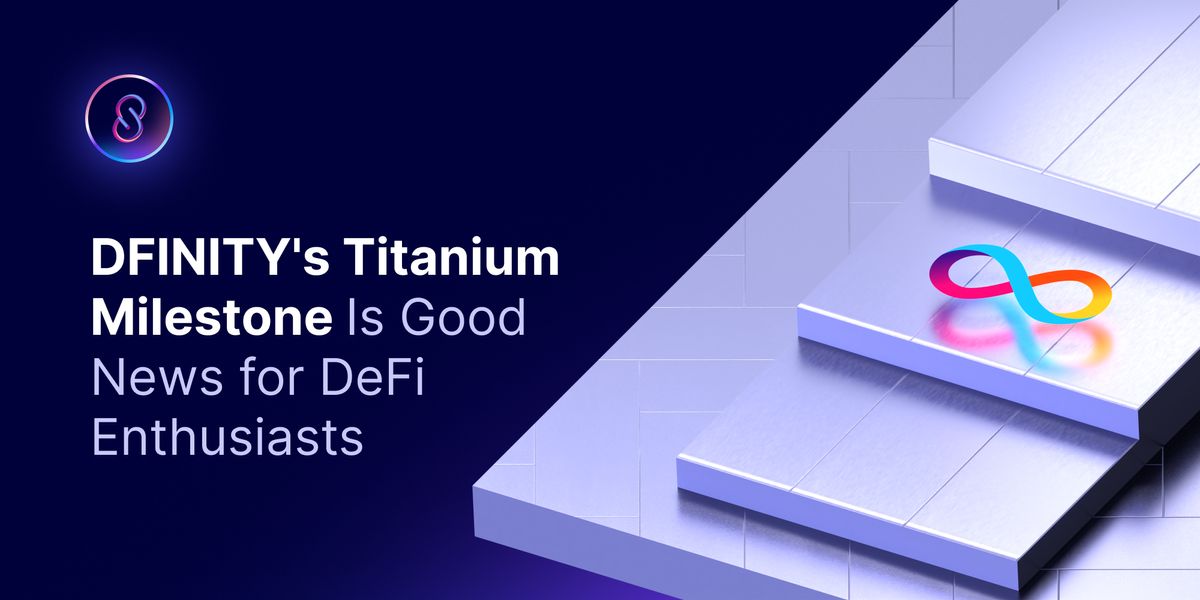 Earlier this year, the DFINITY Foundation set out the team's next six milestones for the Internet Computer blockchain. They include everything from BTC and ETH integration to preparations for the DeFi revolution. The upgrades that are focused on DeFi have been dubbed Titanium, and that upgrade is now in place.
How does the upgrade contribute to the future of DeFi on the Internet Computer, and what makes the IC ecosystem superior when it comes to decentralized finance? Here are a few things both developers and investors should know.
Titanium Has Been Achieved! What Does That Mean for DeFi?
The DFINITY Foundation recently announced that the Titanium upgrade was completed on schedule during Q1 of 2022. What does this upgrade to the blockchain entail?
· Introduction of a ledger canister, providing access for dApp developers
· Examples of use cases, so developers know what they can do with DeFi on the IC blockchain
· APIs that allow developers to access IC ledger tokens for token transactions
Without these upgrades, there would be no way for DeFi to exist on the Internet Computer. Now that the Titanium upgrade is complete, developers are working to create dApps that introduce the first generation of swapping, staking, and token creation on DFINITY's Internet Computer.
What Makes the Internet Computer the Superior DeFi Blockchain?
There are four reasons why any DeFi enthusiast should be excited about decentralized finance on the Internet Computer.
1. All data is stored on-chain: This means that DeFi on the IC will be true Web3 DeFi. If a dex is hosted on AWS or other Web2 servers, it's not truly decentralized.
2. Web content can be served directly from the chain: This adds a layer of security by removing the middleman, as it were.
3. Ultra-fast transaction speeds – The Ethereum blockchain is limited to 30 transactions per second, according to Decrypt. Even once Ethereum 2.0 is released, the maximum cap of transactions will still be limited. Technically speaking, the Internet Computer can scale indefinitely. So there is no limit to the transaction speed on the IC. That is something no other blockchain can offer.
4. Transaction costs are next to nothing – At the current price of ICP, transactions cost a mere fraction of a penny (in USD). Even as adoption takes place and the price of ICP increases, this cost will still remain a fraction of gas prices on ETH (ICP would have to hit $10,000 for the transaction fee of .0001 ICP to reach $1.00). Even ETH 2.0 can't promise the insignificant transaction fees associated with the Internet Computer and its reverse gas model.
InfinitySwap: Leading the Way for DeFi on the Internet Computer
InfinitySwap is proud to be at the forefront of the DeFi revolution happening on the Internet Computer. Not only will you be able to swap, stake, and create tokens on the Internet Computer, but as BTC and ETH integration take place later this year, we look forward to offering a bridgeless way to stake and swap tokens from those chains as well. InfinitySwap will become the safe, secure, affordable, and fast way to stake, swap, and create tokens on the Internet Computer!
Connect with InfinitySwap
Twitter | Website | Telegram | Discord | Github
---

---
*Disclaimer: While every effort is made on this website to provide accurate information, any opinions expressed or information disseminated do not necessarily reflect the views of InfinitySwap itself.
---