Opinion
BitBoy: The ICPeople's Champ
Just when everything seemed destined to fade to black for ICP, Ben Armstrong, also known as BitBoy, brought back the light. But who is BitBoy, and what is his mission?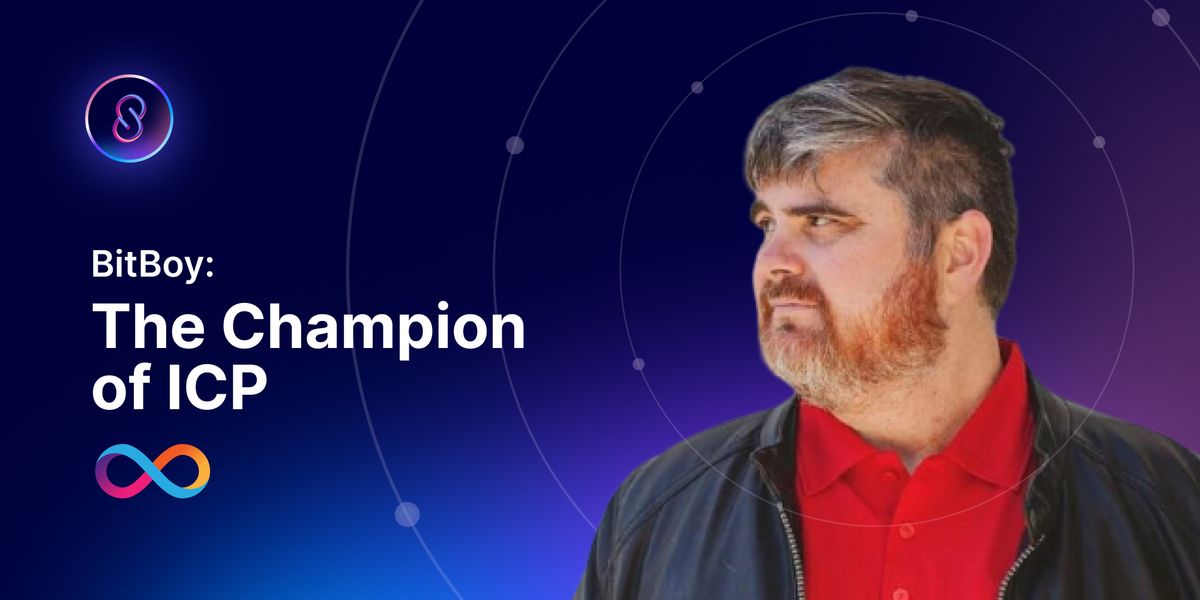 Back in October 2022, before the dramatic fall of FTX exploded into public awareness, Ben Armstrong (BitBoy) was among the first people to sound the alarm that there might be something rotten about Sam Bankman-Fried. "There's a fox in the crypto henhouse," he admonished his million-strong Twitter audience. "And its name? FTX."
For weeks prior, Ben had been warning retail investors of behind-the-scenes chaos at FTX. Sadly, many people didn't listen until it was too late and the exchange halted customer withdrawals. Now, barely a month later, the whole crypto world is bracing for unprecedented financial pain as other centralized exchanges like BlockFi and Genesis teeter on the edge of possible collapse.
Thanks to his prescience regarding FTX, Ben's audience may be about to balloon to an unprecedented degree. After all, millions of investors got burned by trusting a media narrative that arguably boosted Sam Bankman-Fried to prominence and gave assurances of safety that have since rung hollow. Now, those same individuals will want to listen to alternative and hopefully more trustworthy voices with proven track records.
And at present, Ben seems like a promising alternative voice.
Who is BitBoy? How does He Know So Much?
Ben Armstrong enjoys his privacy. He was born in Atlanta, Georgia, sometime during 1982. At some point before 2007, he struggled with a methamphetamine addiction, then found the strength to get sober, turn his life around, and achieve massive success.
Until Ben struck it big in cryptocurrency and founded BitBoyCrypto.com, he led a fairly ordinary life as a married man with two dogs. He's been following cryptocurrency news since at least 2012. He's seen all the ups and downs of cryptocurrency since its nascency in the years following the 2008 financial crash, immersing himself in its rhythms nearly 24/7. This background often affords Ben unique insights. He dropped his first YouTube video as BitBoy on August 21, 2018.
BitBoy and Hodl were originally intended to be monikers for animated crypto superheroes on the channel, but Ben quickly pivoted to news and commentary, adopting the BitBoy handle for himself.
Since then, Ben has built up a net worth estimated at about $28 million USD through a combination of trading, social media, cooperative projects, and producing training resources to teach new retail investors marketplace fundamentals for getting into Bitcoin, Ethereum, and many other coins. He also works with the HIT Network and has collaborated with the New Money Gang.
Why is BitBoy Controversial in Some Circles?
With over 1.4 million followers on YouTube alone, BitBoy is currently among the most powerful and influential voices across all cryptocurrency communities. He has been a source for NBC news and is quickly becoming a household name.
Like any public figure who has enjoyed a meteoric rise to fame, BitBoy is not without his critics. Back in July 2022, Steven Zeitchik at the Washington Post criticized BitBoy for offering apparently contradictory financial advice by whiplashing between supporting and then condemning crypto projects. However, in my opinion, such criticism fails to account for how rapidly things can change in the world of crypto, or any other emerging market for that matter.
"The word I use is authentic: I'm the same person on-camera as off-camera," Ben has said. "It happens everywhere, whether it's a Falcons game or a crypto conference, people will come up to me, not because I'm better than other influencers, but because I'm more approachable."
While Ben's sensationalistic flare, forthright manner, and showmanship may be a turn-off for some viewers, in my view, his passion, dedication, and sincerity are real. He may, at times, be sincerely wrong, but he is always sincere and quick to admit it. Not to mention, over time, Ben's insight has only gotten sharper. Former critics such as Scott Melker have recently warmed up to BitBoy.
What Does BitBoy's Support Mean for ICP?
As a testament to Ben's adaptability and willingness to continually reassess his perspectives, BitBoy has come out in support of ICP and the Internet Computer. In fact, he recently subscribed to our InfinitySwap newsletter.
Thanks to BitBoy's massive platform, the DFINITY Foundation, Infinity Swap, and the whole Internet Community finally have the opportunity to cut through the noise of misinformation campaigns and set the record straight about ICP's revolutionary blockchain technology.
Welcome aboard the ICP and InfinitySwap, express, Ben. You'll be seated in First Class.
Connect with InfinitySwap
Twitter | Website | Telegram | Discord | Github