Atomic Wallet Hacked for $35M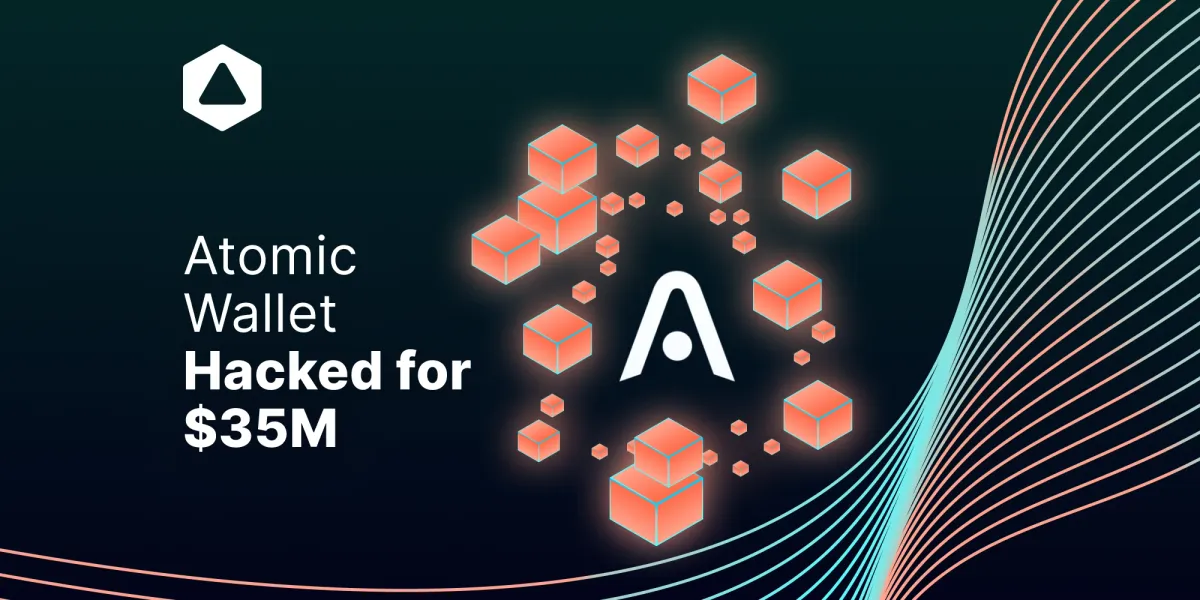 Blockchain experts at Elliptic have alleged that the North Korean hacking group Lazerus is behind the hack of Atomic Wallet, which was unfortunately hacked last weekend. Hackers were able to steal user funds with the amount stolen totalling over $35M. One unfortunate user accounted for 10% of all stolen funds.
What We Know About the Hack
According to their website, Atomic Wallet is "a decentralized Cryptocurrency wallet that supports more than 1000+ coins and tokens, providing simplicity, safety, and convenience for its users."
Atomic, the company behind Atomic Wallet, which is based in Estonia, made a statement claiming that only 1% of monthly wallet users had been affected by the hack. 1% of monthly wallet users amounts to 50,000 accounts; a significant amount amount of pain for users.
Atomic themselves have been relatively quiet about the details of the hack, with most of the public information coming from from on chain analysts like @zachxbt.
Following on-chain analysis of transactions and movement of funds, Elliptic stated that they could say "with a high degree of confidence", that Lazerus was behind the attack.
Analysis of on-chain activity allowed Elliptic to trace the stolen funds to a crypto mixer called Sinbad, which the hackers used to conceal the direction of flow of stolen funds. This mixer has been known to be used by the Lazerus group in the past.
The mixer is known to have been used to launder stolen funds from large hacks in the past; it has been used to launder some $20M from the Ronin bridge hack, also known as the Axie Infinity hack.
Atomic is Sorry
Atomic has publicly stated that they are "committed to helping as many victims of the recent exploit as possible"; they have reportedly hired third parties to help trace stolen funds and and liaise with exchanges and authorities.
Although the sentiment from Atomic is admirable, prevention is far better than cure. One wonders how such a vulnerability was able able to slip through the cracks.
What We've Learned
North Korea might hack you if you have vulnerabilities in your protocol.
The Lazerus Group is a very real state sponsored hacking organisation, and they are finding a whole bunch of fertile soil hacking crypto protocols.
Hacks such as this one have been traced back to wallets that have shown up time and again in connection with crypto heists. Such wallets reportedly send the stolen funds to the North Korean government, to be used for shady purposes such as programs for Weapons of Mass Destruction. It is disconcerting to say the least that sloppily built crypto protocols can line the pockets of governments such as the one in North Korea.
Hopefully such a hack never happens again, but I wouldn't hold my breath. With crypto still very much in it's infancy, we are all still learning daily. Many protocols have been audited multiple times, only to find themselves hacked for huge sums of money.
While crypto protocols contain vulnerabilities, groups like Lazerus will no doubt remain busy looking for them, and trying to exploit them.
Here's hoping that those affected by this hack get some(or all) of their funds returned.
Connect with Bitfinity Network
Bitfinity Wallet | Bitfinity Network | Twitter | Telegram | Discord | Github

*Disclaimer: While every effort is made on this website to provide accurate information, any opinions expressed or information disseminated do not necessarily reflect the views of Bitfinity itself.